Get a free copy of the classic Fantasy General turn-based strategy from 1996! The offer is valid for all purchases made on GOG.COM. The game will be added to your library automatically. If you already own Fantasy General, you will receive an email with a gift code to share with a friend.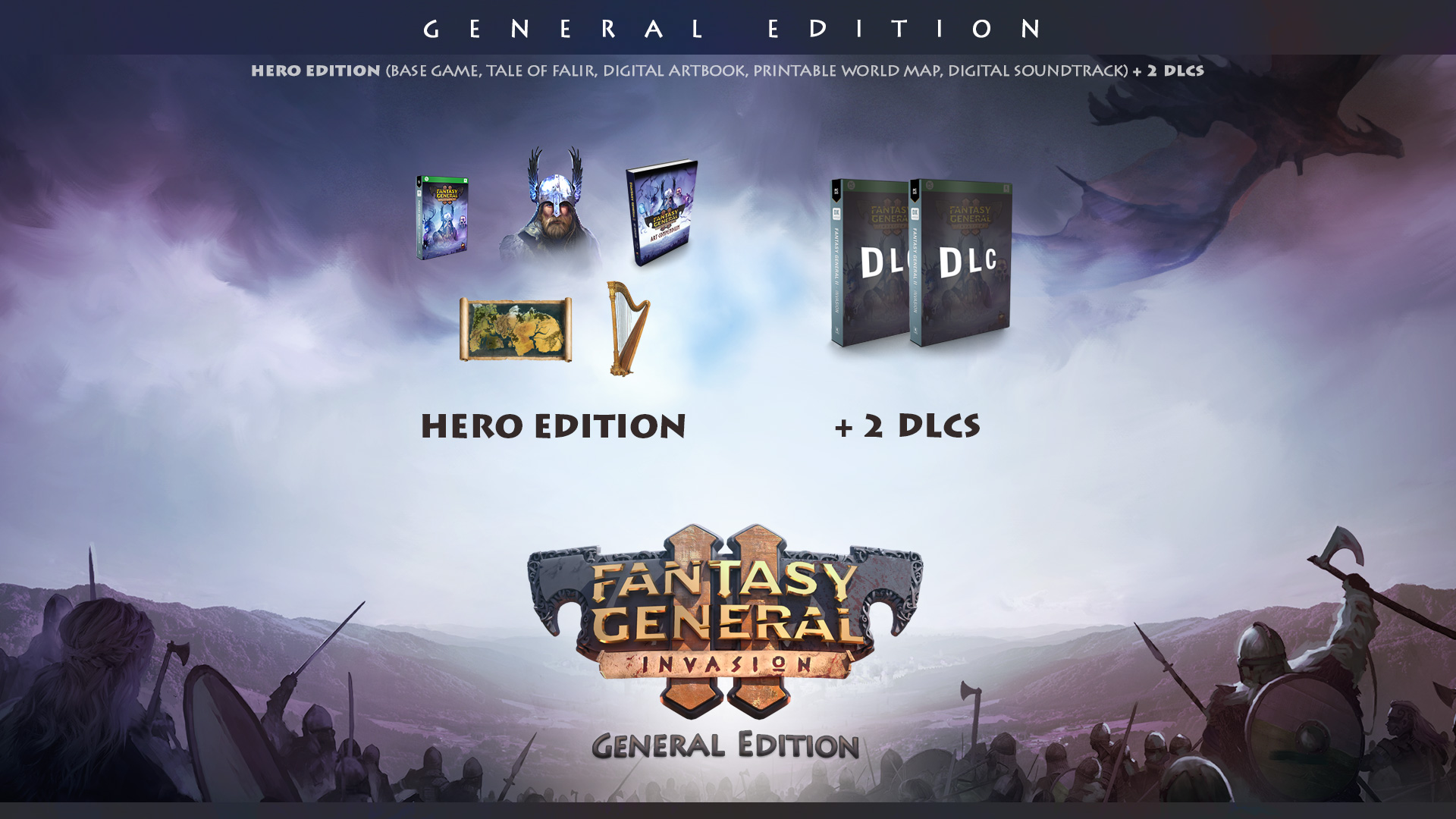 Three hundred years have passed since the Shadow Wars have ravaged Keldonia and the world of Aer, and the struggles of the past have long since faded into legends.
In the Highlands of Fareach, Clans of Barbarian warriors have eked out a living in the harsh northern climate, constantly feuding with each other and raiding the wealthier Borderland towns. Fed up with these constant attacks, the Borderland Clans called on the Empire for help – a powerful realm controlling the land from the Scarlett Mountains to Cynehelm Valley and the Hoarwood. The Western Imperial Legion was sent to face the highland raiders, and with the help of the Borderland clans Iseal and Machnar, killed High King Brendan in the battle of Wyrm's Pass.
A treaty was signed that forbade any clan from crossing into the Borderlands in return for peace. Since then, there has been no High King to unite the Clans, and they fell into quarrelling and raiding amongst themselves.
In these dark times your clan has been led by Falir One-Eye, a warrior of great renown. You are his son and designated heir, and you are eager to prove your mettle to the Clan Council and your father…
BASE GAME
Fight exciting turn-based 3D tactical battles leading a variety of fantasy units, heroes and creatures, level them up and carry them over from one scenario to the next. Vanquish your enemies through a combination of military might, guile and magical prowess. Play through a 33 scenarios campaign, or take it to skirmish, either against the AI or in multiplayer. Or take advantage of the built-In scenario editor to make your own battles.
Tale of Falir PREQUEL CAMPAIGN 
Tolk Headsplitter and his band of trolls have been pillaging the western steads of Clan Donagh. Many brave souls died facing the giant troll and Clan Donagh has offered 200 Gold to the hero who can best Tolk. Eager to make a name for himself, Falir of Clan Baileach sets out with his band to claim the prize. Thus begins the Tale of Falir.  Experience the prologue to the single player campaign in this exciting prequel campaign.
DIGITAL ARTBOOK
This book introduces you to the world and people of Fantasy General II and gives you never-before released background information on the game's story and units as well as putting the beautiful art of the game into your hands. A unique collection book, 104 pages long, containing the amazing art of Dominik Mayer.
DIGITAL SOUNDTRACK (includes the original Fantasy General's soundtrack)
A digital package containing the marvelous original soundtracks of Fantasy General and Fantasy General II! Relive the music that inspired generations of strategy players in the 90s, then prepare to be amazed by a brand new modern epic soundtrack for its sequel. A total of 20 amazing tracks. 
PRINTABLE WORLD MAP
A high-resolution printable version of the map of the world of Aer. From the cold, magic-rich highlands of Fareach, to the Borderlands with their fertile river valleys and deep woods where witches and monsters still roam free; from the Sunken Land, submerged through a great Cataclysm and filled with treacherous swamp and Lizardfolk, to the refined and temperate Empire to the South, home to wondrous cities and built upon undead labour. The world of Aer is vast and filled with wonders. 
FUTURE EXPANSIONS
Two amazing DLCs for
Fantasy General II: Invasion
are currently in development! It is a tremendous way to save on future content: by acquiring them through the General Edition you will take advantage of a significant discount.
©2019 Slitherine Ltd. All Rights Reserved. Slitherine Ltd. and their Logos are all trademarks of Slitherine Ltd. All other marks and trademarks are the property of their respective owners. Developed by Owned by Gravity and Slitherine Ltd. FANTASY GENERAL® is registered trademark of GOG sp. z o.o., used with permission. All rights reserved.