It's the last weekend before the
Spring Sale
ends (April 3rd, 10 PM UTC)! Make sure to use this opportunity to the fullest and explore more than 4500 deals up to -90%, check out our curated collections (
RPG
,
Indie
,
Classics
,
Highest discounts
,
Nature-inspired
,
GDC nominees
,
co-op
,
Safe In Our World
and
D&D
), build your
Serious Sam Bundle
, grab time-limited GOG Bundles (
Kinky
,
Adventure&Puzzle
,
Opera GX Platformer
), and because we're not done just yet…
Claim yet another awesome GIVEAWAY, this time in the form of Deep Sky Derelicts, and check out new releases and titles that are coming soon to GOG!
Let's take a last deep breath of fresh, springlike gaming goodness during
Spring Sale
!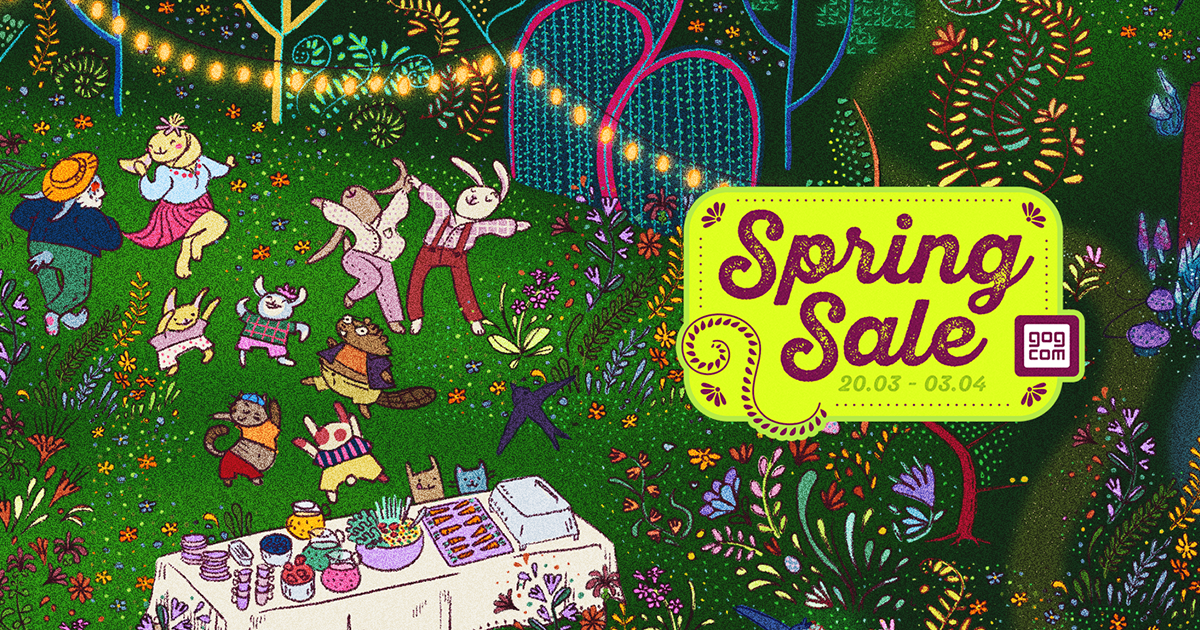 Until April 3rd, 1 PM UTC, feel free to claim your copy of
Deep Sky Derelicts
– a unique combination of turn-based strategy and RPG, enriched with tactical card combat and popular roguelike elements.Get ready to explore derelict alien ships, fight, loot and upgrade your gear, all in distinctive retro-futuristic comic book aesthetic style. Endless customization options for characters and scavenging teams, high replay value thanks to procedural generation of content, Story of the human society divided within a dystopian universe, two game modes, and of course great gameplay – it's all there!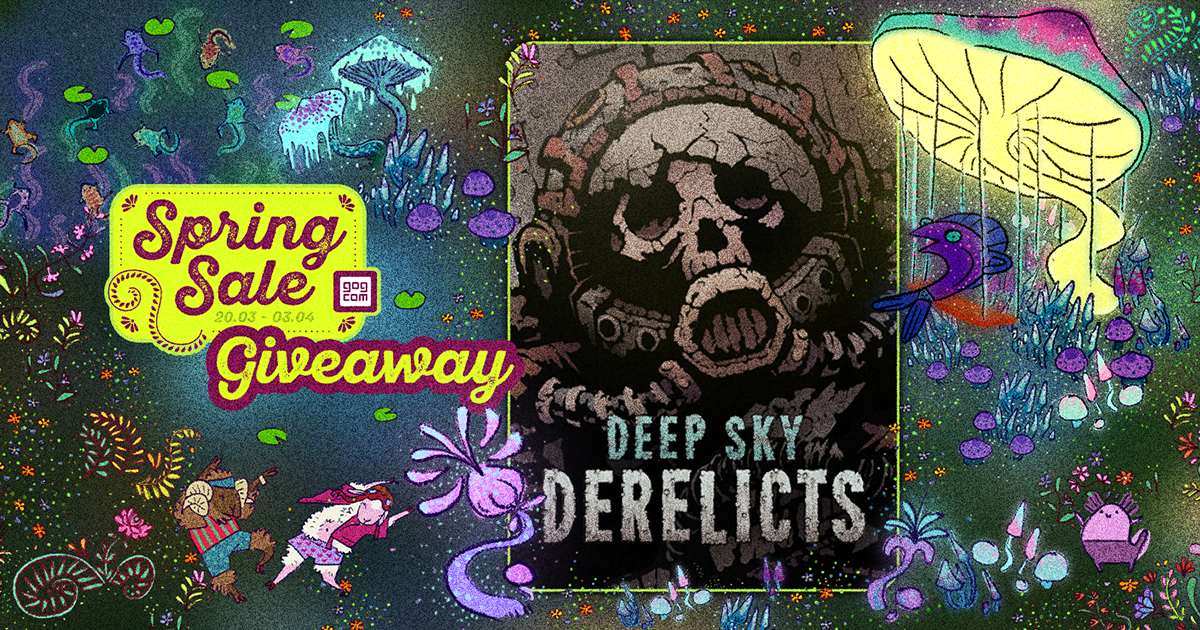 And when it comes to the new releases, you'll be able to have an amazing gaming weekend with:
Troublemaker (-20% until April 7th, 12 PM UTC) from Freedom Games
An action-adventure-beat-'em-up game about the most important and terrifying part of everyone's life: high school. As Budi, the new transfer to one of Indonesia's finest high schools, we'll literally fight our way to the top of the social food chain through the school's annual student fighting tournament, aptly named Raise Your Gang.It's time to go to school, make new friends, beat old enemies up, solve world-class problems (like grades and girlfriends), and don't let your mom down by getting arrested, or worse – flunking out!

Void Prison (-25% until April 7th, 1 PM UTC)
A fast paced, endless arcade twin stick shooter that puts you inside of an ever shrinking ring. Survive by fighting emerging enemies around you and don't get consumed by the void. Complete achievements to unlock new skins and powerups and get on top of the leaderboards!It has beautiful and impactful pixel art and effects, it has a balanced gameplay loop that will drive you to improve with each run, it's competitive and rewarding. It's a bullet hell of fun!

The Whispering Valley (-15% until April 14th, 1 PM UTC) and its prelude The Whisperer (-40% until April 14th, 1 PM UTC)
Both of them are story-rich and atmospheric horror adventures in the form of FPP point & click titles.In
The Whisperer
, which besides being a prelude is also a standalone game, we'll investigate an abandoned trading post, explore its surroundings and solve the terrible mystery it holds. It is set in Lower Canada at the beginning of the 19th century and is an ode to the classic horror point & click subgenre. We'll find the old school adventure features that we all love: puzzle solving, exploring, inventory, using and combining objects.

In
The Whispering Valley
on the other hand we'll explore a sinister village, solve complex puzzles and delve into the horror of guilt and depression to investigate the village's deepest secret.The story takes place in the Province of Quebec, 1896. Hidden in the hollow of a valley, the village of Sainte-Monique-Des-Monts conceals a secret that weighs heavily on the community. The village is left abandoned. Those who remain can only wait. But something else torments the inhabitants. A shadow prowls around the village. Some saw it, others heard it. They heard it whisper.Expect dynamic and highly-detailed environments for you to explore, realistic yet unique and complex puzzles, a gripping story about guilt and an intuitive inventory system.

And if you want to know what gems are coming soon to GOG, there you go! Mail Time from Freedom Games
Super cute, relaxing, cottagecore adventure set in a peaceful forest, far, far away. It's your first day on the job as a newly minted Mail Scout. Equipped with a mushroom hat, a pack full of letters, and unbridled enthusiasm, it's time to deliver letters and packages across the Grumblewood Grove.Their recipients eagerly await the sight of your mushroom hat, so don't tarry! Run, jump, glide, and make your way across the forest to deliver parcels and joy to the cute critters that inhabit these woods.

Stray Souls
Third person, action-horror, inspired by the classics of the genre. In Stray Souls we'll unlock the secrets hidden within the haunted town of Aspen Falls, featuring gruesome enemy encounters, grand bosses, cunning puzzles, and a deep story where not everyone is who they seem. We'll play as Daniel – an average teenager whose life is forever changed after inheriting the home of his estranged grandmother and meeting a mysterious woman with intimate knowledge about his family, the house, and its shocking connection to his past. The gameplay elements inspired by classic horror combat with soulslike precision, put a fresh spin on the modern action-horror genre.

3 great titles from Hooded Horse: Beyond These Stars, Breachway, Blacksmith Master. Beyond These Stars
Sequel to the awesome city builder and managerial simulator
Before We Leave
. In
Beyond These Stars
the Peeps find themselves on the back of Kewa - a lonely Space Whale journeying across the universe. Building a city on the back of a sentient creature comes with its own set of challenges, but as you build your relationship and travel across the galaxy, you'll come across great opportunities for exploration and stable expansion. Meet other species, pursue the needs and wants of your Peeps, and seek the truth about their ancestors, and the Space Whales alike.

Breachway
Assemble your crew, load out your ship, and explore the galaxy in this deck-building space roguelike. Our deck is determined by our spaceship's loadout, mix and match equipment to discover different powerful card synergies, and obliterate your enemies in tactical space battles. Expect a complex ship upgrade system, diverse tactical choices, powerful card synergies, ability to carve your own unique path, and much more.

Blacksmith Master
This strategy simulator puts you in charge of your own medieval forge and has you manage resource acquisition, refining, and the production and sale of finished goods alike. Find and hire the best staff for each respective step of the process and equip them with the right tools to optimize your business. Design your shop for the best throughput, and seek out new opportunities in the market as customers come in looking for a variety of historically inspired items – from weapons and armor to tools and cooking utensils, you'll perfect your craft to become the Blacksmith Master.

Oh, and one more thing – if you've ever wanted to know what kind of cat you are and what games you should play based on that, take our
QUIZ!Be sure to claim the GIVEAWAY, check out the new releases, wishlist the coming soon titles and enjoy the last days of Spring Sale. Make full advantage of all the great deals that it offers! Enjoy your weekend everyone.