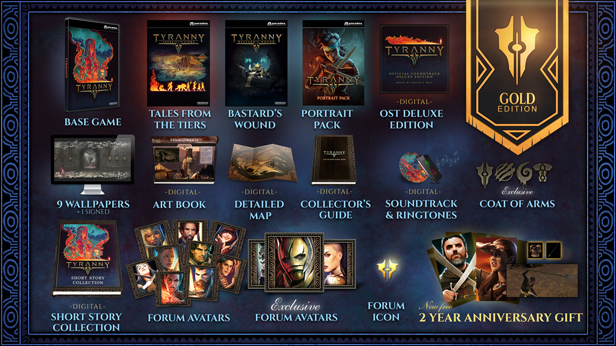 Includes:
Base Game
Bastard's Wound
Experience a new chapter of Tyranny, the critically-acclaimed role-playing game (RPG), in
Bastard's Wound
, a new expansion that builds upon the game's compelling story. Tyranny, an original RPG from Obsidian Entertainment, invites the player to make their mark on a world conquered by evil, and the Bastard's Wound expansion opens up a new area of the Tiers where refugees from the war-torn world have established a haven in secret.
Tales from the Tiers
Tales from The Tiers expands your journey through the war-torn world of award-winning role-playing game Tyranny, with new travel map events, encounters, and side stories. Outwit hostile ambushes, patronize or plunder traveling merchants, and use your skills to navigate the perils of a land plagued by magical Edicts in a series of episodes that offer new insights, new items, and new challenges on your journey. Whether you're new to Tyranny or playing an existing savegame, Tales from The Tiers lets you take an even deeper dive into the saga of Tyranny.
Portrait Pack
20 new in-game Fatebinder portraits
Official Soundtrack - Deluxe Edition
The Official Soundtrack Deluxe Edition for Tyranny includes over two hours of stirring, dramatic music from Obsidian Entertainment composer and audio director, Justin Bell. In addition to the entire original soundtrack, the Deluxe edition includes all-new music from the Bastard's Wound expansion, along with demo scores from the game's development and other never-before-released tracks.
Ringtones
Three notification tones and one ringtone
Digital Original Soundtrack
The soundtrack includes 18 tracks containing a total of 57 min from the game.
Official Soundtrack - Deluxe Edition
The digital
Tyranny
soundtrack includes over two hours of music across 43 tracks, including the scores from
Bastard's Wound
and experimental music from the game's development.
Digital High-Resolution Game Map
Exclusive Coat of Arms
Adds 4 unique coat of arms to the Fatebinder's selection of personalized war banners – show your allegiance with either The Disfavored, Scarlet Chorus, Tunon the Adjudicator, or Kyros the Overlord.
Short Story Collection
A rich digital collection of ten short stories from the world of Tyranny, giving readers a deeper look at the brutal world and powerful characters that live under Kyros' rule. Written by the creative team behind Tyranny, these stories introduce several of the game's companions and key characters. This collection includes three exclusive tales never seen before, alongside seven originally published on the official Tyranny website.
Digital High-Resolution Wallpapers
Add your desktop to Kyros' domain with a selection of high-quality artwork from Tyranny, sized for PC desktops in high resolution. The collection includes ten different pieces from the Tyranny art team, including one signed by the developers.
Digital Collector's Guide Book
Discover the lore and secrets of Tyranny in a comprehensive world guide from author John Helfers. Explore artwork from the game alongside the stories of the people and places of the Tiers, and discover the world that Kyros has brought to heel. Includes a foreword from Obsidian Entertainment.
Digital Art Book
Immerse yourself in the war-torn world of Tyranny in an extensive collection of original artwork.
Overlord Edition Forum Icon (Paradox Plaza)
Exclusive Overlord Editions Forum Avatars (Paradox Plaza)
Forum Avatars (Paradox Plaza)
---
About the Game:
Play an RPG with meaningful, world-altering choices, unique and memorable companions, and a new perspective on morality. Tyranny casts you as the arbiter of law in a world devastated by war and conquered by evil -- what definition of justice will you mete out with your words and deeds?
From the narrative masterminds at Obsidian Entertainment, Tyranny is a classic-styled RPG with a new and original story, shaped and molded by your actions. The very layout of the world will be altered by your decisions as you choose sides, make allies and enemies, and fight for your own vision of law and order in an immersive and reactive story.
Main Features:
Branching, unique stories in an original setting:
The battle between good and evil has already taken place, and evil stands victorious
Choices matter –  make world-altering decisions with far-reaching consequence:
As a Fatebinder in the Overlord's army you wield a vast amount of power in the occupied lands of the Tiers. Will you use that to inspire stability and loyalty, will you be feared, or will you seek your own power?
Challenging, classic RPG combat:
Tactical real-time-with-pause combat with new party-driven mechanics and modern presentation
A rich original setting:
Not just another "hero's journey" -- Tyranny turns the archetypal RPG story on its head and allows players to explore a new take on good and evil
© 2016 Paradox Interactive®.  Trademarks belong to their respective owners.  All rights reserved.