Also Available on GOG.com:
Guacamelee! 2 - Complete Edition (Game + All DLC)
Brawling has never been more beautiful! The long-awaited sequel to the smash hit action-platformer is here:
Guacamelee! 2
brings luchador Juan Aguacate out of retirement for a stunning new Metroidvania-style adventure.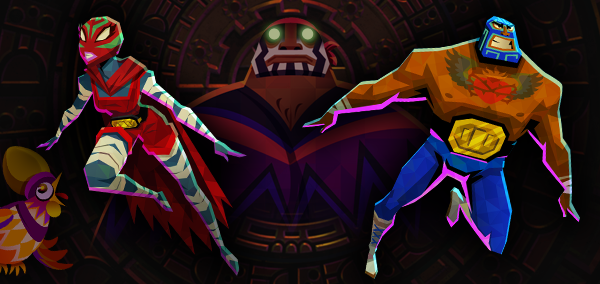 Explore a huge, hand-crafted world inspired by Mexican culture and folklore, filled with sassy new villains and weirdos (and a few old friends!). Learn a deep repertoire of bone-crunching moves to fend off the skeletal hordes and overcome a multitude of platforming challenges.
...and who said anything about a Chicken Illuminati? Certainly not us!
Key Features:
New moves like Eagle Boost, Pollo Shot and more add to Juan's arsenal of combat and platforming abilities.

New powers for Juan's chicken form! Ridiculous chicken-based platforming, combat and exploration. More chicken than you'll be able to handle (probably).

An epic adventure through the worlds of the living and the dead, across rifts in time and space -- more gorgeous than ever thanks to a fancy new rendering engine.

Bigger maps, twice as many enemy types as the first game, and a roster of eccentric new bosses.

Discover "trainers" from around the world, defeat their challenges, and upgrade your abilities.

Soundtrack featuring new music from the composers of the original Guacamelee! OST, plus tracks from special guests Mariachi Entertainment System!

Drop-in / drop-out 4-player local co-op through the entire story.
Guacamelee! 2 © 2018 Drinkbox Studios Inc. All Rights Reserved. Developed and Published by Drinkbox Studios Inc. Drinkbox, Drinkbox Studios, the Drinkbox Studios design, 'Guacamelee! 2, 'Guacamelee! STCE', 'Guacamelee!' and any and all associated design(s) are trademarks and/or registered trademarks of Drinkbox Studios Inc.

I Remember That Being Harder
Defeat Calaca
common · 82.85%

Juan Punch Man
One-shot an enemy with a fully upgraded super move
common · 41.79%

I Was Told There'd Be Candy
Defeat a Piñataface
common · 63.37%

Cluckstorm
Kill 50 enemies as chicken
common · 47%

He Looks Portable
Find Juan and Lupita in the Darkest Timeline
common · 38.79%

Talented Player
Dodge 10 enemies' attacks by rolling
common · 68.53%

Re-Resurrección
Regain the mask
common · 74.16%

King of the Hill
Defeat El Trio de la Montaña
common · 38.13%

Special Delivery!
Feed the hungry guard
common · 30.76%