Im März 2020 erhielt sie auf den 20. Game Developers Choice Awards einen Pioneer Award. Nur wenige Spieleentwickler verdienen so viel Anerkennung wie Roberta Williams, Mitgründerin von Sierra Online und Mutter klassischer Adventure-Spiele wie die King's Quest-Reihe und Phantasmagoria.
Bescheidene Anfänge
Wir schreiben das Jahr 1979 und nichts, rein gar nichts, deutet darauf hin, dass Roberta Williams (geborene Heuer) bald eine der Pioniere der Videospielbranche werden wird. Zu dieser Zeit ist sie Hausfrau mit zwei Kindern. Ihr Mann, Ken Williams, ist freischaffender Programmierer. Beide führen einen typischen amerikanischen Haushalt in Simi Valley, Kalifornien.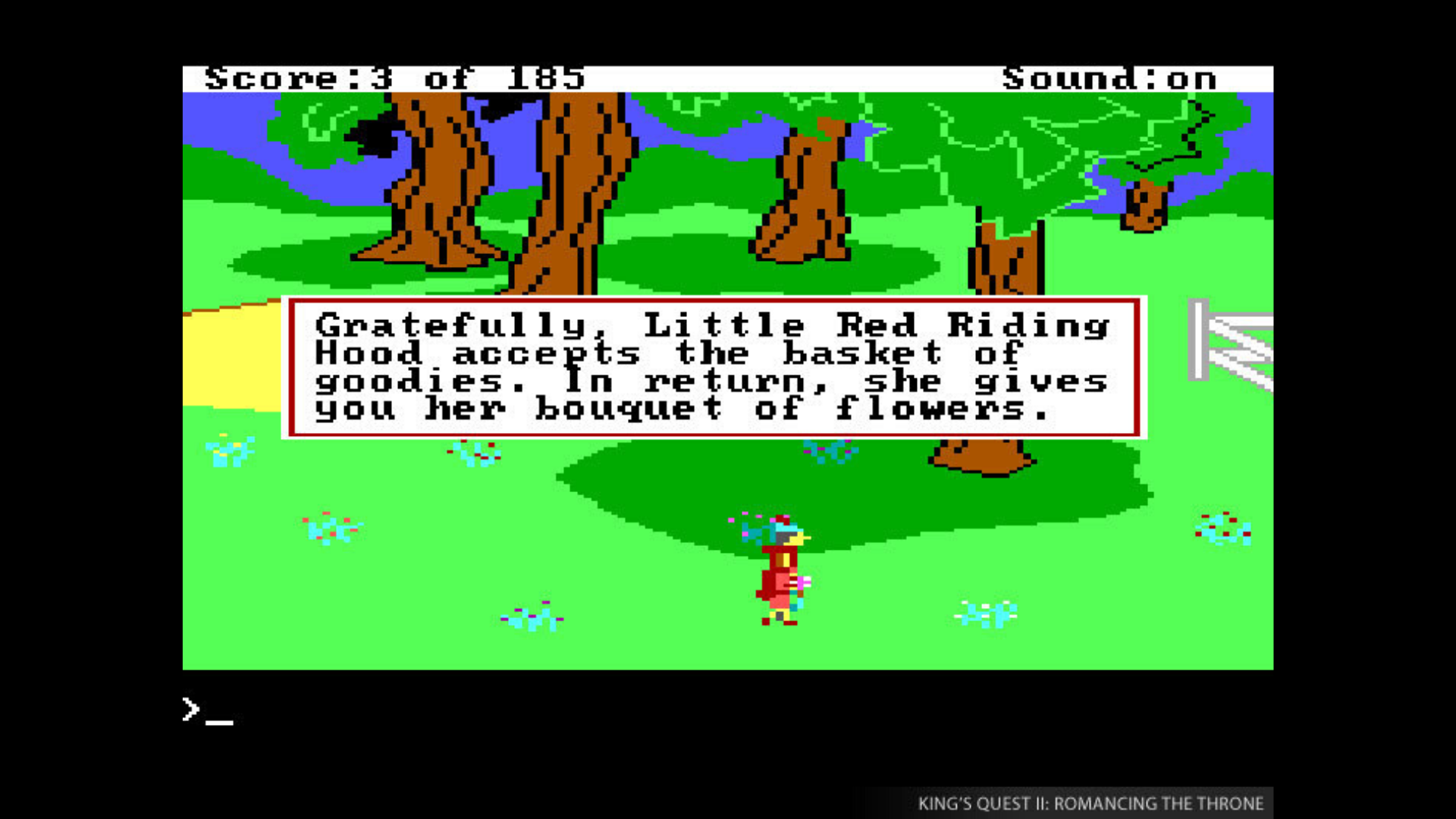 Und dann schlägt der sprichwörtliche Blitz ein. Eines Tages sieht Roberta Williams ein Spiel namens Colossal Cave auf dem Fernschreiber ihres Mannes. Obwohl es nur ein sehr einfaches Text-Adventure ist, fesselt es unsere Heldin für geraume Zeit. Es ist einer der Momente in der Geschichte, in der zwei Ideen wie Kometen aufeinanderprallen und etwas neues erschaffen.Roberta Williams hat keine Erfahrung mit Computern – aber etwas besseres. Schon als Kind konnte sie toll Geschichten erzählen und unterhielt ihre Familie mit fantastischen Geschichten, die sie "Filme" nennt. Ken Williams andererseits kennt sich etwas mit Computerprogrammierung aus. Also denken sich die beiden, warum nicht ein eigenes Spiel machen?
Der Beginn des Aufstiegs
Das erste Adventure des Ehepaars Williams trägt den Titel Mystery House. Es spielt in einem viktorianischen Anwesen, in dem ein Freund des Spielers umgebracht wurde. Unser Held hat nun die Aufgabe, den Mordfall aufzuklären, bevor er zum nächsten Opfer wird. Roberta Williams hat sich für die Geschichte des Spiels von ihren geliebten Agatha-Christie-Romanen inspirieren lassen. Sie zeichnet digitale Bilder auf einem Digitizer, während Ken mit einer Assembler-Sprache die Skripte dazu schreibt. Das Endresultat passt auf eine einzige Diskette.Und wird von den Spielern mit Begeisterung aufgenommen, die dessen Grafik und Geschichte besonders loben. Mystery House wird zum Meilenstein in der Adventure-Geschichte und stellt einen Durchbruch für Roberta und Ken Williams dar. Sie gründen ihr Unternehmen On-line Systems (ab 1982 Sierra On-line) und entwickeln nun Spiele in Vollzeit.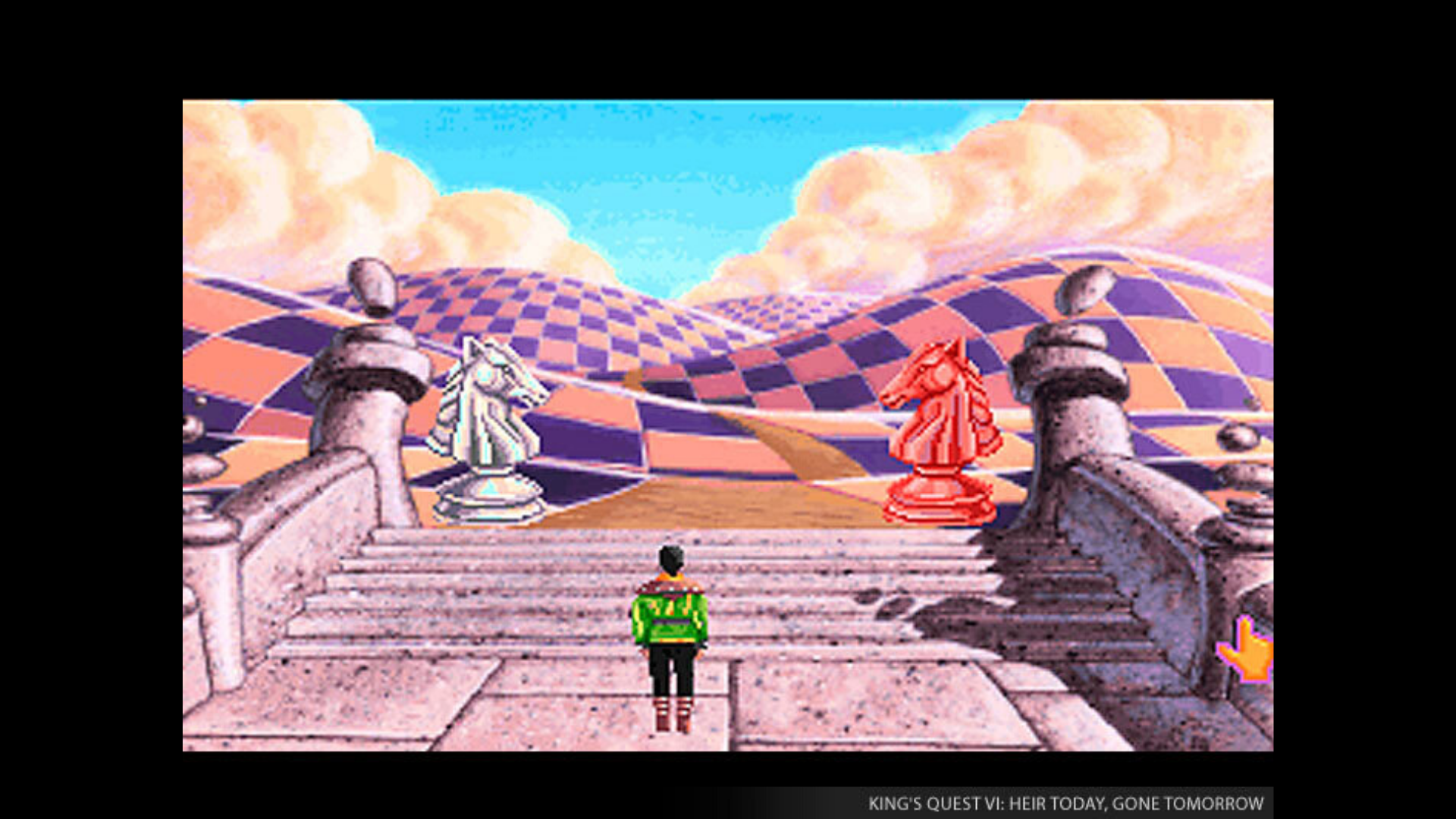 Internationaler Erfolg
In den folgenden zwei Jahrzehnten entwickelt Sierra mehrere Adventure-Spiele mit Kultstatus. Dazu gehört auch die Horror-Mystery-Trilogie von Jane Jensen -
Gabriel Knight: Sins of the Fathers
,
Gabriel Knight 2: The Beast Within
und
Gabriel Knight 3: Blood of the Sacred, Blood of the Damned
. Dank des Comedians und Musikers Al Lowe erweitert Sierra On-line sein Angebot um das urkomische und dezent erotische
Leisure Suit Larry
und die darauf folgenden Teile der Reihe, darunter auch der Klassiker
Leisure Suit Larry: Love for Sail!
Außerdem veröffentlicht Sierra weitere großartige Adventure-Reihen, darunter
Police Quest
(die komplette Sammlung gibt es DRM-frei auf GOG.com) sowie das taktische Spinoff
SWAT
. Selbstverständlich müssen wir auch das Science-Fiction-Adventure Space Quest erwähnen, dessen sechs Teile im Lauf der 1980er (
Teile 1-3
) und 1990er (
Teile 4-6
) erschienen. Doch wenn es um die Wichtigkeit für die Computerspielwelt geht, müssen sie alle vor einem einzigen Lieblingskind Robertas den Hut ziehen: der King's Quest-Reihe.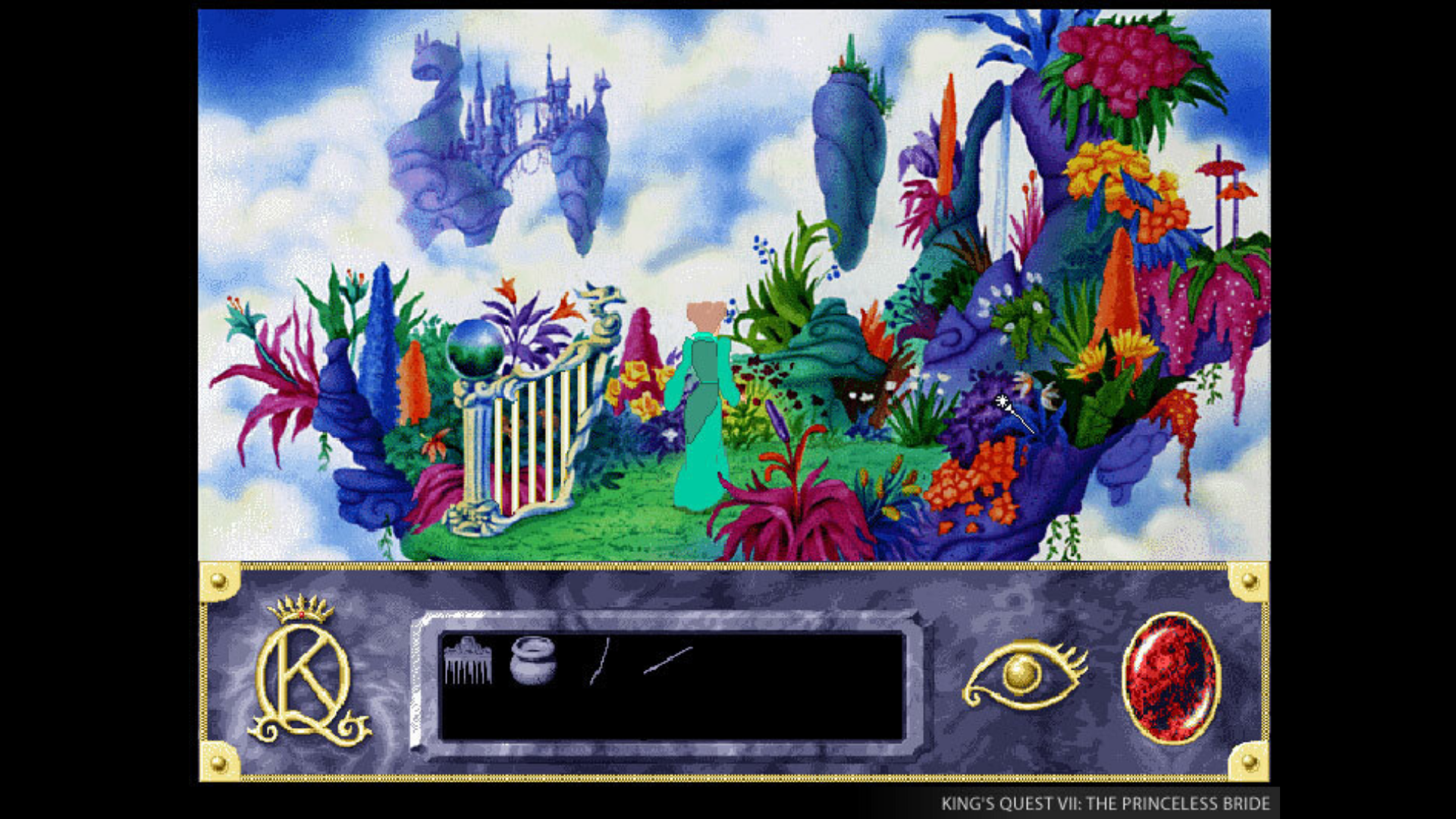 Die ersten drei Teile
der Geschichte der Daventry-Königsfamilie sind auf mehr als eine Art enorm innovativ. So ist der erste King's Quest-Teil eines der ersten Point'n'Click-Spiele. Wir können unseren Helden, einen angehenden König namens Graham, mit Hilfe von Textbefehlen und einer Computermaus durch das Fantasyreich bewegen. Andererseits müssen die Spieler im dritten Teil der Reihe die Zeit in der echten Welt messen, um einige der Rätsel zu lösen und aus dem Haus des bösen Zauberers zu entkommen.
Die folgenden drei Teile
spielen in Sachen Adventure-Spiele immer ganz vorn mit. Das vierte King's Quest ist zum Beispiel eins der ersten Videospiele mit einer weiblichen Hauptfigur: Prinzessin Rosella. Der fünfte Teil der Reihe verfügt über eine bahnbrechende VGA-Grafik mit 256 Farben und ein symbolbasiertes Interface. Insgesamt 500.000 Exemplare werden verkauft – ein Rekord, der nach der Veröffentlichung des Spiels 1990 fünf Jahre lang nicht gebrochen wird. Dann erscheint King's Quest VI mit dem kinoreifen Lied "Girl in the Tower" und großartigen Sprechern wie Robby Benson, der englischen Stimme des Biests aus Disneys "Die Schöne und das Biest". Williams arbeitet für diesen Teil mit Jane Jensen zusammen und bereitet ihr den Weg zur Entwicklung der Gabriel Knight-Reihe. Zu dieser Zeit hat Roberta Williams bereits größere Pläne. Sie will eine einzigartige Mischung aus Adventure-Horrorspiel und interaktivem Film mit echten Schauspielern erschaffen. Darum überlässt sie den Hauptteil der Arbeit am animierten, disneyähnlichen
King's Quest VII
Lorelei Shannon und übergibt ein paar Jahre später das 3D-Hack'n'Slash
King's Quest: Mask of Eternity
in die fähigen Hände von Mark Seibert.
Phantasmagoria
Wie Williams in einem späteren Interview erzählt, ist das Projekt ihr absoluter Liebling: "Wenn ich nur ein Spiel wählen müsste, dann wäre das
Phantasmagoria
, da mir die Arbeit daran sehr viel Spaß gemacht hat und auch sehr herausfordernd war – und ich mag es, herausgefordert zu werden!" Der Maßstab des Phantasmagoria-Projekts ist für die frühen 1990er außerordentlich beeindruckend. Um ein realistisches Horror-Videospiel zu erschaffen, fährt Sierra On-line 25 Schauspieler, 500 Seiten Skript und ein Budget von fast 4,5 Millionen Dollar auf.Die Geschichte von Victoria Morsell, einer Autorin, die die Geheimnisse eines bösartigen Anwesens enthüllt, ist auf mehr als eine Art das Magnum Opus von Roberta Williams. Bei der Arbeit an Phantasmagoria kommt all ihre Liebe für Mystery-Romane und ihre bei der Entwicklung der vielen anderen Videospiele gesammelte Erfahrung zum Tragen. Für sie selbst hat das alles aber eine noch tiefere Bedeutung. Jetzt werden die "Filme", die sie ihrer Familie erzählt hat, von Schauspielern auf einem professionellen Set zum Leben erweckt, das dem eines Hollywoodfilms nicht unähnlich ist.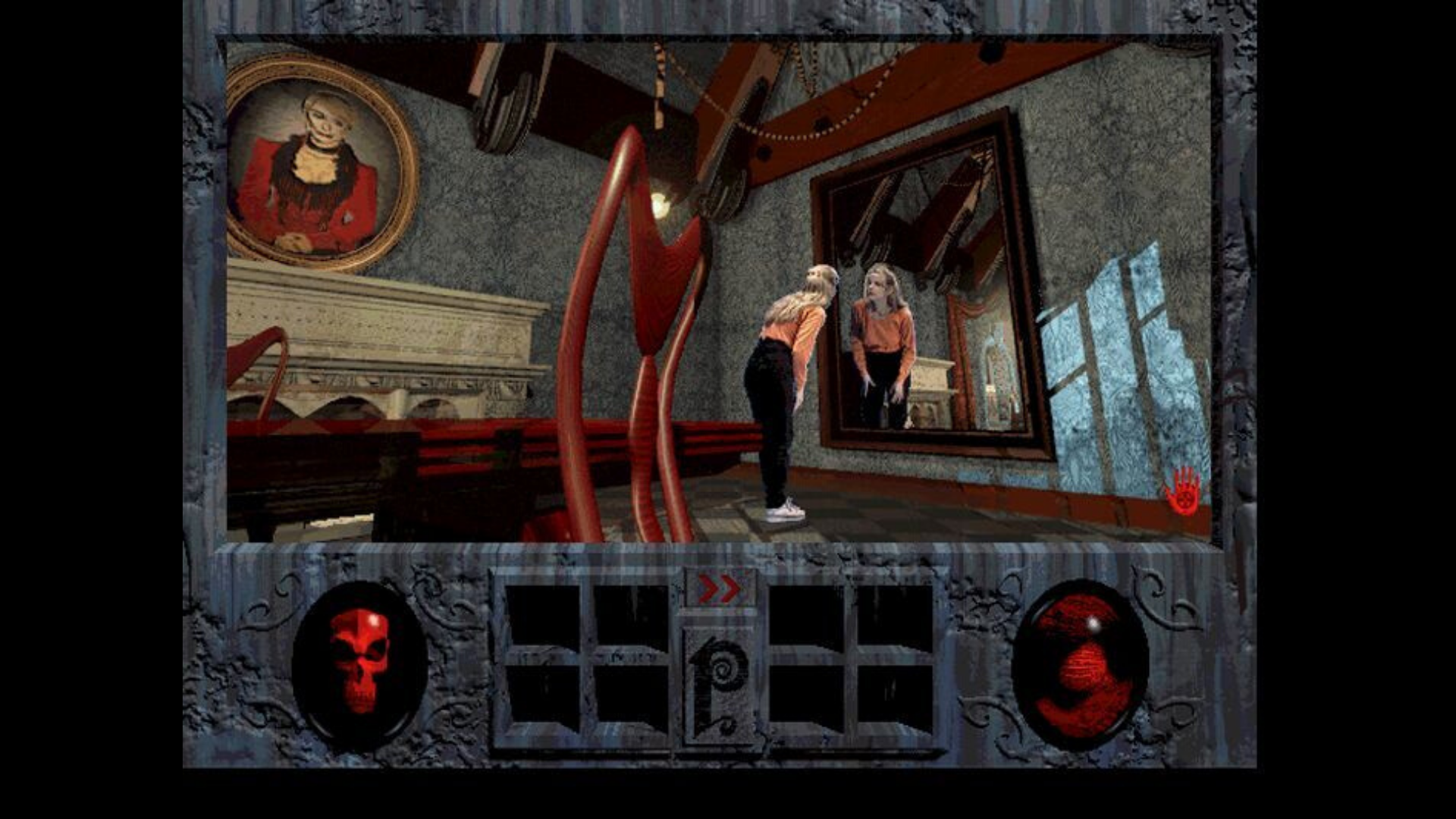 Zur gleichen Zeit wird Roberta Williams Story-Berater eines anderen amtosphärischen Kultklassikers der Horrorspielgeschichte:
Shivers
. Phantasmagoria und Shivers sind beide DRM-frei auf GOG.com erhältlich.
Ein Erbe mit Eigenleben
1999, nach zwei Jahrzehnten kreativer Arbeit, entschließt sich Roberta Wiliiams, sich aus dem Videospielgeschäft zurückzuziehen. Seitdem genießt sie ein friedliches Leben und liest Bücher, spielt Videospiele und bereist die Welt. Ab und zu holt sie ihr gewaltiges Erbe ein, wie bei dem eingangs erwähnten Pioneer Award bei den 20. Game Developers Choice Awards. Nachdem sie in den Ruhestand ging, sagte sie, dass sie vielleicht ein Buch schreiben wolle. Wenn ihr Buch auch nur halb so revolutionär für das Feld der Literatur ist wie Roberta Williams Arbeit in der Videospielbranche, können wir es kaum erwarten.