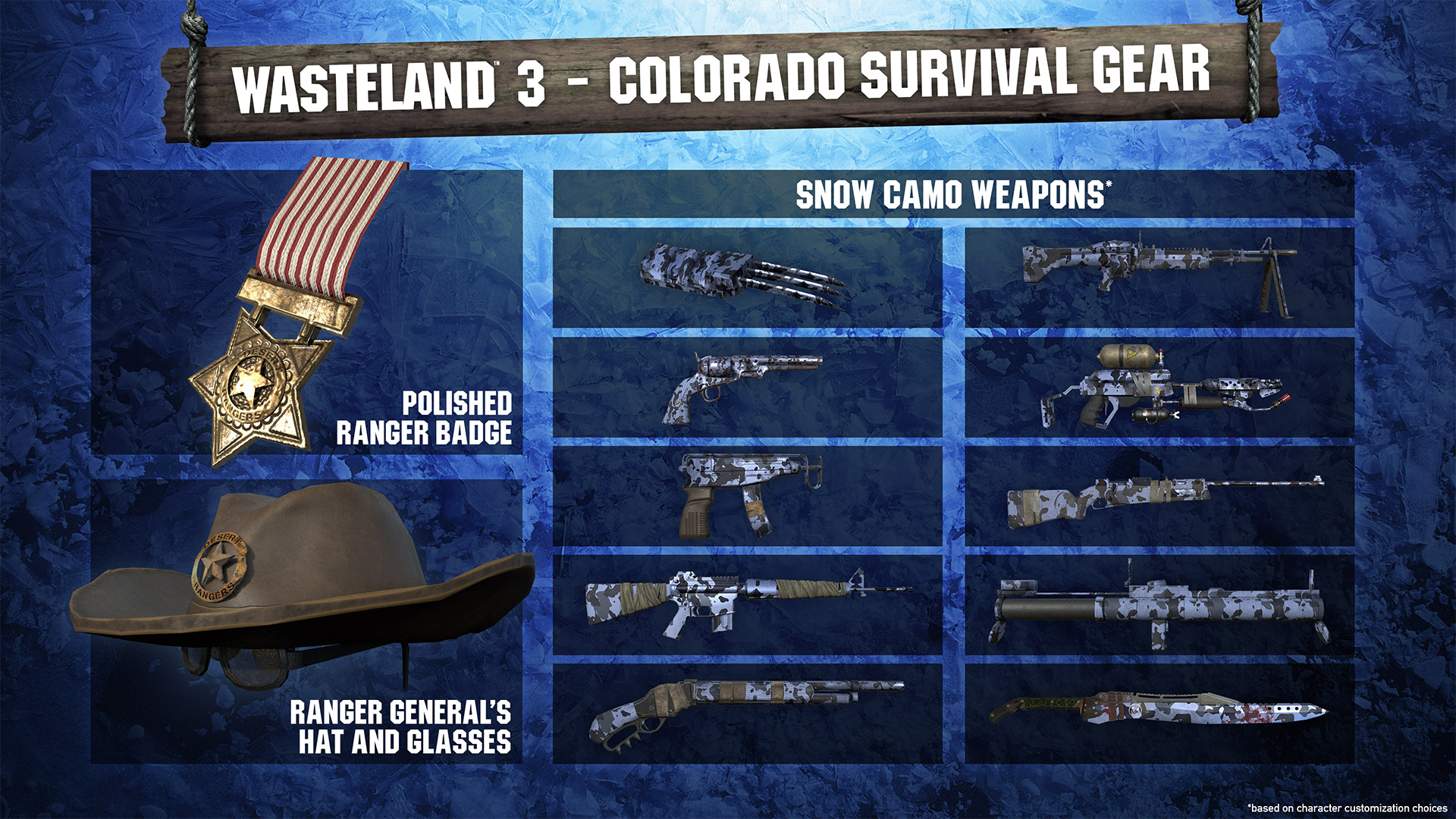 Pre-order now to receive the in-game Ranger General's Hat and Glasses, Polished Ranger Badge, and Snow Camo Weapons for a head start in the wasteland.

In this post-apocalyptic RPG you take control of the Desert Rangers as they arrive in Colorado. To survive you'll need to build a new base, gear up your vehicle, train recruits, and fight to survive—but remember, every choice has a consequence.
In Wasteland 3 the fate of Arizona depends on the fate of Colorado. You're a Desert Ranger, fighting a losing battle to keep your beloved Arizona alive, when the self-proclaimed Patriarch of Colorado radios, promising aid if you'll do a job he can only entrust to an outsider—rescue his land from the ambitions of his three bloodthirsty children.
Wasteland 3 is a post-apocalyptic RPG from inXile entertainment, featuring challenging tactical combat, hours of exploration, and a deep, reactive story full of twists, turns, and brutal ethical decisions. Play in single-player or co-op as you customize your squad with perks and abilities geared to your playstyle, and customize your vehicle—the Kodiak—turning it into a hardened war beast. Saving Colorado isn't going to be easy, but Arizona is counting on you, so... don't screw it up.
© 2020 inXile entertainment, Inc. All rights reserved. inXile entertainment, the inXile entertainment Logo, Wasteland and Wasteland 3 are either registered trademarks or trademarks of inXile entertainment, Inc. Published 2020 by Koch Media GmbH. Deep Silver is a division of Koch Media GmbH, Gewerbegebiet 1, 6604 Höfen, Austria. Deep Silver and its respective logos are trademarks of Koch Media GmbH. Created with Unity. Portions of this program © 2005-2020 Unity Technologies Uses Facial animations powered by FaceFX. ©2002-2020, OC3 Entertainment, Inc. and its licensors. All rights reserved Powered by Wwise © 2006 – 2020 Audiokinetic Inc. All rights reserved. Developed by inXile entertainment, Inc.