The week bored you? Are you perhaps stressed and pent-up? Need a catharsis? Well, how about this time, instead of tea and a warm blanket, you will go on an adrenaline-pumped rampage and unleash hell on every enemy in sight!
It's time to slash and destroy! Get ready for Gore&Fast-Paced Week absolutely packed with titles that will provide you with the unmatchable thrill of combat, excitement of victory, fantastical, heart-pumping worlds testing your skills, unimaginable horrors and guts flying everywhere! And the best part? All of them have great discounts up to -90% available until February 9th, 11 PM UTC.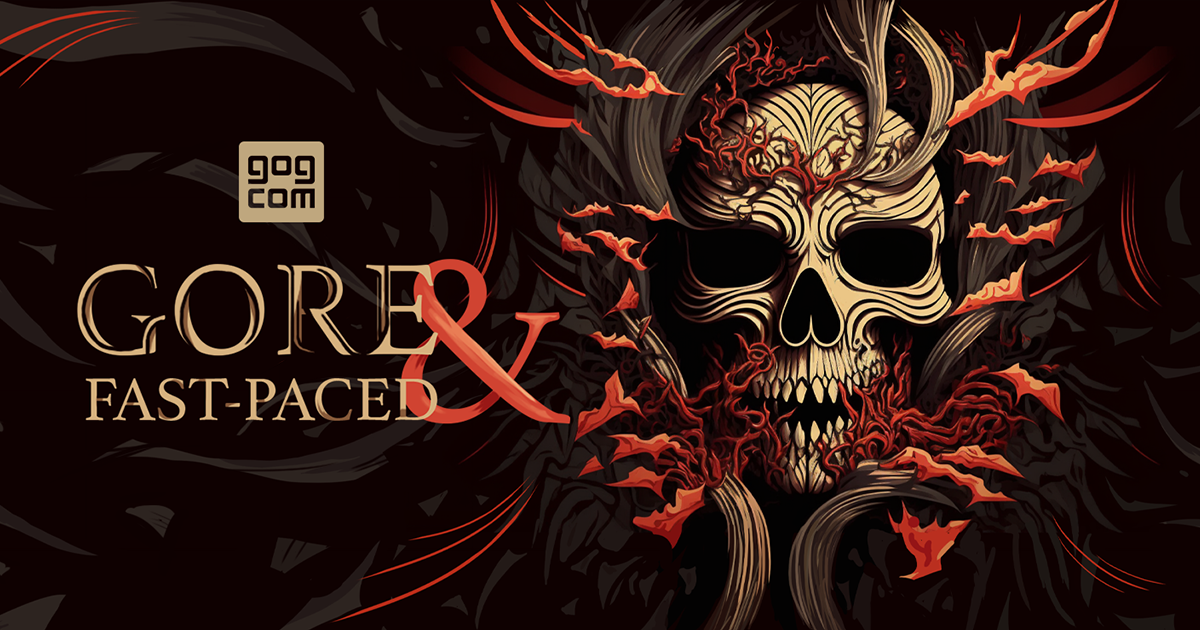 Crushing, breaking, butchering, riving, slitting, shredding, exploding and every other form of heart-pumping, fast-paced action and destruction is waiting for you to indulge! And better yet,
Gore&Fast-Paced Week
provides all of that with a variety of genres, unique gameplay mechanics and high-stakes scenarios.Amazing horror titles? Yes. Bloody hack&slash games? Of course. Rip-roaring shooters? Sure. Hair-rising platformers? There.
And so much more!
To prove it, let's look at some of the examples:

Starting on a high-note with PERISH – the newest release available on GOG! It's a stylish and violent FPS providing monstrous amounts of fun for 1 to 4 players and discounted -10% for the duration of the sale.
In
PERISH
you are amyetri, a corporeal spirit condemned to live a shadow life in the halfway realm of Purgatory. Your quest? To bring an end to your suffering by initiating the Rites of Orpheus and defeat the chthonic deities that dominate your fractious path to Elysium.You'll slay hordes of creatures on the scorched sands of Purgatory and sell their gold-stained corpses to craven priests. Expect series of magnificent boss-fights against rare and unexplored colossal deities from ancient Greek mythology, more than 10 handcrafted and ornate javelins, swords, bows, and guns each with its own unique and upgradeable offensive capabilities, gratuitous, brutal, blood-soaked ranged and melee combat against enemies with distinctive battle behaviors, and exploration of unforgiving, dark world. Sounds amazing? Well, it absolutely is! But only trying it out for yourself will do this title justice.
Darksiders titles (-75%)
With
Darksiders Warmastered Edition
,
Darksiders II: Deathinitive Edition
and
Darksiders III
with its DLCs, as well as
Darksiders Blades & Whip Franchise Pack
. This great series of hack and slash action-adventure series needs no introduction. Throughout the years it captured the hearts of players all over the world with its unique blend of action, adventure, and mythology. Its rich, apocalyptic world filled with mythical creatures and a complex narrative that weaves together elements of the Four Horsemen of the Apocalypse and the battle between heaven and hell are things to behold. The fast-paced and intense action, including visceral combat and challenging puzzles will give players who enjoy both adrenaline-fueled thrills and a test of their problem-solving skills an unforgettable gaming experience. No matter which part you play and which Horsemen story you'll discover first, you can't go wrong with them!

Scorn (-30%)
First-person biopunk survival horror adventure, heavily inspired by the grimly surrealist works of Swiss artist H.R. Giger and Polish dystopian painter Zdzisław Beksiński. Its design revolves around the idea of being isolated and lost inside a dream-like world filled with different interconnected regions in a non-linear fashion within an unsettling environment that is a character itself. You will experience extreme immersion being aware of the character's body and movement while interacting with the world in a realistic way. From the uncomfortably crunchy, squishy gore and mist-filled locations, through weapons that snap and squelch with uncomfortable aplomb during use, to the enemies themselves that either lack a face entirely or resemble horrendously massive, shambling phalluses. In Scorn extreme violence, blood and gore (including mutilation and torture) merge with nightmarish, disturbing, puzzle-like imaginary.

Outlast titles (-85%)
With
original Outlast
,
Outlast 2
and
Outlast: Whistleblower
. All of them tell different, engaging stories but remain the same impeccable combination of survival horror elements, a first-person perspective, and immersive storytelling. Take on the role of a journalist investigating mysterious and potentially dangerous locations, using stealth and limited resources to survive while uncovering the truth. The series is known for its intense atmosphere, graphic violence, and jump scares, which creates a highly engaging and suspenseful gaming experience.

Witchaven (-66%)
Descend into a dark and gruesome nightmare! You alone must face the evil within the volcanic pit of the Island of Char, toward the mystical lair of Witchaven. Classic FPP action shooter which features old-school gameplay and unique setting. You'll confront witches that have cast a shadow of evil spells shrouding you in the never-ending darkness. Make use of your magic, might, and mind as you engage in bloody warfare with vile demons and monsters. Use medieval weapons to destroy these creatures of the night and cease the chaos. 3D hell awaits for carnage.

Succubus (-35%)
In this amazing FPP horror adventure game you jump into the skin of Vydija, demonic priestess of lust and use her unique skills to take revenge on your enemies and regain your kingdom making hell tremble under your hooves! You are the greatest terror in this brutal world. Teach your opponents that standing in your way is the biggest mistake they could make. Become the judge and the executioner and unleash your rage both on the damned souls and the demons that will challenge you. Expect intense and brutal action using 40 different weapons and 20 special powers, diversified opponents, character and main hub customization options, a system of weapons and armor that affect a player's statistics, rich and diverse world of Hell, multi-story plot combining horror with action and survival and so much more!

But that's just the tip of it. Mountain of the Gore&Fast-Paced Week's discounts is almost as big as the mountain of corpses you will leave behind when playing those games. Check all of them out HERE and indulge in the goriest, bloodiest, scariest adventure yet!Show everyone that nothing will escape your wrath!