No Longer Home Farewell Edition includes base game and Original Soundtrack

Bo and Ao are graduating university and preparing to leave the flat they've lived in together for a year. Thanks to visa limitations, Ao is forced to return to Japan, leaving Bo in England. Disillusioned by post-educational life and shoved aside by a government who doesn't want them there, both are trying to come to terms with their uncertain futures. And deep under their South London flat, something grows...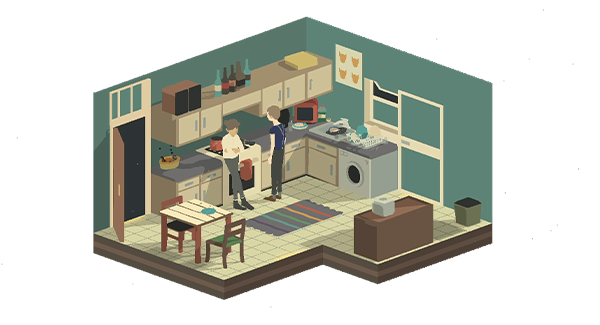 Wander through an intimate flat and examine the everyday belongings of Bo and Ao. Have BBQs, play video games, and stay up late just talking in bed. Follow the day to day activities and conversations of two queer, non-binary students and their friends. Get to know Lu, the multi-eyed, animal-like new flatmate.

No Longer Home was born when the developers were similarly forced apart after university, and decided to stay in touch by working on a game together. Development duo Hana and Cel chose this project as a way to explore and express the emotions that came with saying goodbye.




Soundtrack
An arranged blend of synthetic and analog ambiences and sounds, with instrumental embellishments guiding you between spaces within the flat; growing through animated sequences and vignettes.
The official soundtrack to
No Longer Home
is composed and produced by Eli Rainsberry (
A Monster's Expedition, Bird Alone, Wilmot's Warehouse
), with contributions from session musician Derek Daley, and composer for the prequel
Friary Road
, Paws Menu.
TRACK LISTING
1 No Longer Home 1:41
2 29 (Derek Daley & Eli Rainsberry) 1:24
3 Bo's Dream 2:10
4 Everything Just Feels Really Flat Right Now 3:02
5 The Unknowable Geometry 7:47
6 The Beast 10:03
7 Galaxy Bath (Paws Menu) 1:15
8 I Don't Feel Ready To Go Back Home 1:46
9 Anyone Else Want A Drink? 3:14
10 Friary Road (Paws Menu) 2:58
11 What Are We Playing 1:01
12 Among The Leaves (Considering Directions) 1:51
13 Dissonant Call 1:01
14 The Lights Around The Wood 1:50
15 Presence Of Flora 1:32
16 Descending (Derek Daley & Eli Rainsberry) 1:48
17 A Strange Familiarity 2:11
18 Sequences 1:34
19 Miguel (Derek Daley) 2:24
20 Where Did They Go 1:08
21 Would You Like To Come To Bed? 4:31
22 Lu's Lullaby 1:52
23 A Man At A Gas Station With His Dog 1:03
24 Talking In Bed 8:06
25 Starshower (Paws Menu feat. Eli Rainsberry) 3:10
26 Come Visit Soon? 2:11