The "Dressed to Skill"-Edition includes the base game as well as the following sauc(er)y extra items:
Reprobed: Skin Pack
Tuxedo, Mankini or sparkly Unicorn - 10 special skins for Crypto, the king of evil aliens himself. Fly high, with 4 special skins for his trusty saucer. Dress for the ocassion, dress for the invasion!
Reprobed: Challenge Accepted DLC
Test your skills in this post-launch DLC that adds all 4 Challenge Modes from the first instalment to Destroy All Humans! 2 - Reprobed. All modes playable in local splitscreen co-op!
Also included: numerous new Mutators that let you alter the rules of the game!
Reprobed: Official Orchestral Score
The legendary original score of Destroy All Humans! 2.
Reprobed: Digital Art Book
Artbook full of deep insights and luscious character paintings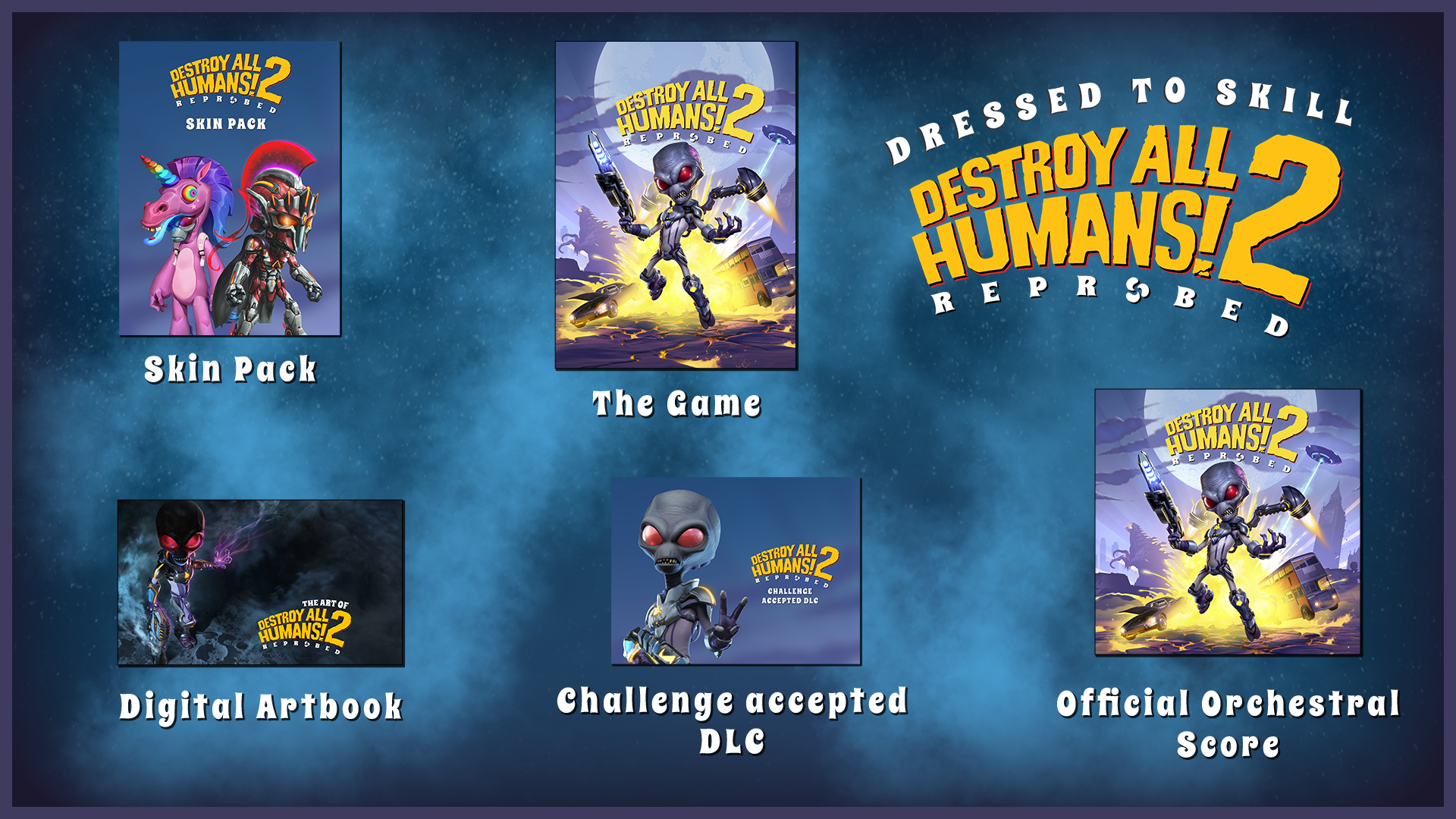 Destroy All Humans! 2 - Reprobed © 2022 THQ Nordic AB, Sweden. Published by THQ Nordic GmbH, Austria. Developed by Black Forest Games GmbH. THQ and THQ Nordic are trademarks of Embracer Group AB, Sweden. Unreal Engine, Copyright 1998 - 2022, Epic Games, Inc. Unreal, Unreal Technology and the Powered by Unreal Technology logo are trademarks or registered trademarks of Epic Games, Inc. in the United States and elsewhere. All other trademarks, logos and copyrights are property of their respective owners. All rights reserved.