Summer is almost here – longer days, more sunshine, warm breeze. All of it invites us to relax, enjoy ourselves and take it easy. To match this awesome vibe, our latest GOG GALAXY Update is all about making things simple and easy!
Let's give a warm welcome to the Tyche update and see what it contains.
We all know this feeling when you've just finished a great title and the big question starts to rise: what should I play next? Well, to help you decide what adventure you should embark on, we've introduced the "Next to play" widget in your "Recent" view. This way you can easily see which gems from your gaming library you haven't yet played and should give them a shot.Additionally, we'd love to hear your impressions and feedback regarding this and future features. While checking out the "Next to play" widget you'll encounter surveys within GOG GALAXY that you can take. Rating your experience through them will be an amazing way to let us know what you think, so we highly encourage you to do so!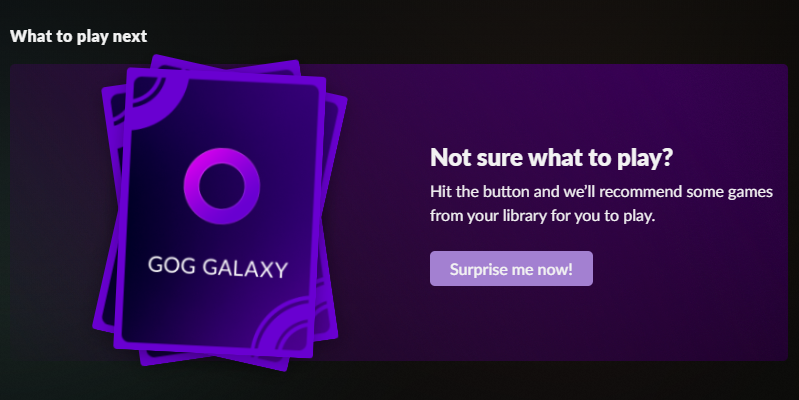 Tyche's next addition is aimed at making exploring DLCs as hassle-free as it gets. Every time when you wonder if there's any more content to your beloved game, just simply go to its game view. You'll see that we've added a new list of all available DLCs that you haven't yet purchased for that given game. You can browse it, pick what you like the most and enjoy the fun that they offer.Moreover, because there are always many awesome things happening on GOG, we're also introducing a feature that'll make sure you are not missing out on any of them. Those who gave their marketing consent will now receive a new type of desktop notifications that inform them about all the cool, special events that take place in our store.

Those are the main features and improvements in the version 2.0.66 of GOG GALAXY. Besides that we fixed a few bugs like the ones preventing editing of a bookmark name while on a game view or incorrectly wrapping text on "Downloads" view. We also reduced the amount of background requests for your convenience and updated the layout of the "Welcome offer" banner.
Head over to the GOG GALAXY client, check the Tyche update out and let us know what you think! And if you haven't already, click HERE to download GOG GALAXY – you won't regret it.