Poniżej znajdziecie listę najważniejszych zmian nadchodzących w aktualizacji:
Nie ma to jak w domu
Chcesz odświeżyć swoje lokum? Teraz możesz całkowicie odmienić swoje mieszkanie! A jeśli zależy ci na zupełnie nowym wyglądzie, w Night City czekają na ciebie cztery nowe mieszkania. Rozsiądź się wygodnie w nowej okolicy, wypij gorącą kawę, sprawdź swoje zapasy i nie tylko.
Lustereczko, powiedz przecie...
Możesz teraz poprawić niektóre elementy swojego wyglądu (takie jak włosy, makijaż, piercing, itp.) podczas korzystania z lustra w każdym z apartamentów i kryjówek. Jest to darmowe i możesz to robić tak często, jak tylko chcesz. Dostosowywanie postaci obejmuje również więcej opcji makijażu i koloru włosów. Kto jest teraz najpiękniejszy w świecie?
Są też inne ważne zmiany w grze, warte twojej uwagi:
Możliwość ponownego przydziału punktów atutowych i modyfikacja ubrań
Perki zostały ulepszone, drzewko postępu Zimnej Krwi zostało przebudowane, podobnie jak zasady dotyczące modyfikacji ubrań. W rezultacie wszystkie wydane przez Was punkty atutów oraz modyfikacji ubrań zostały zresetowane. Możecie je ponownie przydzielić za darmo w ich odpowiednim menu.
Rozgrywka została również poprawiona w wielu mniejszych, ale ważnych szczegółach:
Zlecenia od fixerów
V ma teraz reputację wśród fixerów w całym Night City. Nowe zlecenia dla fixerów będą pojawiać się stopniowo wraz ze wzrostem twojej reputacji, a fixer zaoferuje ci kolejny zestaw zadań dopiero po ukończeniu poprzedniego w danej dzielnicy.Za ukończenie wszystkich zleceń otrzymasz specjalną nagrodę (z wyjątkiem Mr. Hands - przykro nam, typ po prostu cię nie lubi). Aby zobaczyć poziom swojej reputacji z danym fixerem, najedź na jego ikonę na ekranie mapy i sprawdź ukończone zlecenia.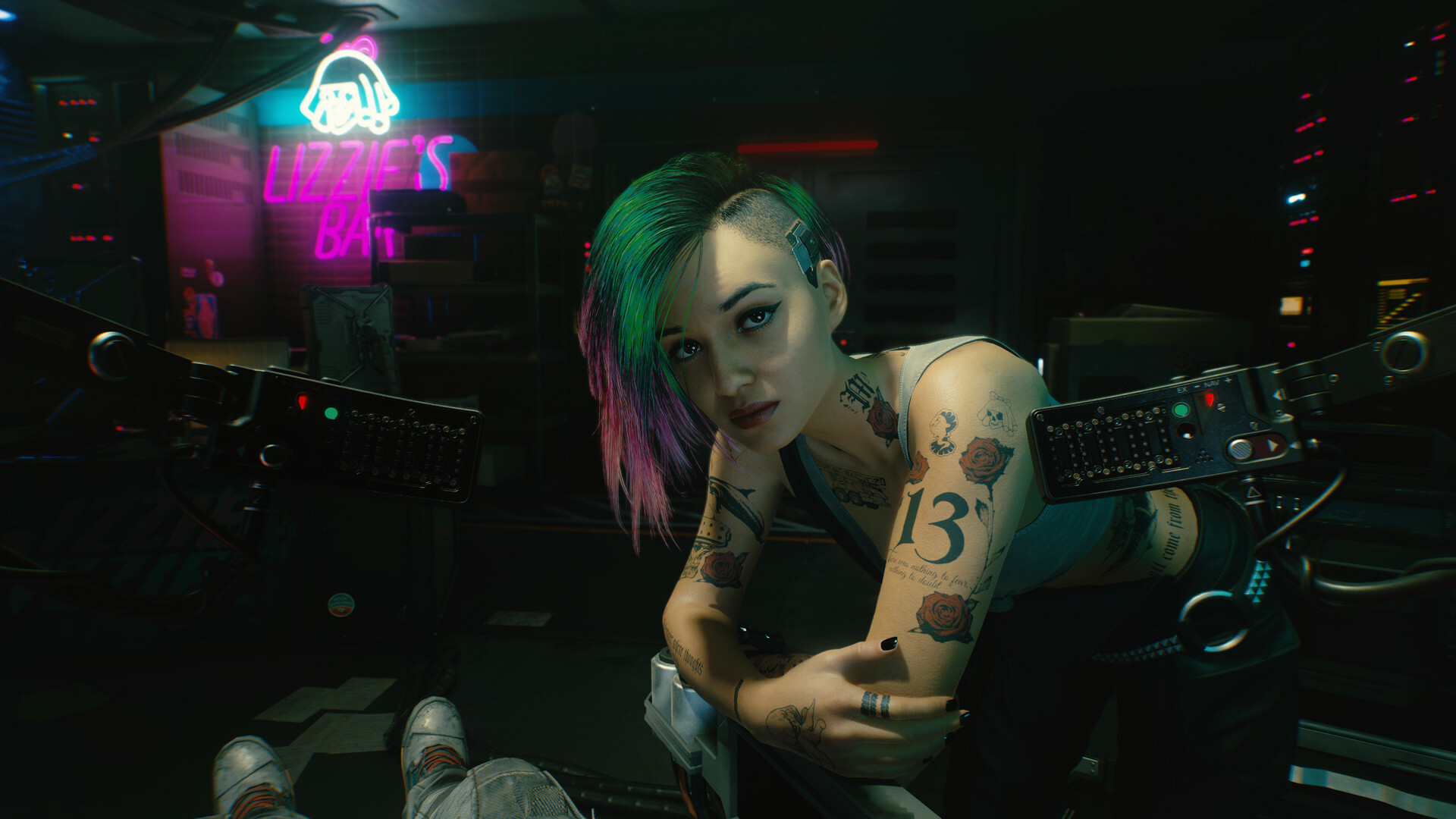 Re-balans broni i ekonomii
Eksperymentuj i znajdź najlepszy sposób na pokonanie swoich wrogów, równocześnie wykonując zlecenia dla większej ilości osób niż kiedykolwiek wcześniej!
Ulepszenia mapy
Dodano różne poprawki do mapy - zmiana rozmiaru ikon, dodanie nowych etykiet narzędzi i filtrów, dynamiczny filtr dostosowujący się do poziomu zbliżenia, jak również filtr niestandardowy, który może być skonfigurowany przez gracza.
Historia i interakcje
Nowe wiadomości tekstowe dadzą ci więcej możliwości interakcji z obiektem twoim partnerem.
Odrzucanie połączeń
Możesz teraz odrzucać holo-połączenia, które nie są kluczowe dla głównej fabuły - zamiast tego otrzymasz wiadomość tekstową. Możesz również wyciszyć holo-połączenia w ustawieniach.
Ulepszony model jazdy
Przedstawiamy zupełnie nowy tryb jazdy Burn Out! Przytrzymaj gaz + hamulec uruchomić silnik i klawisze sterowania, by się obrócić. Stary system pozwalał tylko na obracanie się w miejscu, teraz możesz zrobić znacznie więcej! Spróbuj gwałtownego hamowania, bączków czy driftów.
Ulepszone zachowanie tłumów
Ruch uliczny jest teraz płynniejszy i bardziej realistyczny. Kierowcy reagują teraz bardziej wiarygodnie na wydarzenia na drodze, takie jak stłuczki i zderzenia, a w niebezpiecznych sytuacjach wpadają w panikę. Tłumy poruszają się płynniej i bardziej wiarygodnie reagują na na twoje działania. Jeśli więc będziesz szukał kłopotów, prawdopodobnie je znajdziesz!
Ulepszona stabilność i wydajność
Dodano algorytm AMD FidelityFX™ Super Resolution (FSR) 1.0, który zastąpił Contrast Adaptive Sharpening (CAS). Teraz możesz także skorzystać z trybu benchmarku.
To oczywiście nie wszystko! Pełną listę zmian możesz zobaczyć w osobnym artykule, poświęconym w całości aktualizacji 1.5.