Aujourd'hui en 2020, on a l'impression qu'il sort au moins un ou deux grands jeux de tir militaires à la première personne par an, mais au début des années 2000 la situation était différente, et ce genre de jeux était absolument partout.
C'est à cette époque que sont apparus les premiers Call of Duty, et en 2005 les joueurs eurent la chance de découvrir un jeu de tir tactique en escouade du nom de
Brothers in Arms: Road to Hill 30
. Afin de fêter dignement les 15 ans d'anniversaire de ce titre emblématique, nous nous sommes dit que ce serait une bonne idée de faire un tour d'horizon des jeux de tir militaires des années 2000, et de nous intéresser plus particulièrement à ce qui rendait Brothers in Arms: Road to Hill 30 si différent des autres.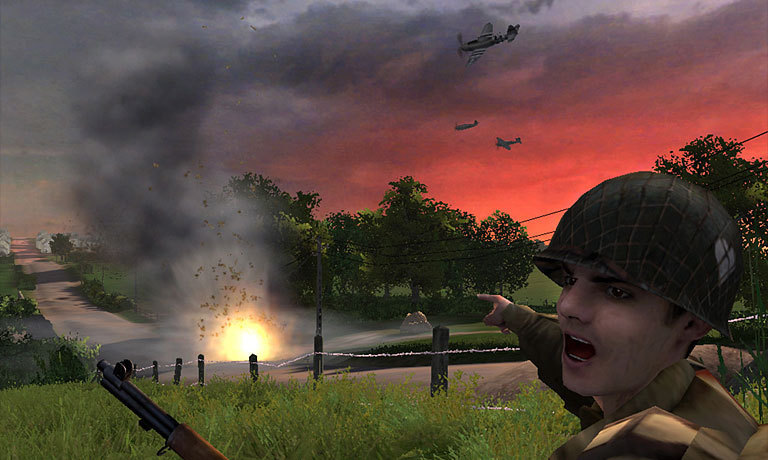 Les jeux consacrés à la Seconde Guerre mondiale étaient légion dans les années 2000
Les années 2000 ont connu une profusion de jeux de tir à la première personne. Les fans de science-fiction et de jeux de tir rapides de style action avaient accès à des jeux comme Halo,
Soldier of Fortune
ou
Return to Castle Wolfenstein
, mais vous aviez également tout un choix de jeux de tir militaire plus réalistes si c'était ce que vous recherchiez. Les deux séries les plus emblématiques de ce courant, Call of Duty et Battlefield, commençaient à prendre de l'ampleur, et le milieu des années 2000 a connu toute une vague de jeux de tir sur la Seconde Guerre mondiale. En plus de Brothers in Arms, Call of Duty 2, Day of Defeat, les deux jeux
Medal of Honor: Allied Assault
et Medal of Honor: Airborne, ainsi que Red Orchestra, tous des jeux prenant place pendant la Seconde Guerre mondiale, sortirent à quatre années d'intervalle.Même au milieu de toute cette compétition, Brothers in Arms: Road to Hill 30 parvint à tirer son épingle du jeu et à se faire remarquer parmi toute une foule de jeux semblables.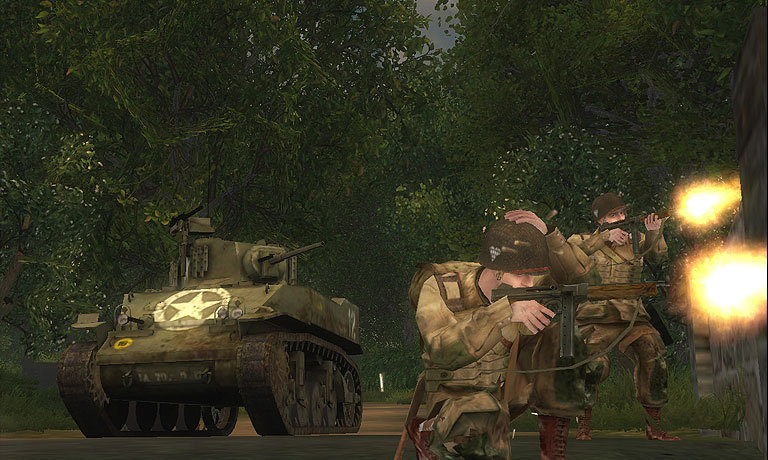 Brothers in Arms proposait des mécaniques de jeu innovantes qui lui permirent de se démarquer des autres jeux de tir de l'époque
Développé par Gearbox Software (plus connu aujourd'hui pour leur série Borderlands), Brothers in Arms est arrivé avec une approche militairement réaliste doublée de mécaniques d'escouade innovantes qui en faisaient un jeu unique. Le studio poussa l'attention au détail encore plus loin et engagea un colonel de l'armée américaine à la retraite, John Antal, en tant que consultant sur certains aspects tactiques du jeu. Antal dispensa une formation à la fois théorique et pratique sur le terrain aux développeurs, et les connaissances acquises à cette occasion se retrouvent indéniablement dans le produit fini.Au contraire de la plupart des jeux de tir militaires, Gearbox fit en sorte que les armes soient réalistes eu égard à l'époque concernée. La précision des armes à feu n'était pas parfaite, mais reposait au contraire sur des mires reproduisant fidèlement celles des années 40 et le recul venait également compliquer la tâche du joueur. Ces éléments venaient rendre le jeu plus difficile, mais cela renforçait d'autant le sentiment de satisfaction éprouvé par les joueurs lorsqu'ils réussissaient enfin une mission.En plus de ces éléments de réalisme, Brothers in Arms reposait sur une mécanique unique de tir d'escouade qui ajoutait de la profondeur au jeu et permettait d'adopter plusieurs approches pour remplir vos objectifs. Puisque vous ne pouviez pas compter autant sur vos armes, la maîtrise de votre escouade (le plus souvent, deux PNJ prédéfinis) était essentielle pour venir à bout des missions. Ces ordres étaient donnés en temps réel et étaient primordiaux si vous vouliez réussir à contourner vos adversaires pour les éliminer efficacement. Aujourd'hui encore, les fonctionnalités d'escouade de Brothers in Arms occupent une place à part dans la longue liste des jeux militaires sortis dans les années 2000.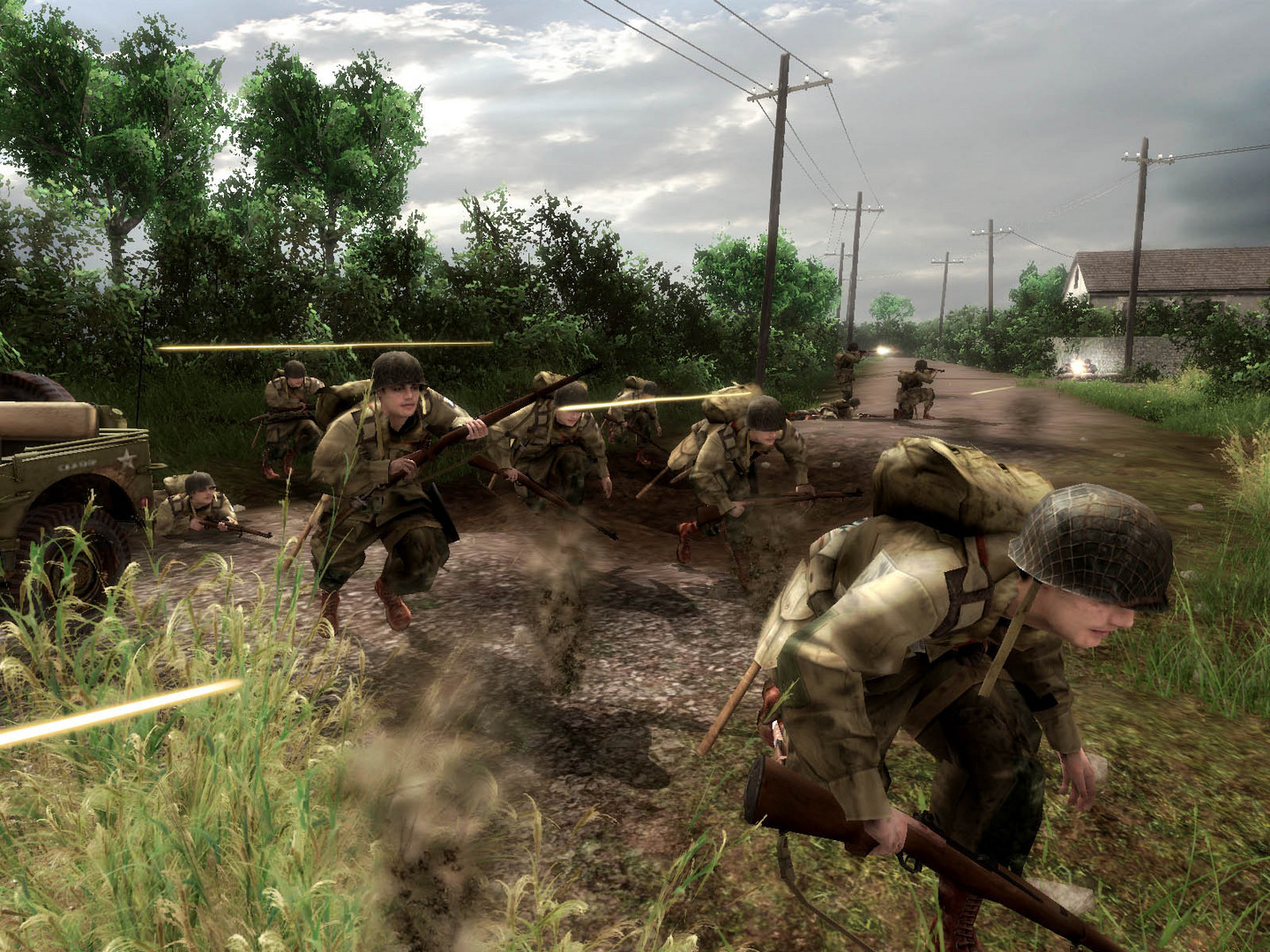 Brothers in Arms avait également une approche plus réaliste de la narration
La narration de
Brothers in Arms: Road to Hill 30
avait adopté le même parti pris réaliste que ses mécaniques d'escouade et de tir, à l'inverse des jeux de tir semblables sortis à la même époque. Basé sur une histoire vraie, le jeu vous met dans la peau d'un soldat de la 101e division aéroportée, parachuté derrière les lignes ennemies lors du jour J. Dès votre première mission, vous revivez la bataille de Bloody Gulch au manoir de Donville, désigné par les Alliés sous le nom Hill 30.Tout au long du jeu, vous participez à plusieurs batailles et escarmouches inspirées d'événements réels. Cette attention au détail a permis à de nombreux joueurs d'être absorbés par l'histoire du jeu et est pour certains l'élément majeur le différenciant des autres. L'un des critiques du jeu insiste d'ailleurs sur le fait que, alors que la plupart des jeux de tir militaires de l'époque avaient adopté une approche hollywoodienne de la guerre, Brothers in Arms était plus brut, réaliste et moderne, à la manière de Il faut sauver le soldat Ryan ou Band of Brothers, et que sa "représentation authentique et chargée d'émotions" en faisait une expérience unique.The title was a success and has paved the way for a variety of
Brothers in Arms games
throughout the years, meaning there is plenty to enjoy past the first title in the series. If you are looking for a military trip down memory lane and squad-based tactics seem like an interesting addition to the classic formula, it's definitely one worth checking out!Le jeu rencontra un véritable succès et a ouvert la voie à de nombreux successeurs dans la
série Brothers in Arms
au fil des ans, ce qui veut dire qu'il vous reste beaucoup de choses à découvrir après avoir terminé le premier jeu. Si vous êtes à la recherche d'un peu de nostalgie dans l'univers du jeu de tir militaire et que les mécaniques d'escouade vous semblent un ajout intéressant par rapport à la formule classique, n'hésitez pas : Brothers in Arms vaut le détour !
Qu'en pensez-vous ? Avez-vous déjà joué à Brothers in Arms: Road to Hill 30 ? Vous comptez lui donner sa chance après avoir lu cet article ? Dites-nous tout dans les commentaires ci-dessous ou parlez-en sur nos réseaux sociaux !