The Witcher World is Back!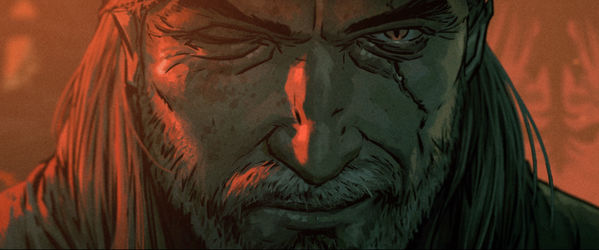 "One of the best-written RPGs in years" - 9.4/10 - IGN
"Superb" - 9/10 - GameSpot
"A spectaculary crafted RPG" - 5/5 - GamesRadar+
"Addictive gameplay and wonderful story" - 9/10 - Critical hit
Thronebreaker is a single player role-playing game set in the world of The Witcher that combines narrative-driven exploration with unique puzzles and card battle mechanics.
Crafted by the developers responsible for some of the most iconic moments in
The Witcher 3: Wild Hunt
, the game spins a truly regal tale of Meve, a war-veteran queen of two Northern Realms — Lyria and Rivia. Facing an imminent Nilfgaardian invasion, Meve is forced to once again enter the warpath, and set out on a dark journey of destruction and revenge.
Main Features:
Experience an all new 30-hour Witcher Tale with 20 possible world end-states.
Embark on over 75 thought-provoking side quests — one of the hallmarks of The Witcher series.
Explore never-before-seen parts of The Witcher world — Lyria, Rivia, Aedirn, Mahakam and Angren.
Manage resources, recruit and develop units in your very own customizable war camp.
Build an army and engage in story battles, which twist the game's rules in wildly unexpected ways.
Additional Features:
Thronebreaker features over 250 single player tailored cards, as well as 20 brand new cards for GWENT: The Witcher Card Game.
Each card represents an entity in the game — characters players interact with during open world exploration can become on-hand assets, deployable during battle.
During each playthrough, players make choices and face their consequences — acting against an ally's convictions might cause their card to disappear from the deck.
Mastering the campaign allows unlocking premium animated versions of cards, additional multiplayer avatars, borders, and titles.
Fully voice-overed dialogues, localized into 11 languages.
Thronebreaker: The Witcher Tales comes with these bonus items:
Concept art, including the map of Lyria
Digital version of GWENT: Art of The Witcher Card Game artbook from Dark Horse.
The Witcher graphic novel "Fox Children" by Dark Horse
2 in-game GWENT: The Witcher Card Game Player Titles
2 in-game GWENT: The Witcher Card Game Player Avatars
5 premium kegs for GWENT: The Witcher Card Game
Official Thronebreaker Soundtrack

How about more GWENT extras?

Unlock 20 cards (standard versions) for use in GWENT: The Witcher Card Game and search for their exclusive premium versions during your travels in Thronebreaker.
Note: Standard versions of the 20 cards can also be crafted directly in GWENT: The Witcher Card Game.

Please note: All the aforementioned goodies — including the GWENT in-game items — will unlock upon Thronebreaker's release. If you already have a GWENT account, please make sure to use the same credentials for this purchase so that these items get added to your GWENT profile automatically.

Make sure to launch Thronebreaker first in order to claim the in-game bonus items in GWENT

CD PROJEKT®, The Witcher®, GWENT® are registered trademarks of the CD PROJEKT Capital Group. © 2018 CD PROJEKT S.A. All rights reserved.

In Good Company
Play 5 or more characters in one battle.
common · 54.15%

Cartographer
Collect 15 Treasure Maps.
common · 32.96%

Hoarder
Obtain 10 trinkets.
common · 70.89%

Army Camp Tycoon
Fully upgrade your army camp.
common · 42.88%

I'll probably need this later...
Gather 5,000 wood throughout the game.
common · 70.65%

I want YOU for the Lyrian Army
Recruit 200 Soldiers.
common · 64.04%

Was that supposed to hurt?
Win a non-Puzzle Battle with less than 10 damage taken in total.
common · 81.28%

All Present and Accounted For
Win a non-Puzzle Battle without any of your units being killed.
common · 87.86%

Once more! Again!
Use Meve to trigger allies' Loyal abilities 100 times.
common · 71.55%
GWENT: Art of The Witcher Card Game artbook from Dark Horse
The Map of Lyria
Fox Children Novel
soundtrack (WAV)
soundtrack (MP3)
soundtrack (FLAC)
Concept art (RU)
Concept art (EN)
Concept art (JP)
Concept art (PL)
Concept art (KO)