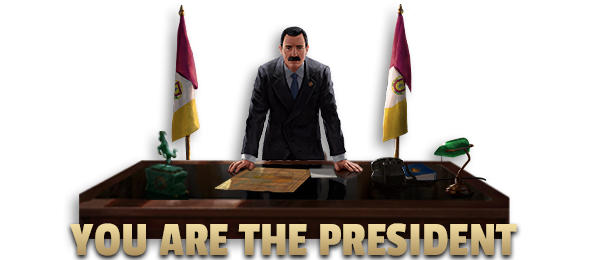 Embark on a thrilling story as President Anton Rayne, steering Sordland through a pivotal time. Confront potential border conflicts, deep-seated corruption, and economic turmoil while navigating complex political dynamics in Anton's first term. As the leader, your choices will shape Sordland's destiny.

Gripping Story: Traverse a 500K-word branching political saga packed with deep and layered conversations.
Choices with Impact: Make critical decisions on security, economy, welfare, and diplomacy. Your values will be tested beyond the confines of your office.
Your Legacy: Drive Sordland towards one of 9 unique major endings and more than 25 sub-endings. What will your legacy be?
Grand Cast: Engage with a diverse cast of more than 50 characters, each with unique personalities and ideologies.
Duty vs. Personal Values: Witness how your presidential decisions influence the country but also your family and relationships.
Stay Informed: Keep tabs on the state of affairs through country or interactable city tokens, policies, situations, news and reports. See the impact and result of your actions.
Discover the Suzerain Universe: Read about newly introduced nations, codex articles about history, and feel the pulse of the world events.



Emerging from the vestiges of a traditionalist regime and wrestling with a challenging transition to economic liberalization amidst a recession, the populace of Sordland craves democratic reform. Economic uncertainty casts a long shadow as the political landscape transmutes, with rival superpowers casting keen, watchful eyes on the unfolding scene.

Stepping into this maelstrom, you, as President Rayne, must forge effective policies alongside your Cabinet and influential figures. Balance the precarious scales of politics by retaining loyal allies, gauging your values against political necessities, and steeling yourself against potential adversaries. Remember, each character in this narrative carries unique ambitions, fueling the complexity of the political landscape.

As the drama unfolds, the delicate equilibrium between your duty to the nation and commitments to your family will be put to the test - a balancing act that challenges the essence of leadership. Can you hold the reins of presidency successfully while being a good parent?

Best of luck, President Rayne - Sordland awaits your leadership.


Copyright © 2020 Torpor Games UG. Published by Fellow Traveller®. Fellow Traveller is a registered trademark of Surprise Attack Proprietary Limited trading as Fellow Traveller Games. All Rights Reserved.

Prologue: Rise to Power
Completed the Prologue
common · 37.6%