Speed Limit is a
non-stop genre-warping arcade experience
that never slows down. No cuts, no lapses in the chaos, Speed Limit is an old-school action extravaganza boiled down to its core elements:
Hard. Fast. Addictive.
As soon as you think you've learned how the game works,
it changes to a completely different genre
, taking you through the history of the golden arcade era.

Fight through a
nail-biting side-scrolling shooter
, race to the finish in an
explosive top-down car chase
, take flight in a
thrilling fake-3D dogfight
, and expect the unexpected. Speed Limit
seamlessly changes styles
, transforms the gameplay, and offers new challenges the moment you feel comfortable.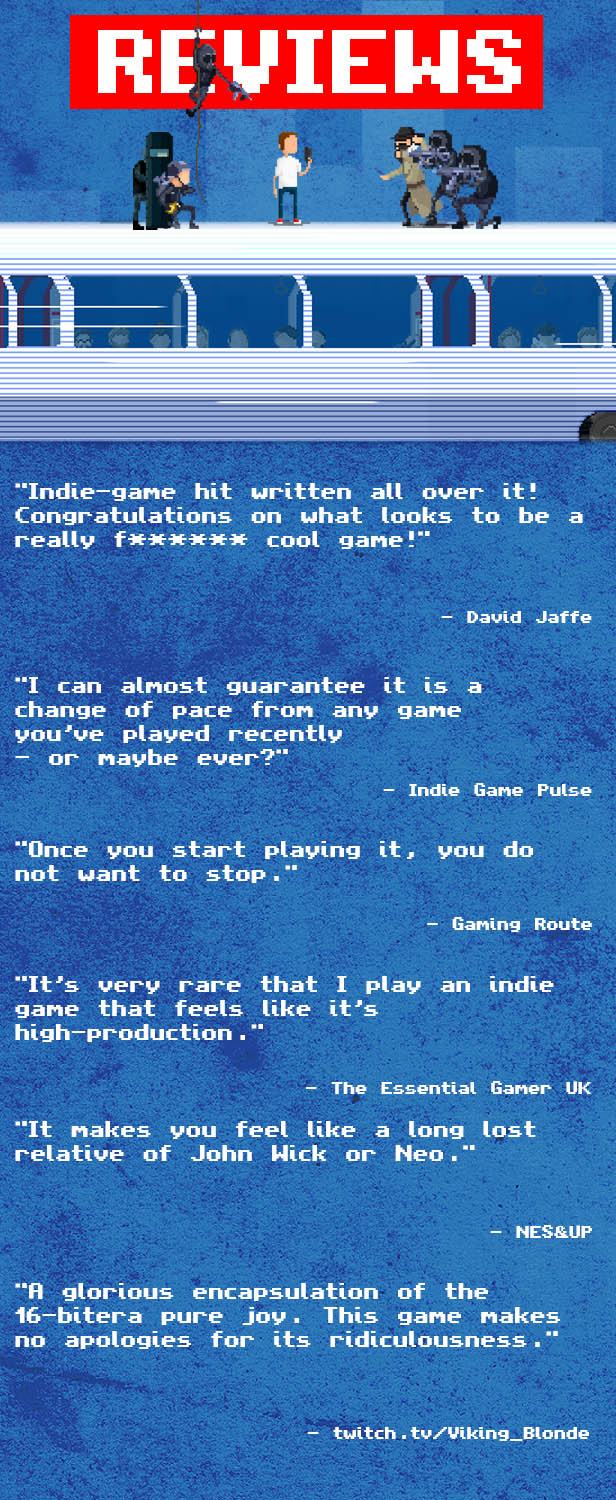 Running. Driving. Flying.
Dying
(many, many times!) - From the moment you click play to the moment you die, you are in control.
And you will die.
A lot.


A thrilling genre-switching rollercoaster that will test the limits of your reflexes

Unlockable endless mode

No tweening, no skeletons: All graphics are hand-drawn frame-by-frame


A 40-minute soundtrack

A 44-page artbook with texts about the game and its inspirations
Artbook
Speedlimit: Pixelart & Arcadecraft is the game-accompanying artbook. It showcases sprites, concept art, and procedures we took in making Speedlimit as is presented to you in the game. Pixelart may be a tried and true method-turn-style, but we think we still found something to learn from it in making this game. You can see the behind the scene tricks we used to make Speed Limit feel the way it does.
Soundtrack
The soundtrack made by Gamechuck's sound designer and composer Matija Malatestinic perfectly complements the game's chaotic nature and pinpoints what the game is all about: making a perfect run.
While listening to the soundtrack, you always have that feeling of something new happening even if it is the same note pattern.
For this soundtrack, Matija used all the right hardware. Korg Monologue, Behringer Neutron, and a eurorack setup with mainly digital oscillators from Noise Engineering and Harvestman (Industrial Music Electronics). 
Matija also used a lot of guitar pedals, mostly distortions, and his favourites are Metasonix TM5, WMD Geiger Counter, and JPTR FX Apokalypse.
Korg Monologue was especially good in creating sub-bass tracks, Behringer Neutron was going through distortion pedals and compressed on lead synth tracks.
We sincerely hope you'll enjoy the Speed Limit soundtrack!