Silver Box Classics
contains of the following titles: Heroes of the Lance, Dragons of Flame, War of the Lance and Shadow Sorcerer.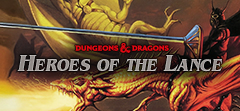 HEROES OF THE LANCE
Discover the world of Krynn in this D&D epic. Control the Companions of the Lance (they aren't Heroes until they succeed!) in their quest to recover the Disks of Mishakal. Only this can defeat the Queen of Darkness and restore the balance between Good and Evil.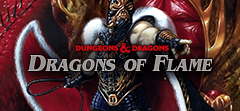 DRAGONS OF FLAME
Takhisis, Queen of Darkness, and her Draconian hordes have overrun much of the homeland Krynn, even the elven armies of Qualinost, valiant in their resistance to this evil power, struggle on the edge of defeat. It is only the returning Companions of the Lance that can halt this wave of tyranny before Krynn is consumed by evil. Freed from captivity by an elven assault column, the Companions under the guiding direction of the cleric Goldmoon and bolstered by their success at recovering the mystical Disks of Mishakal, can once again restore a belief in the gods and unify the inhabitants of Krynn against the power of Takhisis. Rescue slaves held by the ravaging Dragonarmies in the foul fortress of Pax Tharkas.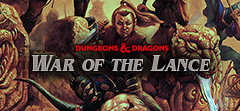 WAR OF THE LANCE
That's the first D&D computer wargame. Prepare for fierce battles and all-out war when the forces of Whitestone clash against the evil Highlord Dragonarmies. The prize: absolute rule over all Ansalon on the Dragonlance game world of Krynn. Send forth your diplomats to forge treaties and gain the allies that will swell the numbers of your troops. When words fail, armies of human, draconians, ogres, dwarves, elves, dragons, and other creatures may prove more persuasive.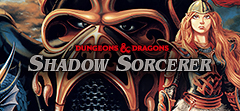 SHADOW SORCERER
Shadow Sorcerer is a tie-in with the Dragonlance series of novels. The player controls a party of four adventurers that have just rescued 800 slaves and must shepherd them through the wilderness before the evil Dragon army catches up with them. There are three levels to the game: - Strategic, where the player must move the refugees safely through the wilderness. - Tactical, where the party explores dungeons and other areas of interest, searching for information and treasure to assist the escape. - Political, where the players must deal with the refugee leaders and convince them to continue following the party. All three take place in real-time with the evil dragons constantly on the adventurers' heels slowly picking off the escapees.
Each of these gaming gems brings its own unique flare and adventure for you to enjoy, ranging from platform to real-time combat experience.
©2022 SNEG LTD. Dungeons & Dragons, D&D, their respective logos, Gold Box, and all other Wizards trademarks, titles, and characters are property of Wizards of the Coast LLC in the U.S.A. and other countries. ©2022 Wizards. Thanks to DOSBox for their years of support.