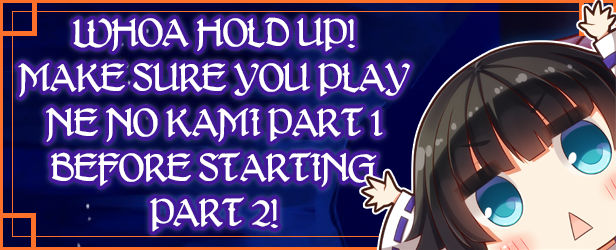 Check out Ne no Kami Part 1 here

Kyoto is shrouded in silence.
While the Ayakashi change course and prepare themselves for invasion, a sudden turn of events suddenly has Len drawing her sword against Shinonome. Despite her pleas, Len pays no heed to the words of her childhood friend.
"...As soon as I kill you, I'll make sure Ruka joins you."
Behind the scenes, conspiracy and truth swirl together but what will become of the princess knights and their beloved princesses? Find out in the concluding chapter of Ne no Kami - The Two Princess Knights of Kyoto Part 2!

Full voice acting in Japanese

Vibrant battle sequences bring the story to life

Scenes from the game based off real locations in Kyoto and Japanese folklore
This Game may contain content not appropriate for all ages or may not be appropriate for viewing at work.
Buying this game on GOG.COM you will receive a censored version of the game.
© Kuro Irodoru Yomiji © Sekai Project