To play this game you also need
Note that this DLC does not contain any gameplay content.
This upgrade is for the fans and the collectors. It contains:
The Godhood Digital Soundtrack.

An exclusive Dedication, which is a statue you can place in your temple complex.

Coming Soon: The Godhood Digital Artbook. *You will automatically receive this once it's done, after the full release of the game.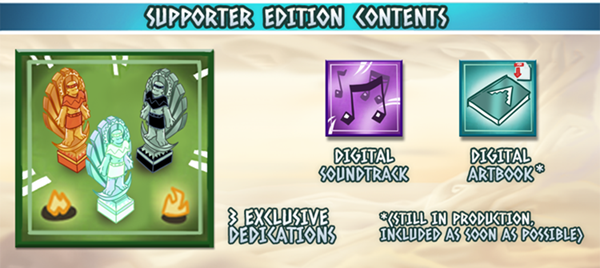 Exclusive Dedication
As a special thank you, you will receive an exclusive Supporter Dedication in three colors, which will not be available after Early Access is over! Place it in your village to remind your people what a generous God you are!
Coming Soon: Art Book
Since we want to commemorate the complete development cycle of Godhood in this Art Book, it will not be available until after launch of the 1.0 version of Godhood. Owners of the Supporter Edition Upgrade will receive the Art Book automatically, for free, as soon as it becomes available!
Soundtrack
Ascend to the heavens with the gorgeous soundtrack to Godhood by the amazing composer Port of Call!
Tracklist:
01 - Godhood
02 - A Village
03 - Building A Community
04 - Behold Our Civilization
05 - Disturbance I
06 - Dance Of The Priest
07 - Summer Rain
08 - Constructing Cities
09 - Disturbance II
10 - An Empire At Last
11 - Rituals
12 - Song Of Gods
13 - Disturbance III
14 - Prepare For Spiritual Warfare
15 - Sacrament I
16 - Sacrament II
17 - Sacrament III
18 - Sacrament IV
19 - A Victory For Our Beloved One!
20 - Losing A Battle, Winning A War
21 - Anthem
22 - A Garden
23 - Credits - Fruits
soundtrack (MP3)
artbook (coming soon)