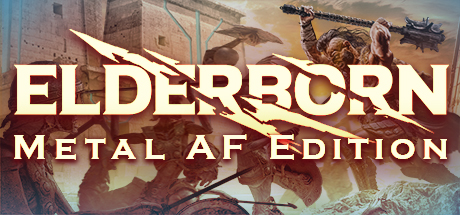 The
Metal AF* Edition of ELDERBORN
is the choice for the players who want to immerse themselves in the game world completely.
In this ultimate bundle you get the
game
, that's obvious. But there's more! A digital
soundtrack
with mesmerizing and exotic ancient metal (spliced with modern electronic beats) that will fill your mind's eye with scenes of barbaric glory. And then - a digital
artbook
, presenting a choice of concept arts and renders, that led to the creation of ELDERBORN's vision, as well as bits of lore, to draw you in even further.
(*Action Fantasy)
---
Digital OST
The world of
ELDERBORN
is an imaginary one. A fantastic vision of the ancient time of heroes, not unlike the one created by Robert E. Howard in his saga of Conan. But it's not just pure work of fiction. We drew inspiration from the ancient Middle East cultures, and where those inspirations really shine - is the game's soundtrack.
Kacper Kajzderski
uses the exotic sound of the Armenian duduk and Turkish oud and zurna, among other instruments, to capture the uniqueness of the game's setting. The music, however, remains true to the modern heavy metal form, with all its defining characteristics. A touch of electronic beats complete the eclectic, unmistakable mixture that defines the sound of
ELDERBORN
.
Call of Jurmum (14:04)
The Path (2:54)
The Blade is Drawn (2:48)
Flames of the Underworld (4:17)
Storming the Keep (2:45)
Dark Corridors (2:58)
Slashing the Undead (1:33)
Legacy I (2:00)
Janus the Liberator (3:54)
Legacy II (3:19)
Towers of Jurmum (10:36)
Vertigo (2:18)
Point of No Return (1:54)
Mummification Caves (2:02)
Uneven Combat (3:26)
Depths of Jurmum (10:10)
Heads Will Roll (3:59)
Leaving Jurmum (4:15)
Overpowered (3:26)
Starchild (2:54)
The Tomb (Bonus Track) (3:21)
Call of Jurmum Trailer (Bonus Track) (1:05)
The Tomb Remix (Bonus Track) (1:39)
---
Digtial Art Book
The artstyle of ELDERBORN evolved over the four years of development, and at every stage we were preparing loads of concept arts. The work of our artists led to the creation of an enthralling game world, so familiar and so exotic at the same time. This 40-page digital artbook is a selection of some of the concept arts and renders created on the way, complete with bits of insight into the universe of ELDERBORN, taken out of the game's codex.