TIME-LIMITED DISCOUNT OFFER ON OFFICIAL MERCHANDISE: CDPR GEAR -30%

Check this out! If you pre-order Cyberpunk 2077 on GOG.COM until 10th December 2020, 11 PM UTC, you'll receive a 30% discount on the awesome official merch. It'll be redeemable in the More -> Serial Keys Cyberpunk 2077 entry in your GOG.COM library.
Discount code is applicable only for orders placed in countries of the European Union, USA, and Canada. For more information look here.
---
Check out the latest info from the streets of Night City here.
---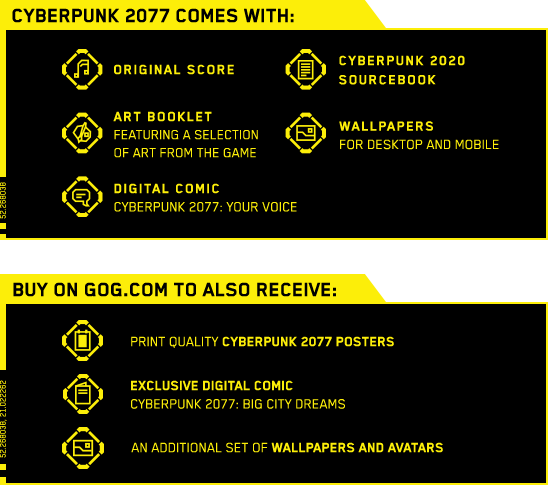 * Exclusive Digital Comic - Cyberpunk 2077: Big City Dreams will be available in English only.
---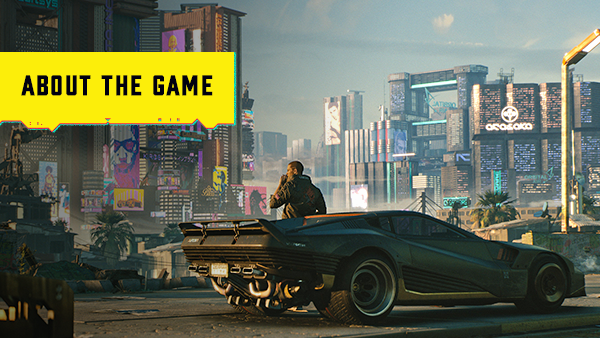 Cyberpunk 2077
is an open-world, action-adventure story set in Night City, a megalopolis obsessed with power, glamour and body modification. You play as V, a mercenary outlaw going after a one-of-a-kind implant that is the key to immortality. You can customize your character's cyberware, skillset and playstyle, and explore a vast city where the choices you make shape the story and the world around you.

Become a cyberpunk, an urban mercenary equipped with cybernetic enhancements and build your legend on the streets of Night City.

Enter the massive open world of Night City, a place that sets new standards in terms of visuals, complexity and depth.

Take the riskiest job of your life and go after a prototype implant that is the key to immortality.
CD PROJEKT®, Cyberpunk®, Cyberpunk 2077® are registered trademarks of CD PROJEKT S.A. © 2019 CD PROJEKT S.A. All rights reserved. All other copyrights and trademarks are the property of their respective owners.