The Dancer DLC is a story-focused add-on to
Cultist Simulator
, the award-winning Lovecraftian card game.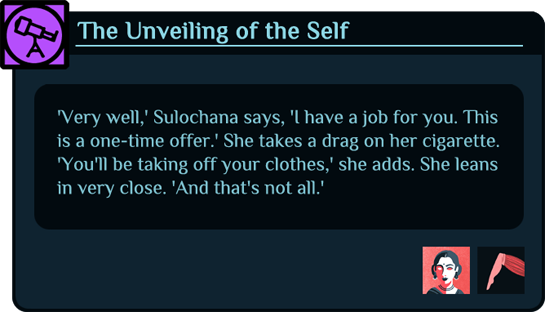 In the occult cabaret that calls itself the Ecdysis Club, the distinction between pleasure and pain is as delicate and essential as the human skin. It is all that keeps us from making the very worst mistakes.
Pursue a career as a Dancer at the Club. Determine which parts of yourself to surrender. Cross oceans in pursuit of the ancient rites that beat in the Wood. Consider the ascensions that open to you. Choose carefully.

The DANCER DLC includes:

Rise to unearthly fame as the Dancer, employed at the infamous Gaiety Theatre, Ecdysis Club or in some of the more exclusive city parlours.

Explore a trinity of insights into the powers of Heart, Moth, and those who came before. Realise your true form, and perhaps even tempt one of the enigmatic Ligeians to the Dance...

Some dances can only be performed in far places, and some cannot be performed in human shape.
To play as a Dancer:
Begin the game with the Dancer legacy. This will always be available if you win a minor work victory at Glover and Glover, and sometimes be available otherwise anyway.
To pursue the new Ascensions without being a Dancer:
Find Sulochana, and speak with her at the Ecdysis Club about your current Desire.