Experience your music collection as never before with this intense music driven arcade shooter.
Each of your songs will have its own unique ebb and flow based on the music. Beat Hazard 2 seamlessly mixes the love of gaming and music. Together they become greater than the sum of their parts.
Beat Hazard 2 improves on and ramps up the awesome zen feeling of battling to your own music. Power up your spaceship and watch as the music boosts your firepower. Unleash hell on the enemy ships when you max out with weapon pickups!

Premium music streaming services will be supported via an 'Open Mic' system that can listen in to any music source. Now the music world is your oyster, play to Spotify, Amazon Music, Apple Music, YouTube, or any other provider!
Pushing the boundaries of music powered gameplay, the sequel includes procedurally generated boss ships. Each track will create a unique archenemy ship for you to vanquish.
Each track you play will also creates a unique player ship, anything from a tiny 'Mosquito' ship to a huge 'Brute' battle ship! Created ships are consistent, if you discover an awesome ship tell your friends so they can unlock it too!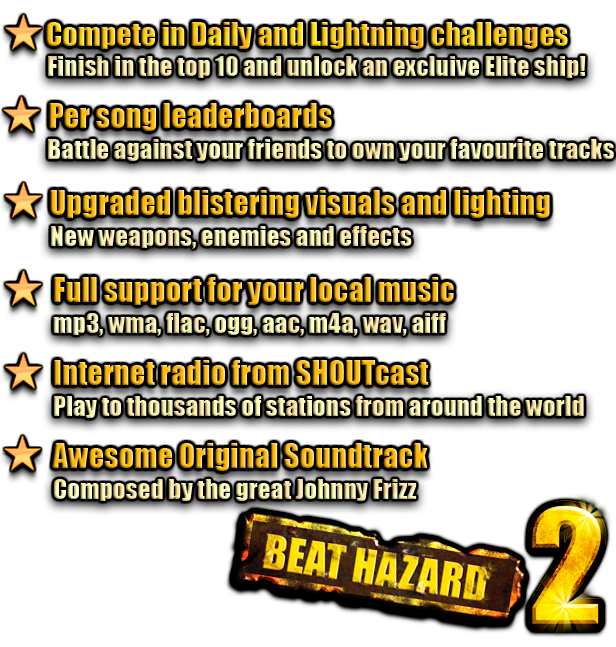 Baby Boss
Take Out a 500 Kiloton Boss
common · 53.32%

Medium Boss
Take Out a 5,000 Kiloton Boss
common · 50.27%

Big Boss
Take Out a 10,000 Kiloton Boss
common · 32.32%

1 Hit Wonder
Successfully Complete a Track
common · 46.86%

Cadet
Level Up
common · 50.63%

Officer On Deck
Level Up to Officer 3rd Class
common · 30.88%