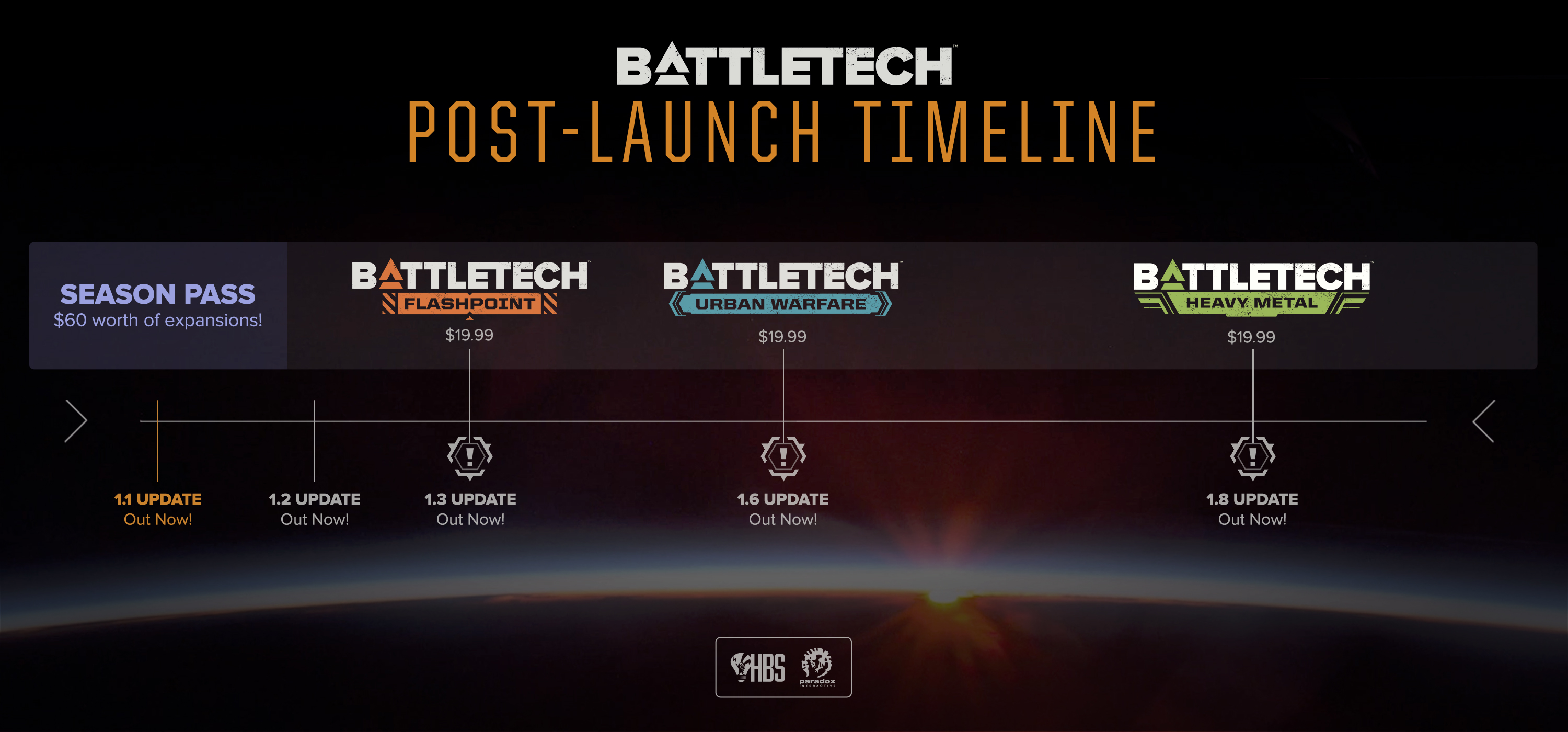 The
BATTLETECH
Season Pass includes
Flashpoint
, 
Urban Warfare
and the upcoming
BATTLETECH
expansion
Heavy Metal
at a discounted price. 
Flashpoint
BATTLETECH's first-ever expansion adds new gameplay, depth, and over 30 hours of new content to your mercenary experience. Introducing Flashpoints: high-stakes, branching short stories that link together mercenary missions, crew conversations, special events, critical choices, and rare bonus rewards to take BATTLETECH's endgame and Career-Mode gameplay to the next level.
Urban Warfare
Urban Warfare brings 'Mech combat to the vast cityscapes of the Inner Sphere! Electronic warfare, large-scale building destruction, environmental mechanics, new enemy units and more make the urban sprawl a whole new battlefield.
Heavy Metal (Available November 21, 2019)
Heavy Metal unleashes a wide range of 'Mechs that both longtime fans and new players can enjoy. Pilot seven classic BattleMechs along with one new 'Mech designed exclusively for this expansion. Experience the mystery of a derelict cargo ship while attempting to take control of its payload in the new flashpoint mini-campaign and crank destruction up to eleven with eight new game-changing weapon systems!
Copyright© 2018 Harebrained Holdings, Inc. All Rights Reserved. BATTLETECH® is a trademark of Microsoft in Europe, the U.S., and other countries. Published by Paradox Interactive AB. All other trademarks, logos and copyrights are property of their respective owners.