Did you hear about
Opera GX
? You know, the awesome version of the Opera browser built specifically for gamers with special gaming-inspired features that help you get the most out of both playing and browsing?
Of course you did! And we are super happy to announce that for our ongoing Spring Sale, we've teamed up with those fellow gaming enthusiasts and prepared something special just for you. Exclusive GOG-Opera GX Platformer Bundle is available on GOG for the duration of Spring Sale (April 3rd, 10 PM UTC)!
It contains 3 great platformer titles:
Hob
,
Greak: Memories of Azur Deluxe Edition
,
The Knight Witch
and lets you save big with the
sum discount of -64%
(or even 69% until March 29th, 1 PM UTC)! But you better hurry to grab it, as this special Bundle is not only time-limited but we also have a limited number of copies.Let's take a closer look at the games inside it.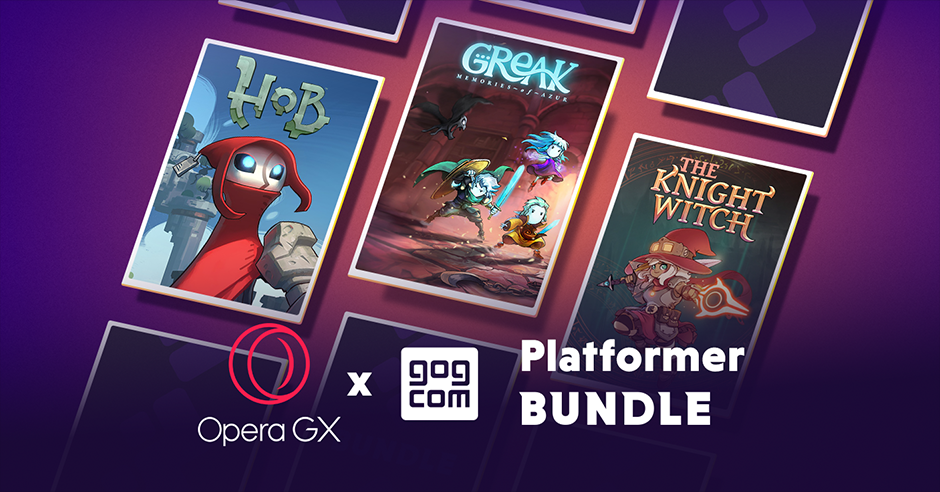 Hob
is a vibrant, suspenseful action-adventure game set on a stunning and brutal world in disarray. In this highly-praised by both players and critics gem, we delve into the mysteries around them, discovering a planet in peril and trying to answer the question of can it be mended, or will the world fall further into chaos.Expect great adventure in the open world ready to explore, wordless narrative which reveals the story as you explore the planet and interact with the strange lifeforms that inhabit it, transforming the world by solving puzzles and repairing the planet and special mechanics allowing you to grapple, punch and wrap through the world.

Greak: Memories of Azur Deluxe Edition
is a side scrolling single-player game with hand-drawn animations. You will take the role of three siblings: Greak, Adara and Raydel to guide them through the lands of Azur. Alternate control between them and use their unique abilities to escape from the Urlag invasion.Enjoy a captivating story line about family, home and union in difficult times, all bathed in beautiful hand-drawn art and animations, specially crafted puzzles, unique gameplay with alternating between three characters, fast-paced combat, cinematic clips, and live orchestra soundtrack.Moreover, the
Deluxe Edition
contains not only the
base game
, but also its 73-page long
Digital Artbook
and aforementioned
Soundtrack
of 20 original tracks performed live by the Philharmonic Orchestra Cinco de Mayo from Puebla, Mexico.

The Knight Witch
is a metroidvania adventure game with fast-paced, shoot 'em up combat set in a beautifully hand-drawn world. Cast devastating card-based spells, forge close bonds, and make moral choices all in your quest to save your home and discover who's behind the War Golem invasion.Prepare to encounter evil foes and choose whether you wield your magic or use your weapons and wits to take them down, customize your own unique playstyle by upgrading your Knight abilities for a more fast-paced experience or strengthening your Witch magic and exploring tons of different deckbuilding strategies, build trust and make lasting bonds with as you journey across Dungeonidas.

It's an absolute Spring Sale bargain! Make sure you don't miss it and grab your copy of GOG-Opera GX Platformer Bundle. And of course, expect more awesome things to come! Enjoy.