Well, well, well, if it isn't the end of January. And that means it's the perfect time to look at some of the GOG numbers that we (and you!) have managed to achieve in 2022!While we already started the year on a high note with the ongoing
New Year Sale
, which gathers
more than 3200 titles on discounts as high as -95%
, we would also like to look back and marvel at the infographics specially prepared for that occasion. Why? Well, because we are quite proud of what they present and because they give us an idea of just how awesome our community is!
So, how many games have we released? Which were the best-sellers? How long have you spent playing in GOG GALAXY? How many achievements have you managed to get? What was the Meme of the Year? The answers to those and more questions are here, let's take a look!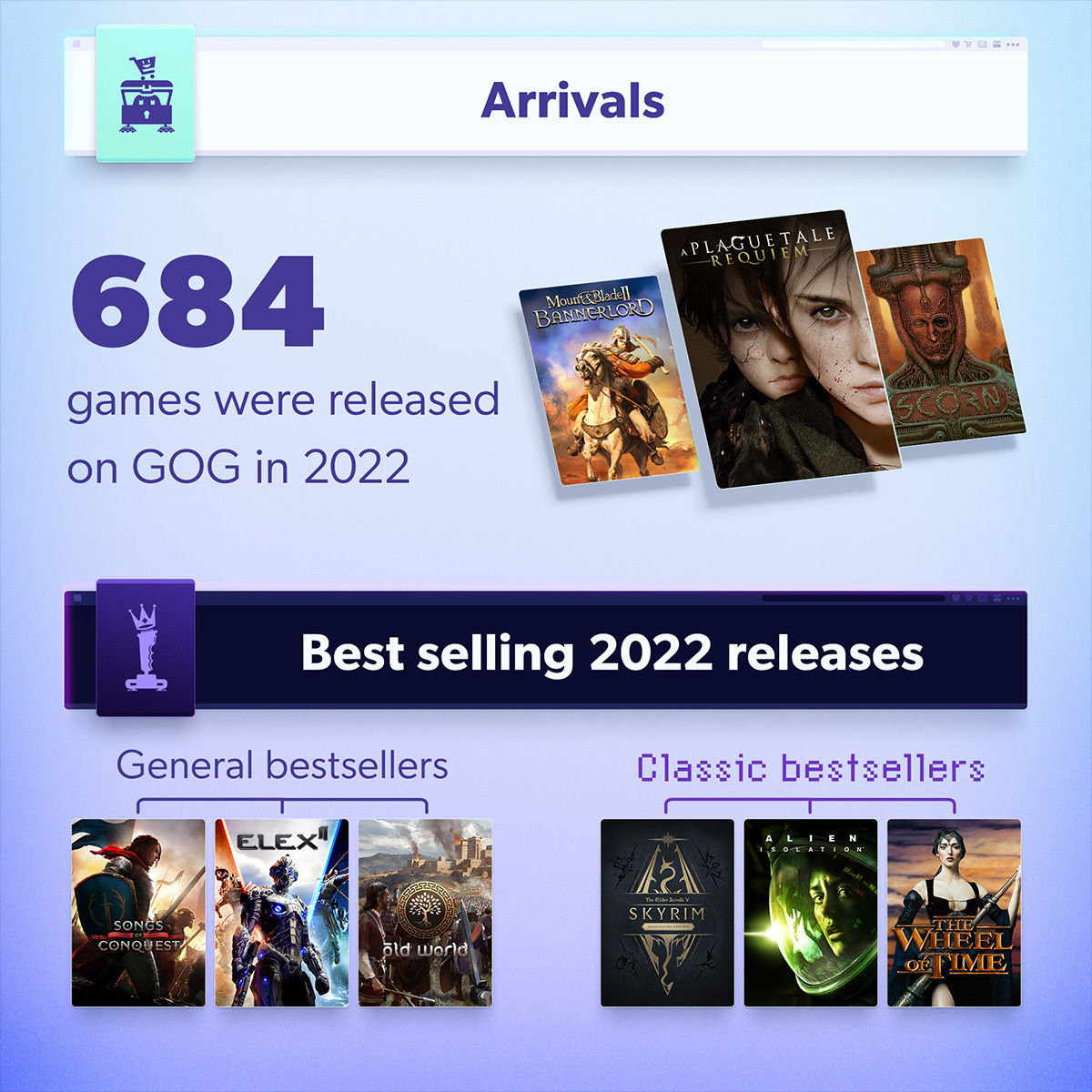 That's right, when it comes to the arrivals on GOG we've released
684 games!
And that's not counting the various packs, bundles, special editions and DLCs. But we won't stop there, with our love for games, we'll try to push those numbers even higher!As you can also see, the best-selling 2022 releases include
Songs of Conquest
,
ELEX II
and
Old World
(not a surprise here, all of them are excellent titles). With classic bestsellers
The Elder Scrolls V: Skyrim Anniversary Edition
takes the cake alongside
Alien: Isolation
and
The Wheel of Time
. We are incredibly glad you've enjoyed them so much!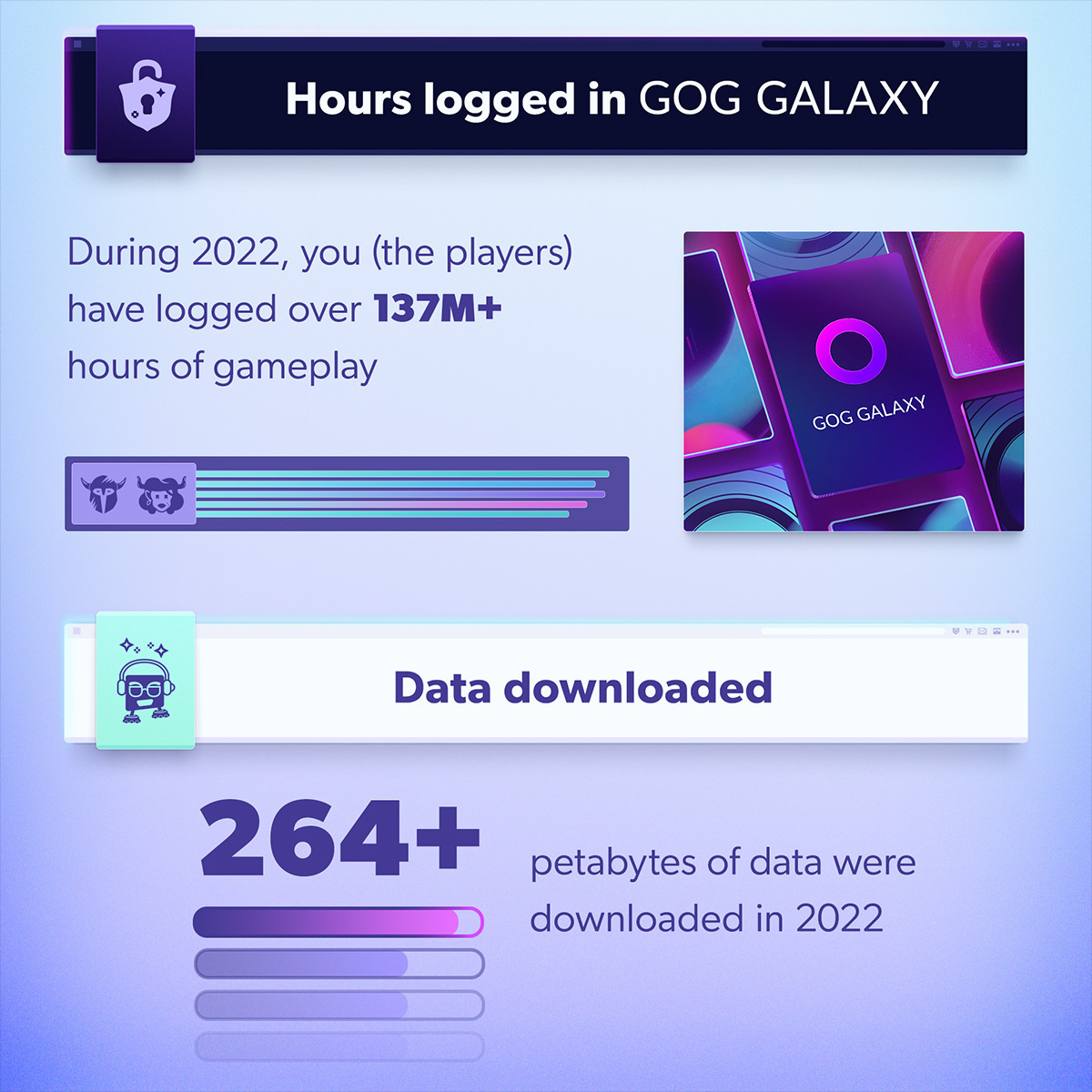 There are no greater gaming enthusiasts than you! With
more than 137 million hours of gameplay in GOG GALAXY
you really showed us that. Let's combine that with
over 264 PETABYTES (yeah, that's a lot) of data downloaded through GOG GALAXY
and you really deserve the loudest round of applause. The best part is, knowing how amazing you all are, bumping those numbers in 2023 is not even a question!
Nearly 50 000 unique achievements unlocked
– now that's also a really impressive performance from you! But some of course were harder to get than others. The "I choose you" achievement from
Project Hospital
and "Monster snack" from
Railway Empire
were the rarest of them all with only 0.01% of players able to get them in 2022. Do you think that can change? In our opinion, easily. But we would need proof from you!We also didn't slack when it comes to our
Twitch Channel
, where we spent
over 2650 hours playing awesome games, having fun and just chatting with the viewers.
We'll continue to do that this year, so make sure to leave a follow and huge thanks to everyone who tuned in during 2022!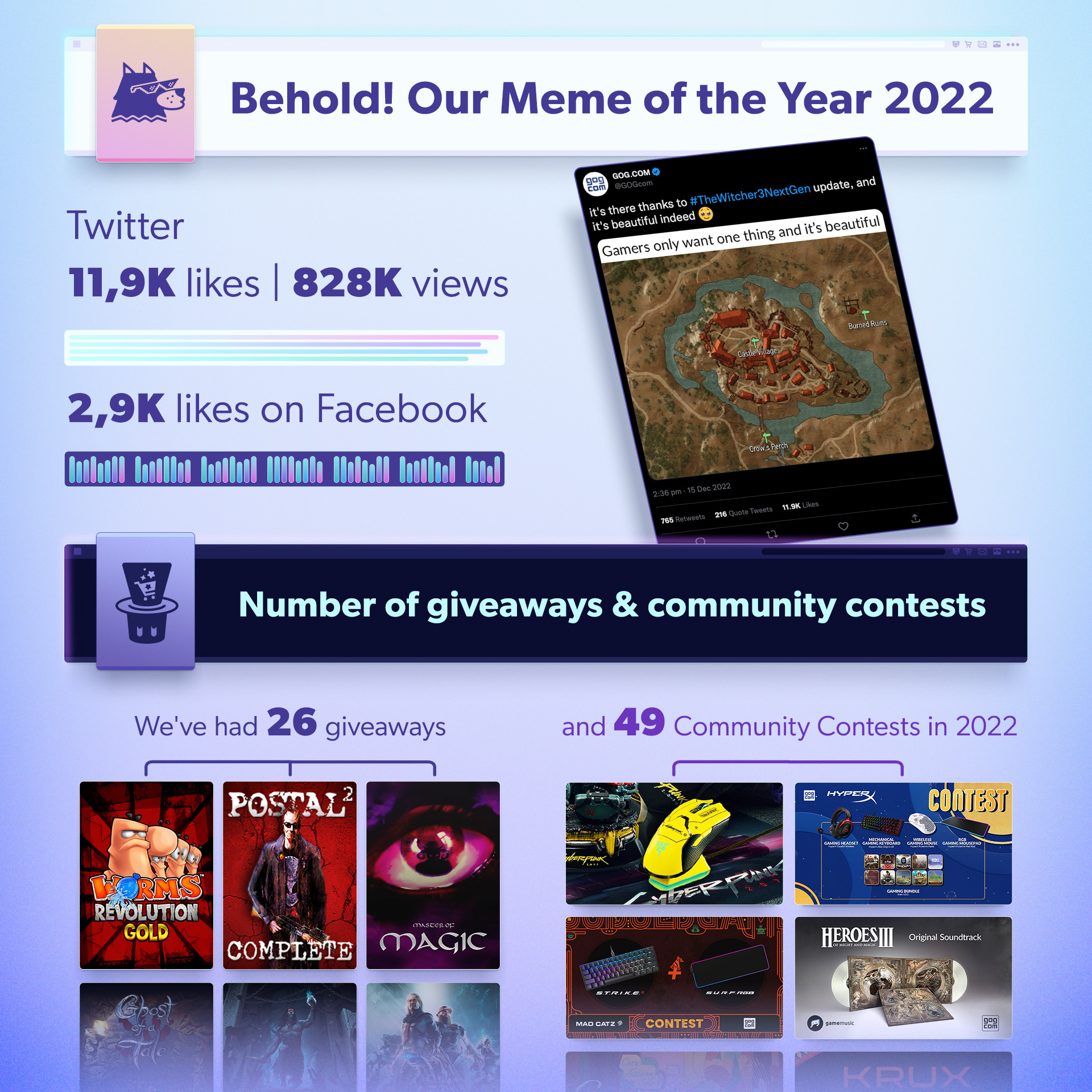 Alright, the last one is all about the GOG community. We won't lie, it's ridiculously fun to try and spoil you a little while sharing our mutual passion for games. That's why in 2022 we've had
26 giveaways during various awesome events and 49 community contests, in which we always try to give you a chance of winning super cool prizes!
And don't worry, we'll do our best to do even better on that front as well.Now, our Meme of the Year really knocked it out of the park. It gathered
almost 12000 likes on Twitter with 828000 views and almost 3000 likes on Facebook.
But with being as relatable as it is, that's no surprise. Blessed be
The Witcher 3 Next-Gen Update
and blessed be the Castle Village signpost – finally it's real!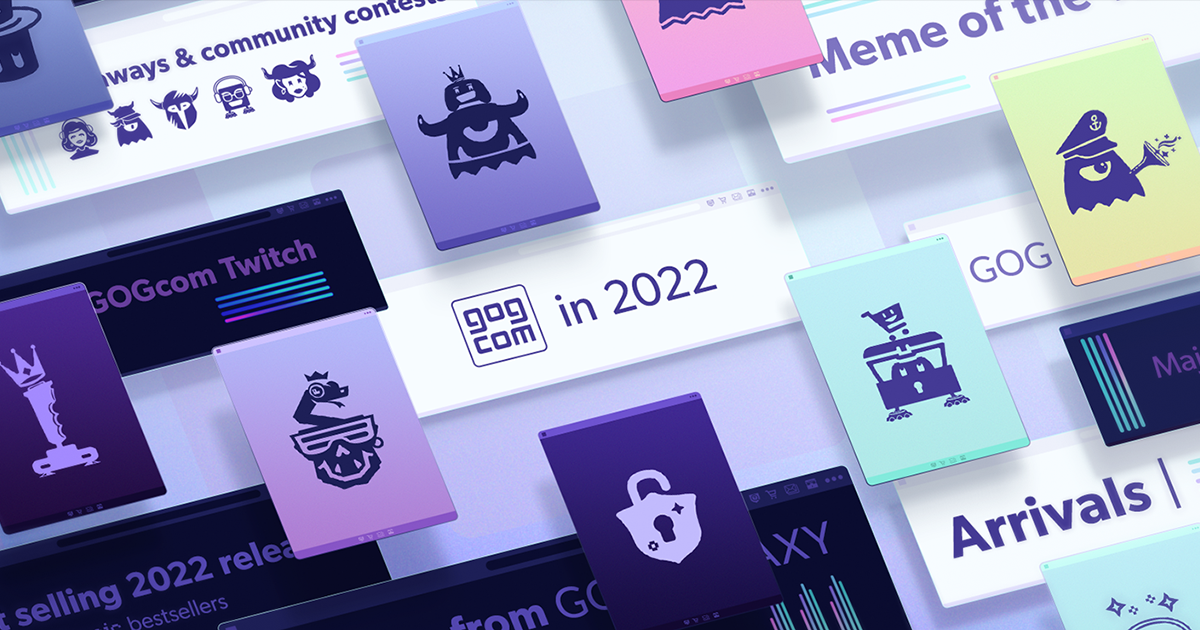 So there you have it, GOG infographics of 2022. We are incredibly happy with what we've managed to achieve with all of you so thank you for being with us and making the previous year so special. We are also absolutely sure that 2023 will be even better with all those numbers skyrocketing!
In fact, with the awesome New Year Sale and NSFW Week, which are both live and last until January 30th, 11 PM UTC, you can already start doing that while saving big on great titles. Make sure to check them out and have an excellent year!