As a company, each year we strive to make our platform the favorite place for both you and your games. With that, we constantly grow, adding more titles to our catalog, gathering more and more gaming enthusiasts (and trying to fulfill their wishes!), spoiling you from time to time with giveaways of games and goodies collections, and constantly aspiring to make your stay on GOG as enjoyable as it can be.
We wanted to share with you how the last year looked in this regard, as well as shed more light on what we've managed to achieve in 2022.Let's take a look at some facts and numbers!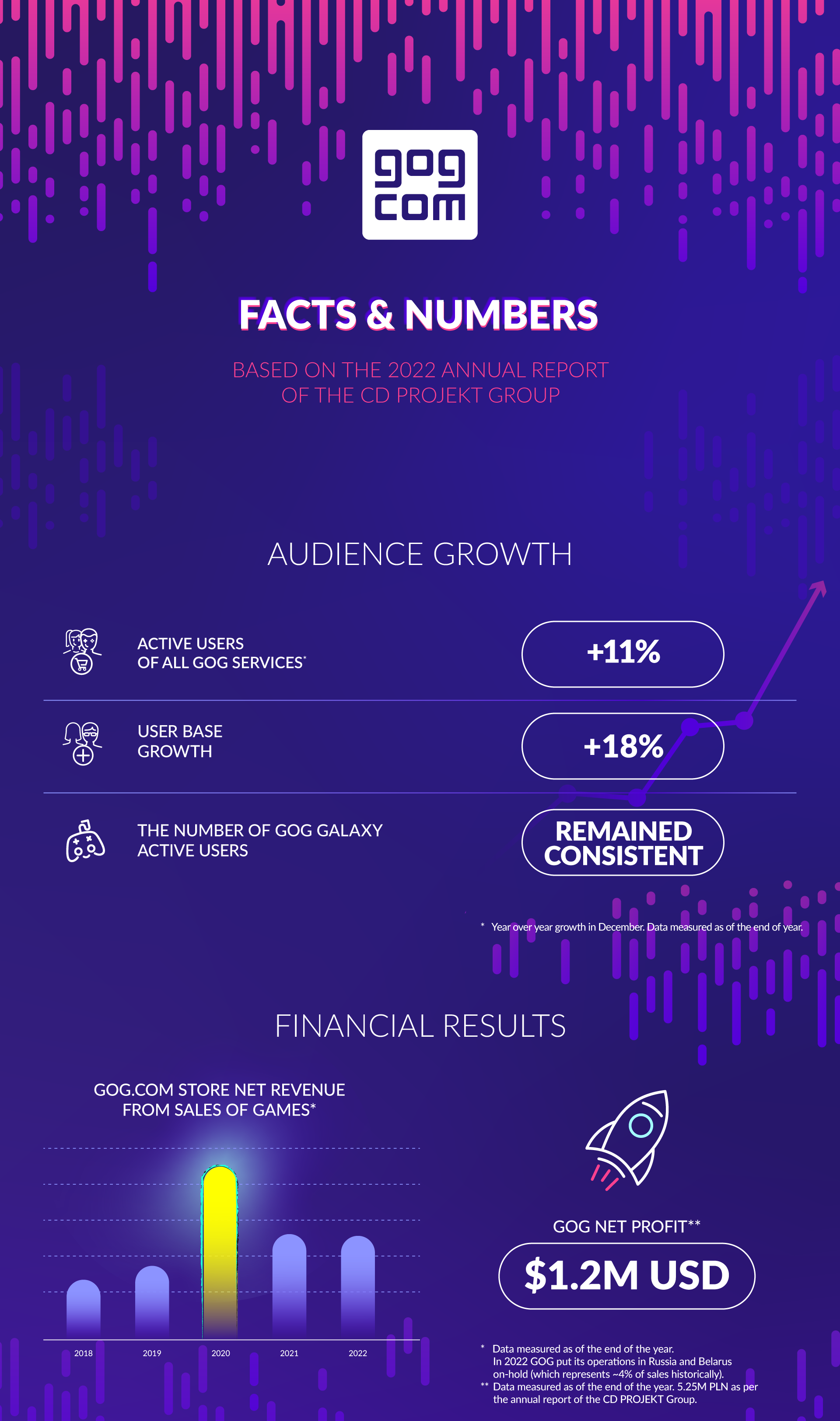 We are extremely proud and happy that our community is growing, and that so many of you are active both on the GOG.COM store and the GOG GALAXY client. It's a pure joy to have our gaming campfire joined by so many newcomers! With the hope that every awesome game that was added to your library and converted into amazing playing experiences, we believe our community will keep growing and growing.As you may have noticed, there was a major spike in our net revenue from sales of games in 2020. This was influenced by two main factors – first one being the release of Cyberpunk 2077 (hence the beautiful neon yellow!), the other being the COVID-19 pandemic. As for the year 2022, despite our decision of suspending sales of all games on the territories of Russia and Belarus in March, we are returning to the stable level of pre-pandemic growth.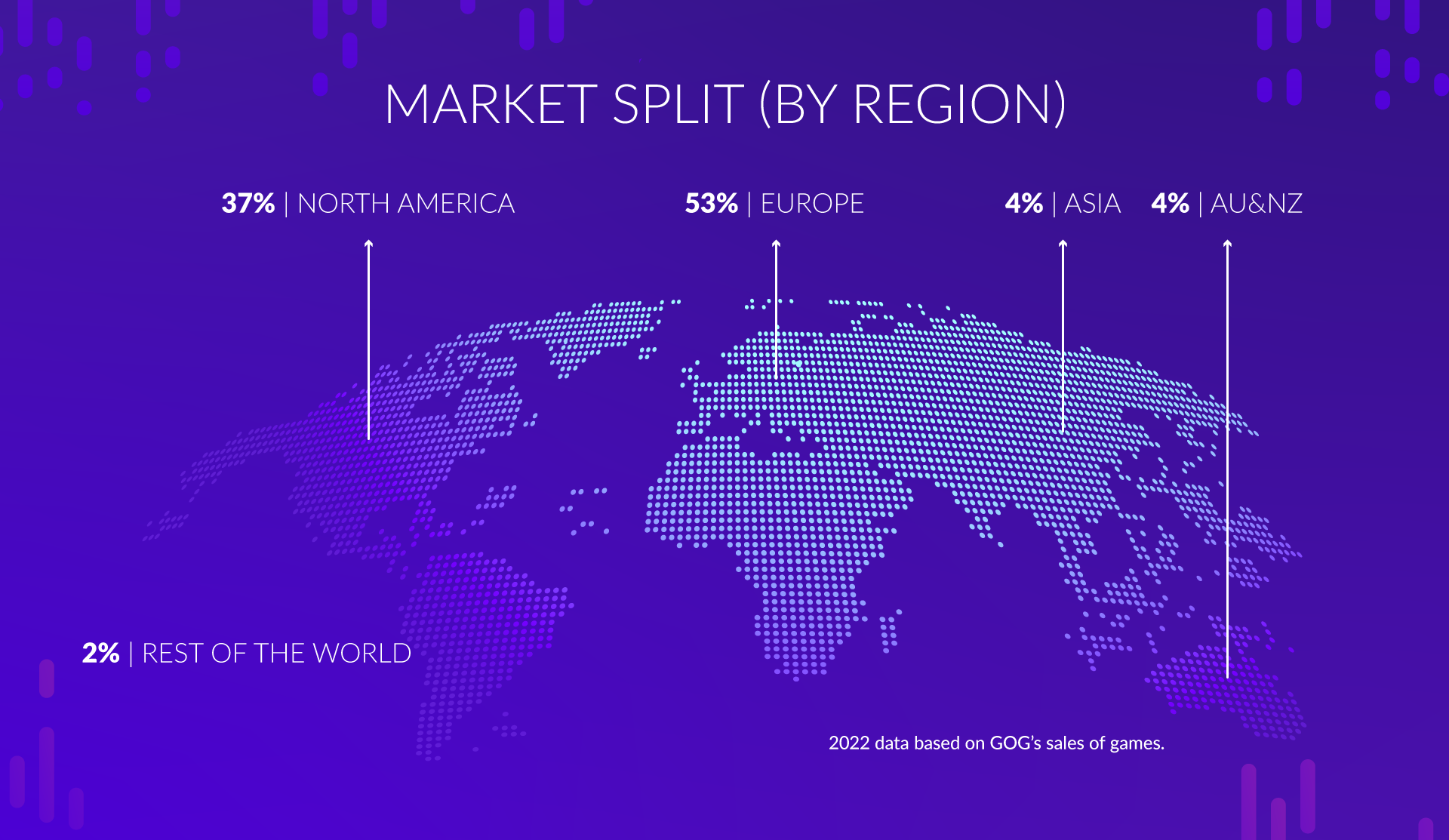 When it comes to our market split, we are divided by kilometres (or miles!) but united in our passion. No matter where we come from, what language we speak and in which time zone we are – our love for immersing ourselves in digital worlds remains all the same. And that's the beauty of video games!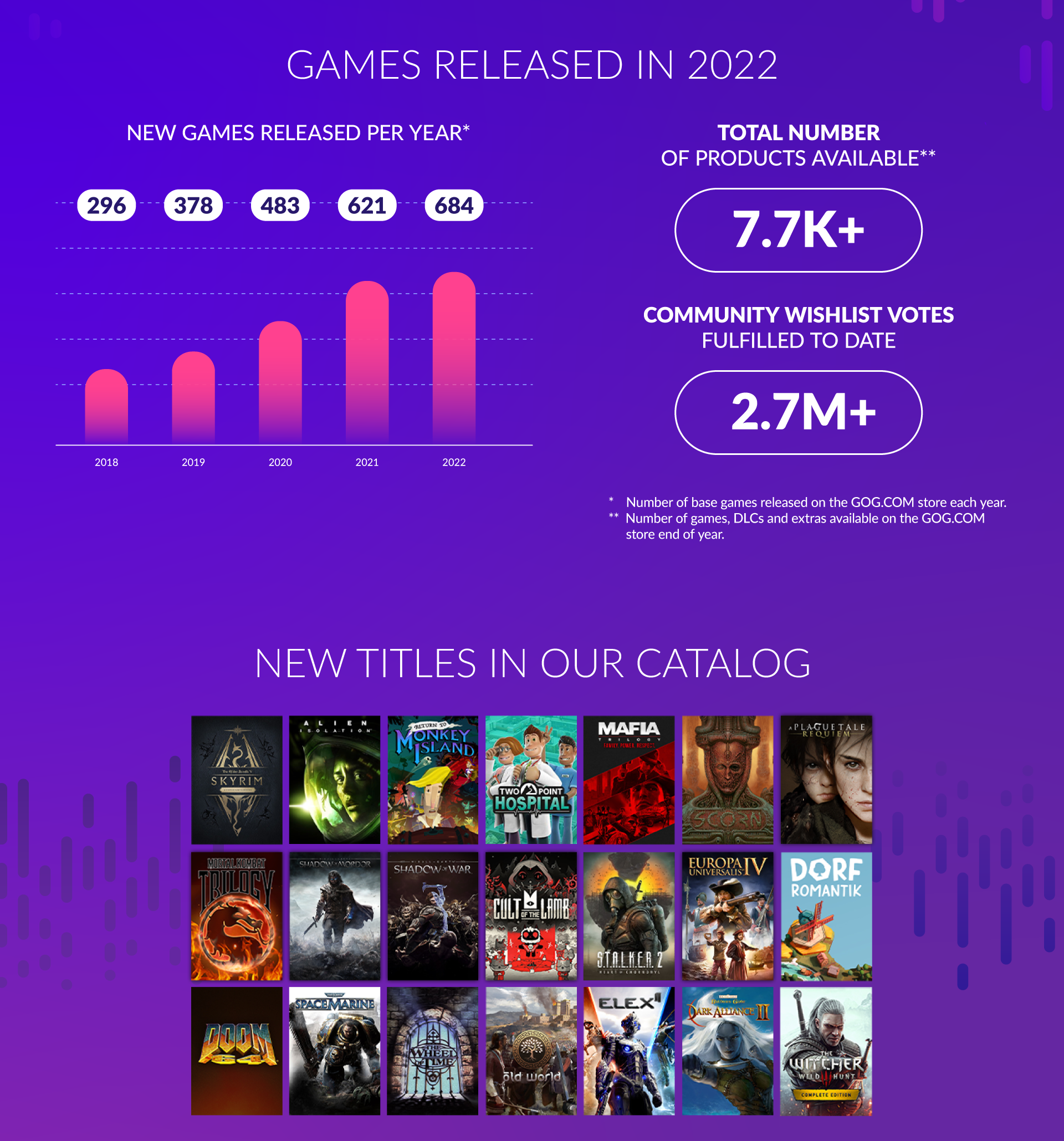 As we've mentioned, there are more and more games in our catalog, allowing for those glorious libraries of yours to be even more spectacular with a wide variety of genres. Each year we release more titles than the year before, and do our best to fulfill the Community Wishlist votes. More choices and new gaming memories to be made – this is the way!And regarding that, some of the biggest titles that have joined GOG in 2022 come in all shapes and forms. From horror titles, shooters and fighting games to RPGs, strategies and roguelikes – it's safe to say that there's something for every taste.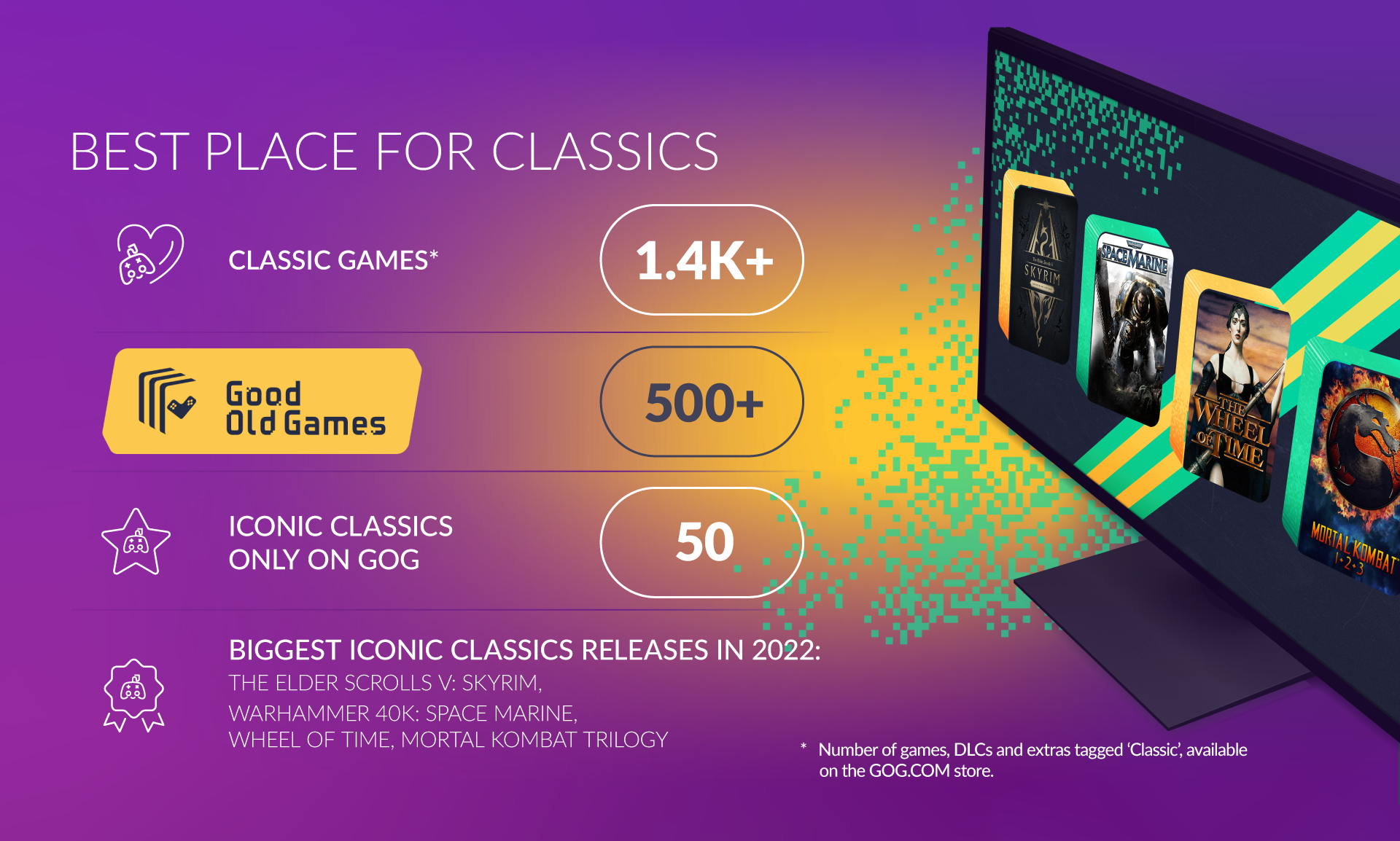 We are also remaining true to our roots and hold a special place in our hearts for classic titles. But how could we not? Their charm, their magic, the nostalgia we feel when we play them and, of course, their impeccable gameplay. Not much can beat the feeling of going back to one of your favorite classics and falling in love with it all over again. And the best part is more and more of them find their forever home on GOG.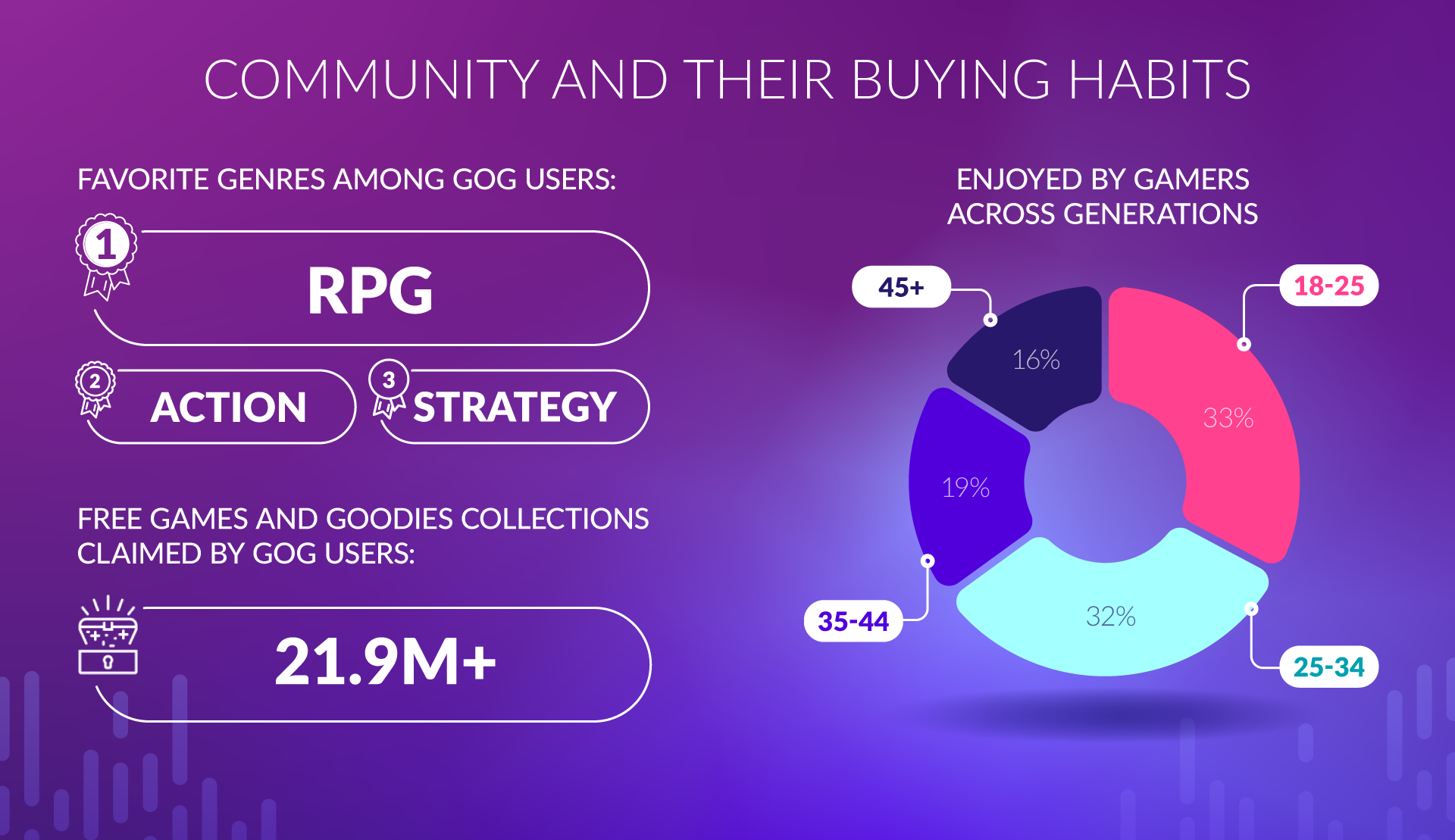 While GOG has plenty to offer in terms of different game genres – your overall taste looks like this! This means that you most likely spend your evening sword fighting and casting fireballs, then conquering lands as an army commander, and finally jumping, dodging, blasting, punching and everything in between. So just your typical day on GOG and, as you can see, enjoyed across all generations.We also enjoy providing you with giveaways of games and goodies collections. It seems like you enjoy it as well – we love to see it, and guarantee more coming your way in 2023!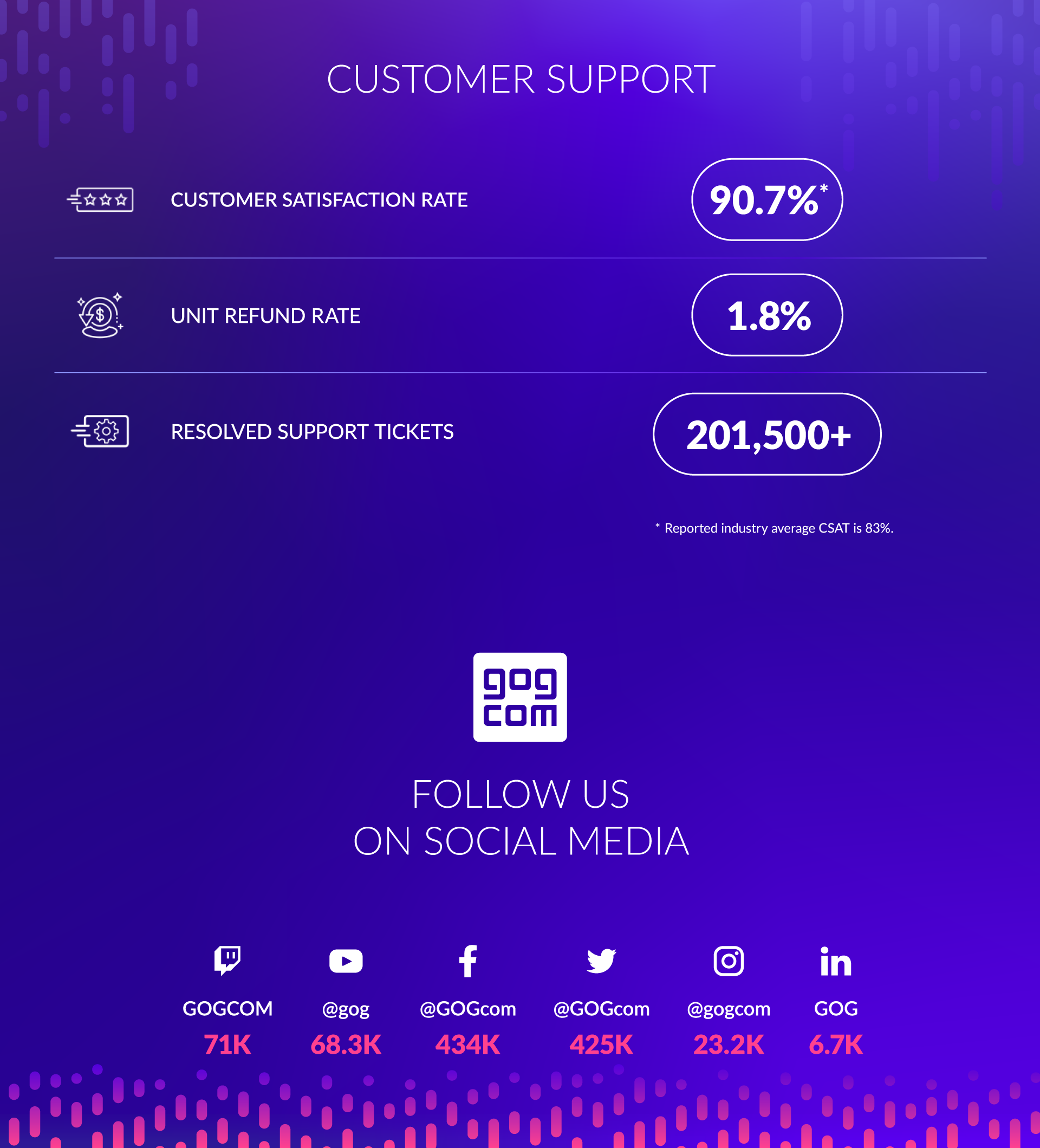 [Full image]
Finally, we are glad to be there for you and offer support whenever you need it. To continue to do so is, and will be, our priority. After all, when you are happy, we are happy.We are also present on various social media channels which are constantly growing. Feel free to follow us there and be up to date with everything that is happening on GOG!
So there you have it, our facts and numbers of 2022. We are proud to share them with you, because without you, we wouldn't be able to achieve them. There isn't a better, more passionate community than you, and we couldn't be more grateful to have you. Hope you enjoyed this little insight – let us know what you think in the comments. Have a great one!