Love Games? So do We!
And since the time of the year when love conquers all is almost upon us, we want to celebrate what we care for the most – amazing video game titles.
Get ready for over 3300 games discounted up to -90%, as well as special GIVEAWAY, ability to Build Your Own Bundles, GOG streams and 3 new classics coming to us straight from Throwback Entertainment. It's time for the We Love Games Sale!
Now, there's quite a few things to unravel so let's take it step by step, shall we?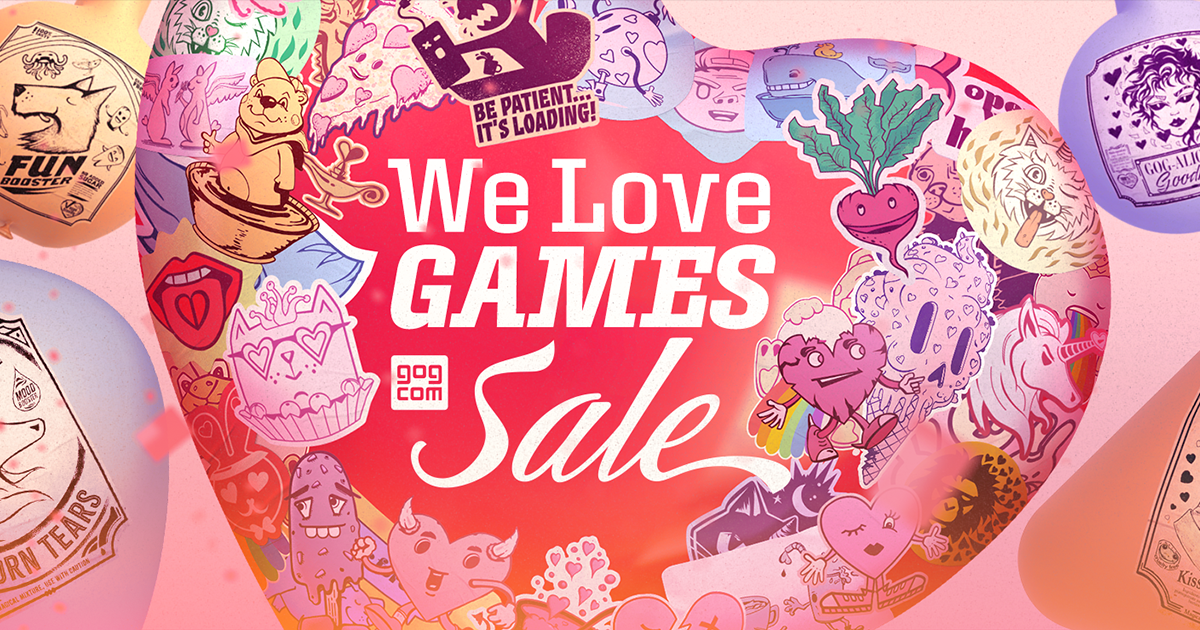 Of course the biggest thing is the wide variety of titles, all on excellent deals up to -90%. You'll find your favorite genres, publishers, sequels you've been thinking about picking up, DLCs, special editions, expansions – it's all there. Whether you're looking for highly-acclaimed triple A games, iconic classics, hidden indie gems or anything in-between, we got you covered. Sale lasts until February 20th, 11 PM UTC and you can check all of the discounted titles
HERE
.
Next on the menu are 3 new classics from Throwback Entertainment joining the GOG's catalog in the form of Infiltrator, Infiltrator 2 and Fiendish Freddy's Big Top o' Fun, all on -30% discount for the duration of We Love Games! Infiltrator
and its sequel
Infiltrator 2
are both combat flight simulation games first released in 1986 and 1987 respectively. When playing you'll jump in the skin of a master-of-all-trades hero named Johnny "Jimbo Baby" McGibbits. Your objective is to fly a helicopter named the Gizmo DHX-3, land at enemy bases, and infiltrate compounds to stop them. It's an amazing opportunity to experience what gaming looked like back in the 80s and why Infiltrator brought so much fun to its players.

Fiendish Freddy's Big Top o' Fun
on the other hand is a very unique action game which consists of various mini games based on all kinds of circus acts. The titular Big Top O' Fun circus is in deep trouble – it owes $10,000 to a greedy banker named I.M. Tightwad, who arrives on the scene with the intent of demolishing the circus this very night unless it can pay up. In a fit of desperation, the ringmaster organizes a display of six acts to raise money for the doomed circus: diving, juggling, trapeze, knife throwing, tightrope and the human cannonball. The performance in each act is judged by five clowns, who offer money depending on the quality of the show. It's up to you to perform well and save the circus. Lots of fun, dark humor and a bit of violence – check it out!

During
We Love Games
you will also be able to
Build Your Own Bundles!
This awesome mechanic works in the best way possible – the more games you buy, the higher discount you get! What await you are:
Syberia BYOB
– containing all entries of the iconic and beloved action, exploration and puzzle-solving series from Microids. From 2002's
Syberia
, through 2004's
Syberia II
and 2017's
Syberia 3: The Complete Journey
, to the latest 2022's installment
Syberia: The World Before
. All of them take you on unforgettable, mysterious journeys of lawyer Kate Walker as she travels through the fictional land of Syberia. Expect excellent and rich storytelling, captivating environments, and memorable characters.

Adventure BYOB
– this one, as the name suggests, gathers all kinds of great titles filled with amazing adventures. You'll find survival RPGs like
Medieval Dynasty
, unique indie simulators like
Graveyard Keeper
, mystery-solving titles like
The Case of the Golden Idol
, classic fantasy series like
King's Quest
and of course more! Pack your backpack and begin your adventures!

Sherlock Holmes BYOB
– with
Sherlock Holmes
titles from Frogwares. It contains puzzle, hidden object game
Sherlock Holmes and The Hound of The Baskervilles
, point & click detective-mystery
Sherlock Holmes versus Jack the Ripper
and open world detective adventure in the form of
Sherlock Holmes Chapter One
alongside its various DLCs. Jump into the skin of the world's most famous detective and immerse yourself in the dangerous world of 19th century England.

And now for the
GIVEAWAY!
For the next 72 hours (until February 16th, 2 PM UTC) feel free to claim your copy of a
special Bundle
containing
CHUCHEL Soundtrack + Art Book
and
Botanicula Soundtrack + Art Book
. Both of those titles are amazing point & click, adventure, puzzle-solving games with beautiful audiovisuals. Their soundtracks and art books will be absolute treats for both your ears and eyes – because since it's the season for love, why not give some to yourself?

Last but not least we'd like you to invite you to join us during our special We Love Games streams on our
Twitch Channel
. You'll have a chance to check out some of the discounted titles, spend quality time with other gaming enthusiasts and just chill with awesome people! Here's a full schedule and we'll see you in the chat!
TSIOQUE
– Monday, February 13th, 7 PM UTC, with AshSaidHi.
Ocean's Heart
– Wednesday, February 15th, 3 AM UTC, with Flaose.
Dracula 3: Path of the Dragon
– Thursday, February 16th, 2 AM UTC, with Dizzy.
Tormented Souls
– Friday, February 17th, 8 PM UTC, with Virtute.
Anvil of Dawn
– Friday, February 17th, 11 PM UTC, with Kilg0re_Tr0ut.
Beyond a Steel Sky
– Saturday, February 18th, 4 PM UTC, with BraxtonWise.
Powerslave Exhumed
– Saturday, February 18th, 11 PM UTC, with Kilg0re_Tr0ut.
Let's enjoy We Love Games to the fullest! Check out all the discounted titles HERE and expect more awesome things to come. Hugs and kisses – have a great week everyone!