We already took you on a journey to explore an amazing galaxy of games in this year's Summer Sale. Now, let's see what you can do with all those freshly purchased games in GOG GALAXY 2.0! Here's a list of cool things you can do while using the app that might have escaped your attention.
GOG GALAXY 2.0, aside from being the best way to run and update your DRM-free games library from GOG.COM, allows you to connect other platforms and bring all your games and friends together in one place. Let's take a look at what cool things you can do in GOG GALAXY 2.0.
1. Create your own playlists and collections with bookmarks
No matter if your game library is big, enormous, or gigantic, the ability to create your own playlists that are quickly accessible from the sidebar is a must-have feature in an application like GOG GALAXY 2.0. With this in mind, we've introduced bookmarks – a simple way to save any view with a single click.Once you apply filters, add tags, and sort your games, a little bookmark icon will show up in the top navbar. Simply click on it and the view is pinned to the sidebar. You can easily rename each collection and change their order by moving them up and down the sidebar. What's even cooler, if a new game appears in your library and applies to the filters you have chosen for one of your bookmarks, it will be automatically added.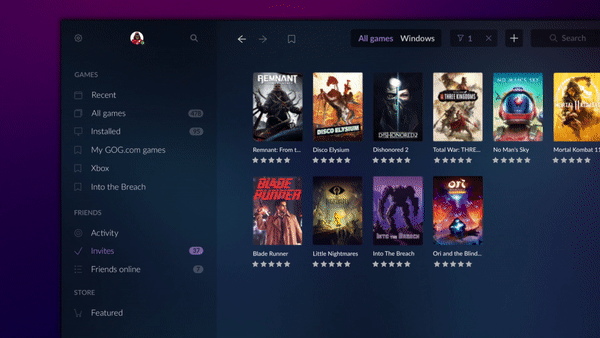 2. Check what your friends are up to
Want to see what your gaming buddies are currently playing and on which platform? GOG GALAXY 2.0 features a cross-platform friends list that shows the online status of your friends across connected PC and console platforms. It will not only show which of your friends are currently online, but also the titles they are playing. In real-time, you're able to see where your friends are without switching between multiple apps and launchers.The cross-platform friend list will show up on the right side of the application – just make sure the window of the app is wider than 1500 px.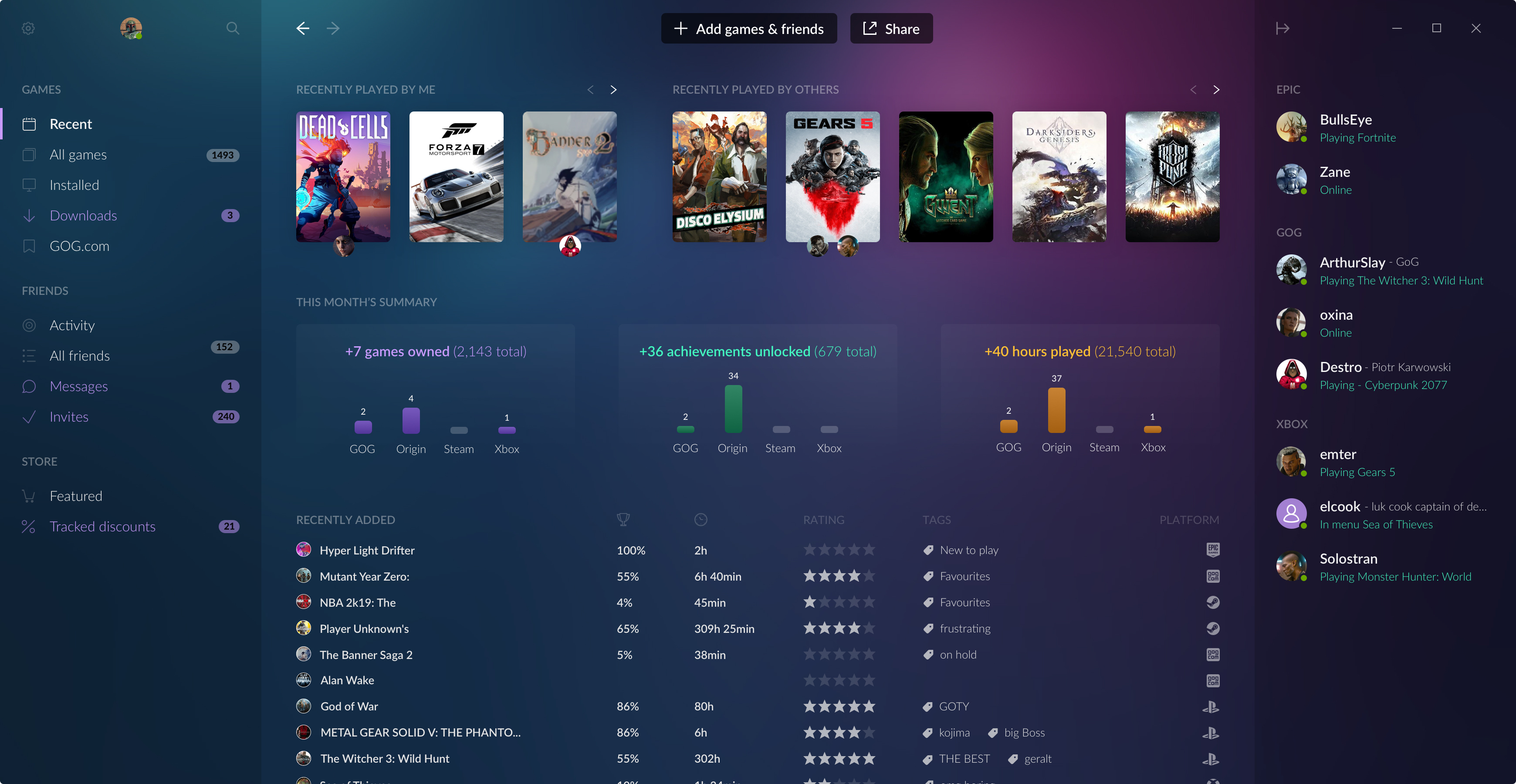 3. See all your gaming subscriptions in one place
With all the gaming subscription services out there, you're able to access a huge number of games, and it can quickly become overwhelming. That's why we've decided to bring all of your gaming subscriptions into one place.Once you connect a platform that features its own subscription service, like Xbox Game Pass, Uplay Plus, or Origin Access, you will be able to access it via the new section in your library. All of the eligible games are automatically grouped by subscription. Of course, you can rearrange the view to suit your preferences. You can also add tags to those games and bookmark any view for easy access.
4. Search for any game and add it manually to your library
We know you probably own a lot of games that are not part of your digital-only libraries. For collectors who own stacks of floppies, CDs and big boxed editions there is a way to add those games to your library in GOG GALAXY 2.0.Bring up Global Search in the app by pressing Ctrl+F/Cmd+F or by clicking on the search icon in the top-left corner. Start typing and the results will immediately start showing your games and your friends – but what's more important, it will also show games which you don't own, basically any game that ever existed! Once you find the title you want to add, just click on it and then mark it as owned – it's now part of your GOG GALAXY 2.0 library. You can now link the executable file to launch it from the app and from that point on the app will track your game time in this title.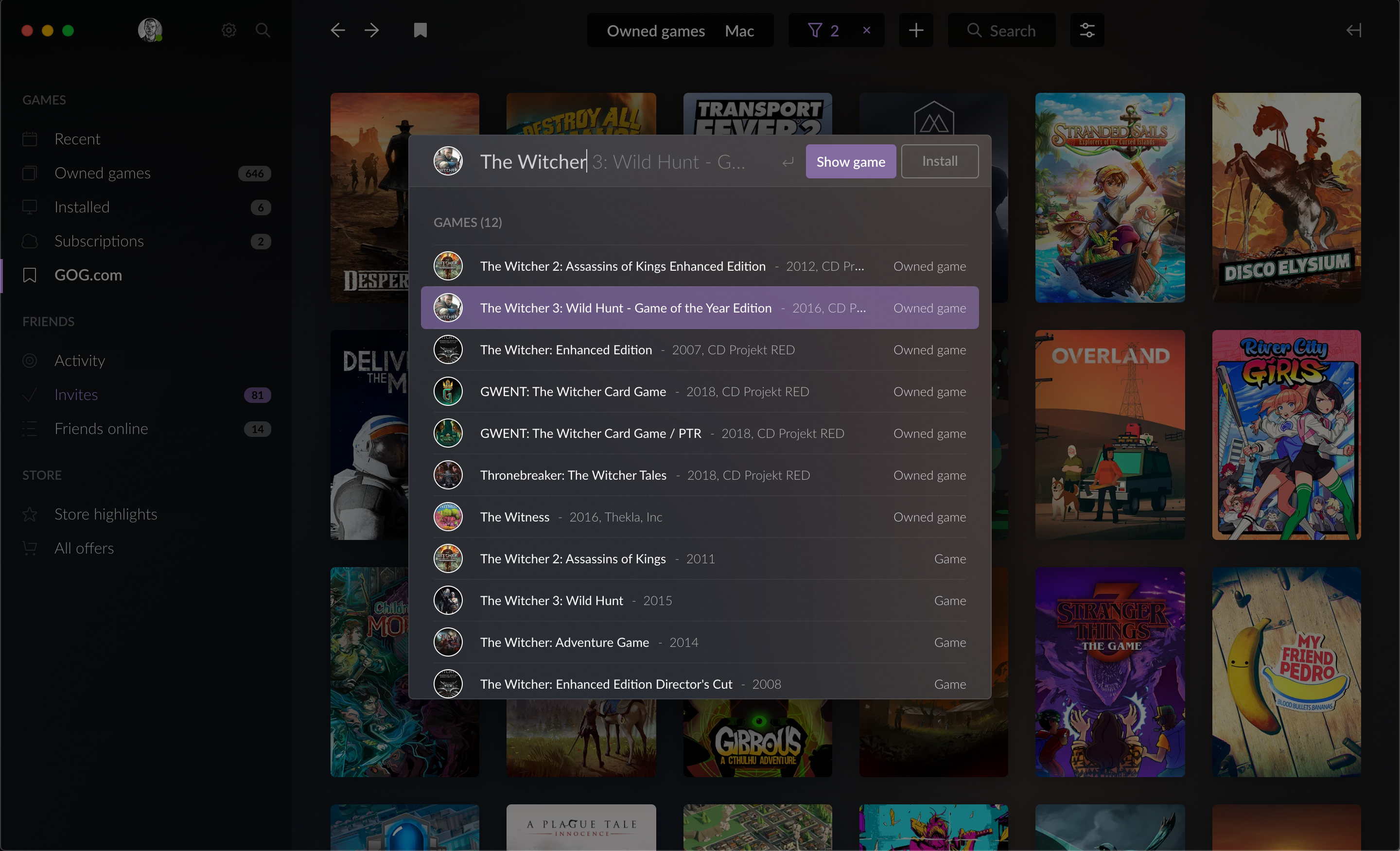 5. Hide games, because you can
OK, so you can add any game to your library, but what about those games you're not really fond of? Don't worry, we have your back in this situation as well. If you right-click on any game from your library, you will get an option to hide it - this means the game won't be visible on the list of owned games and won't appear in your search results. Of course, you can always unhide it if you start to miss it.
6. Search for community integrations
GOG GALAXY 2.0 shows its full potential once you connect external platforms to it. While we're still working on adding more official integrations, we've also decided to give the community an opportunity to work on their own open-source platform integrations. The reaction from you, the community, was amazing and has resulted in the creation of integrations with the most popular gaming platforms.To make it easier for you to unite your games and friends in one place, we've added a simple search option that looks through trusted online repositories for available integrations. Type in the name of the platform or the game and see if it's already available.Let us know in the comments, which features you were not aware of, which ones you like the most, and make sure to let us know if we missed any of your favorite features!