15 years of love and passion for video games. 15 years of providing DRM-free games that you can enjoy however you like.15 years of making games last forever.This incredible adventure began all those years ago in 2008, and today, it's time to celebrate.
GOG's 15th Anniversary
is here and we've prepared a plethora of amazing things for the most amazing community. Now, how about we start with…
3 releases of Quantic Dream's masterpieces: Heavy Rain, Fahrenheit: Indigo Prophecy Remastered, Beyond: Two Souls, an awesome GIVEAWAY in the form of The Night of the Rabbit, and of course more than 900 deals of discounts as high as -90%.
And because
15th birthday
is quite a milestone, there's so much more that we want to share with you. We celebrate until October 2nd, 10 PM UTC, and there's plenty to uncover. Buckle up adventurers, let's take a look at what awaits!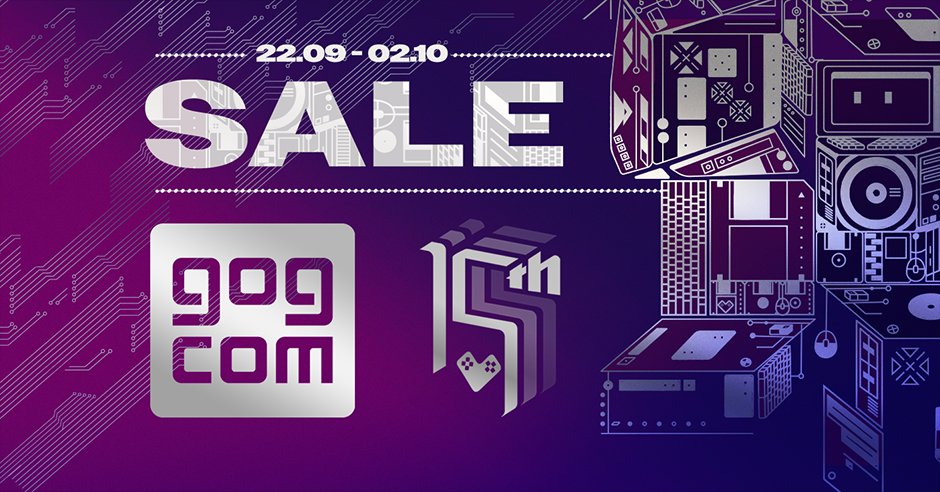 Firstly, let's focus on those superb additions to our catalog from Quantic Dream. While we know that they need no introduction, it's always a pleasure to speak about such great games. Fahrenheit: Indigo Prophecy Remastered (-69%)
Originally released in 2005, Fahrenheit (known as Indigo Prophecy in North America) was a breakthrough in interactive narrative, teetering between the worlds of cinema and gaming while also embracing them, carving its own unique genre in the entertainment landscape. This remastered edition features updated graphics, controller support AND is based on the uncut/uncensored international version of the game.With a rich multilayered narrative, innovative presentation, and a chilling musical score by famed Hollywood composer Angelo Badalamenti,
Fahrenheit: Indigo Prophecy Remastered
serves as the definitive version of the supernatural murder mystery and (re)introduces the groundbreaking title to old and new fans alike.Now, the original Fahrenheit was available in our store for quite some time, and there's no telling how much we love and respect it. So, we have some excellent news for all owners of the original and those that do not yet have it:
All owners of the original will receive the Remastered version as a gift, and all who purchase the Remastered version will receive the original as a gift! No such thing as too much Fahrenheit and we want you to enjoy it however you prefer.
Note: from now on Fahrenheit: Indigo Prophecy Remastered will be the only Fahrenheit product available in the store.

Heavy Rain (-50%)
Another absolutely fantastic classic. This icon of a game has won multiple awards and conquered the hearts of players all over the world. It's a one of a kind gripping psychological thriller filled with innumerable twists and turns.Spanning four days of mystery and suspense, the hunt is on for a murderer known only as the Origami Killer - named after his macabre calling card of leaving behind folded paper shapes at crime scenes. Four characters, each following their own leads and with their own motives, must take part in a desperate attempt to prevent the killer from claiming a new victim.You need to think fast and act even faster, as every choice and move you make can result in dramatic, game-changing consequences – and even determine who lives… and who dies. How this story ends is entirely up to you.

Beyond: Two Souls (-50%)
A 2020's unique psychological action thriller delivered by A-list Hollywood performances by Elliot Page and Willem Dafoe. It will take you on a thrilling journey across the globe as you play out the remarkable life of Jodie Holmes. Born with a connection to a mysterious entity with incredible powers, Jodie is different. Your actions will determine Jodie's fate as she faces extraordinary challenges, danger, and heart-wrenching loss on a journey to discover the truth of who she is.Create an action-packed story through your choices and actions as you live her life – a girl born with a link to a supernatural entity called Aiden. By playing as both Jodie and Aiden, you will face spectacular physical and psychological challenges to understand what truly lies… beyond.

Next thing on the 15th Anniversary's menu is the GIVEAWAY. Until September 25th, feel free to claim The Night of the Rabbit. It's a great fantasy adventure point & click in which you lose yourself in a tale of magic and wonder, where anything is possible and where nothing is quite what it seems.
You'll join young Jerry and follow a peculiar white rabbit to the wondrous realm of Mousewood, a land where critters can speak and where mystery abounds. It is there that Jerry's dream of being a magician comes true, though a haunting, sinister force casts a long shadow over the forest. Someone offers the residents of Mousewood a deal of their lifetime - tickets to the greatest magic show that the world has ever seen. But the price is steep, as they'll have to bet their houses, their money… and their lives.We don't want to spoil you this awesome story so the best thing to do is check it out yourself!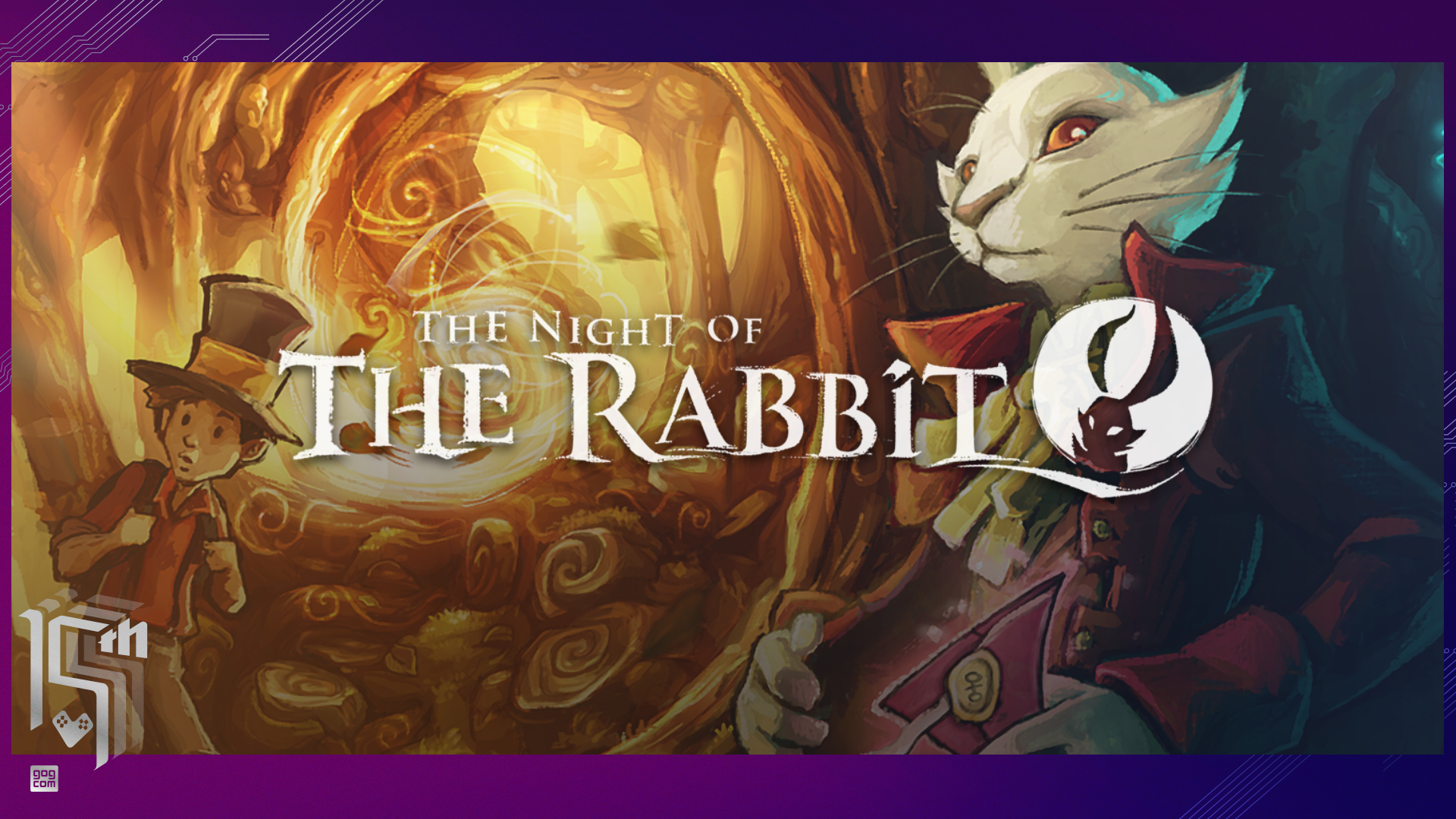 Now, there's no great GOG celebration without some fantastic deals. And within our 15th Anniversary Sale you'll find plenty of them. Over 900 to be more exact! No matter your taste in games, you'll for sure find something appealing to enhance your library. A plethora of styles and genres just waiting for you to grab. HERE
you can find them all, but if you need some examples…
Age of Wonders 4 (first time on a discount and available 20% off) Fallout 4: Game of the Year Edition (-75%) System Shock (-25%) Divinity: Original Sin 2 - Definitive Edition (-65%)
You can also grab some absolute gems from Microids on the highest yet discount. Just to name a few:
The Syberia Collection (-75%) XIII (-80%) Syberia: The World Before - Digital Deluxe Edition (-70%)And if you're hunting for titles that are available Only on GOG and nowhere else, there are plenty of discounts for those as well, and… you can find them all on a brand new, awesome page, where besides discounts you can read a bunch of cool articles on iconic gaming franchises or learn about our quest to save classic PC games. Click HERE to check it out!

What else is there for our
15th Anniversary
? Well, how about you take the nostalgia trip and check out how GOG looked like all those years ago – visit a special website that will take you back in time to 2008
HERE
. A true blast from the past!One last thing (for today of course) is the special
Trivia QUIZ
that we've prepared. See if you are a true GOG veteran that knows us through and through.
There's still plenty to come so visit us frequently so you won't miss a thing! Thank you so much for all those 15 years. We wouldn't have made it without you. Let's celebrate the 15th Anniversary!