---
In 'Warsim: The Realm of Aslona'
, your only goal is to keep the kingdom running, whether you thrive and become a mighty empire or fall to ruin. How you rule is entirely up to you, you may become a harsh dictator charging people a tax for breathing air, or a blood-hungry warlord commanding armies and mercenary bands on invasions of enemy land, or perhaps a charismatic diplomat with vast trade networks and alliances.
Warsim's core focus is allowing the player to do whatever they want, with the relevant consequences of course (and perhaps we've gone too far in that aspect). Do you want to destroy the bank because you owe them a 1 gold loan, sure, want to imprison every musician who visits your court to disuade bards from visiting you, done, want to gamble and waste away all of your gold betting on scorpion fighting and dice games, yes, yes and yes! (If you want to learn more read below)
Some of Warsim's main or more interesting features include...
Explore the rich and vast world filled with over 100 locations to be visited/bought/plundered, you can shape the world how you see fit. Visit a giant Blackmarket filled to the brim with mystery and wonder, discover hidden cities (yep multiple of them!), A scorpion fighting pit, Strange villages, and cult like towns. There has been an excessive amount of time spent fleshing out the world. Exploration is well rewarded!

In the throne room you are tasked with talking to and dealing with the people of your realm, be you a small kingdom with a line of 10 visitors, or a mighty empire with lines of 1000s of people. You will encounter gamblers, bards, tricksters, mercenaries, common folk, beggars, and everything in between. Over 1000 different encounters with complex solutions and reactions. How will you manage your realm? Will you install trap doors and send those foolish enough to visit you plummeting to their deaths? or will you hire a capable steward to deal with them in your stead! The choice is yours.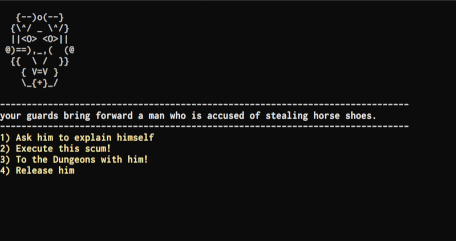 Warsim's unique and in-depth procedural race generation system has been developed for years and currently produces a total of 94,887,852 possible races, which pretty much means you'll never see the same race twice, in fact statistically the races you see will never have been seen by anyone before! you might find Seafaring Goblins, Fire Orcs, Eyeless Elves or the Famed Half-Turtles of the Western Turtledom, Orange Ogretaurs, Inbred Trench Dwarves, and millions more races you couldn't imagine!
Each of these races has their own birth rate, a level of civility (or savageness), three unique units each with different battle scores, their own laws and societal standards (like xenophobia), and varying traits depending on their racial prefixes pulling from a large list of unique racial abilities sure to make each playthrough unique!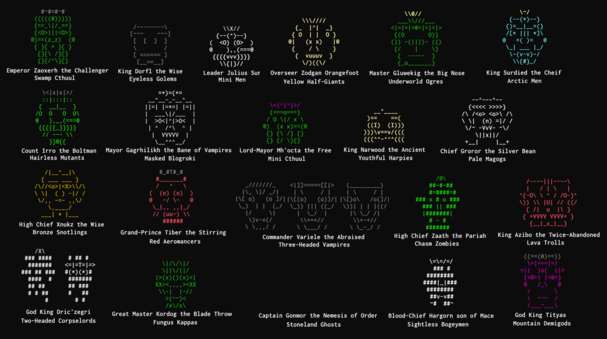 It's not just the races that are massively procedural in Warsim, it's also the faces! The total number of faces is somewhere in the range of 100+ Quadrillion, which lets
face
it (I'll show myself out), it's basically infinite. This means that all of those enemy rulers, all of those staff members, and everyone who appears in your throne room are all faces seen only in that moment by you, and never again by anyone else in the world! Pretty cool huh?
Here are 10 of the 62,418,146,400,000 (62.4 Trillion) different orcish faces!

And another bunch of faces from various in game races!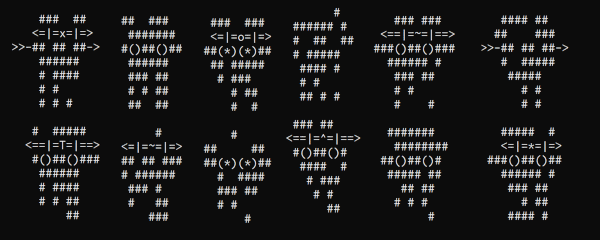 The Arena is another important location within your kingdom, here heroes rise and fall while others are remembered for eternity, clever gamblers make their fortune, great and exalted tournaments are held, and the public sate their appetite for blood! You can find the Arena in a variety of shapes and can even take it for yourself, setting the cost of entry, changing the rules, and upgrading it as you wish!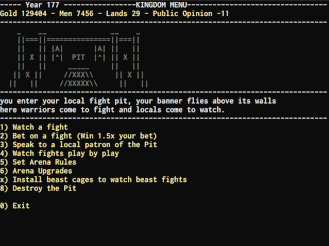 Games within games? You bet! Ruling a kingdom can be boring at times and you may wish entertainment to pass the time, hire a gamesmaster to fill your time when you're bored or play one of the many games littered throughout the taverns and locations of the world, games that include: Snail Racing, Bat Racing, Rat Racing, Rock paper scissors, 21 the dice game, Dragon wench knight, Sudden death (4 different types), Coin flipping, Guess the dice, Swampy cup game, Thralls finger, Animal pit fighting, Scorpion pit fighting, and loads more!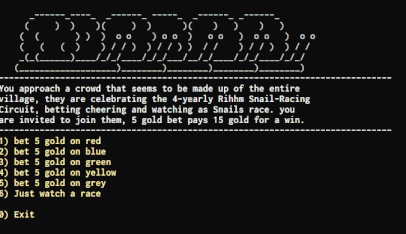 Are you a lover of the procedural arts? Why not listen to the procedurally generated songs of one of the many bards of the Warsim world, or make your way to the musicians guild or the Goblinwood school of drums and try your hand at playing music yourself. The world is filled with all manner of procedurally terrible musicians, from Orc grunters, Gnome whistlers, Goblin drummers, Clickers, Vampire luteplayers, and several others! Hire one as your own personal court bard and train them to play better and faster!


Ruling a kingdom isn't all warfare and conquest, kick back, relax, and gather your people together for a celebration of your design! Or travel around and visit the exclusive celebrations of the peoples of the world, Including: The Blackmarket Century Festival, a huge festival held in the gem of the north, or if you treat them right the great GOBLINWOOD JAMBOREE! A once a-decade experience in the goblin town of Goblinwood.
Here's a goblin drinking competition! (it's pretty easy because goblins can't drink!)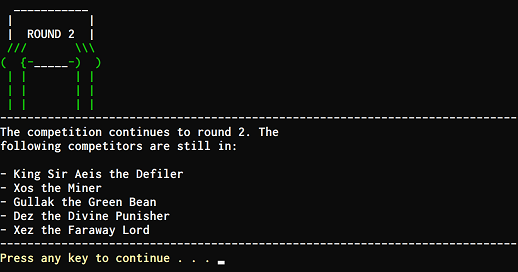 Is being an honest and good natured ruler not for you? Would you prefer sending your loyal warriors to depths unseen to enslave beasts of the underworld for you to train and fight? If the answer is yes then you're in luck, build a monster pit in your kingdom and hold up to 3 of over 27'000 Procedurally generated monsters inside! Fight them and train them against any of 45 opponent trainers! Do you have what it takes?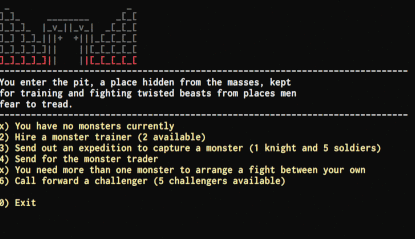 A tough day on the throne? why not get drunk in one of the many different taverns around the world. Here you can find a myriad of different drinks with varying effects and tons of things to get up to in each tavern. Be warned though, drink too much and you may blackout and wake next to a sleeping ogress, or to a lighter coinpurse... And we won't even talk about the hangovers!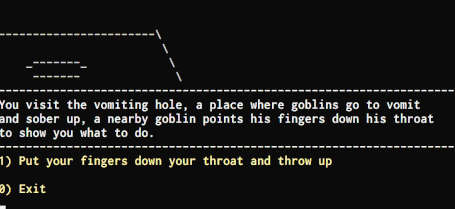 Community
Warsim has an awesome community spread across a number of platforms. Primarily our
community on reddit
but also our
discord
​​.
Here are many reasons why I love the Warsim Community
​I cannot describe how awesome and supportive the community has been towards me in my years developing this game and I can only hope to deliver a worthy finished product.
Thanks for reading all of this and if you do get Warsim I hope you enjoy it!