Overview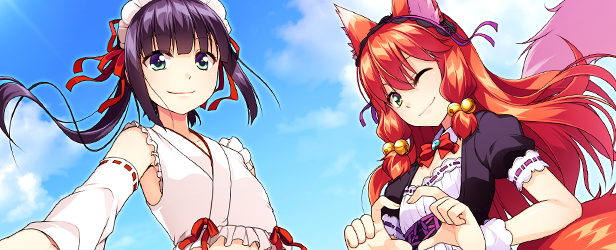 The Goddess was a Crossdresser?!
The enshrined deity turned out to be a cross dressing Goddess that was sealed within to... marry ME?!
This new frontier in the world of cutie boy visual novels is brought to you by Aogiri Penta and Nishida Hajime, the ultimate combo of veterans in the genre!
The grand, mythical curtain of the cross dressing legend opens here!
Characters

Endou Mishiro
"My Sister Sense is tingling! There's a filthy sow getting close to Maa-kun!"
Self-proclaimed big sister, shrine maiden, and also a Crossdresser!
The protagonist's loving big sister, perhaps a bit TOO loving at times!
Her position as sister is put to the test due to Yui's arrival, and a fierce rivalry ensues.

Yui
"I shall grant your wish in full!"
Sealed cross dressing Goddess.
The Goddess sealed inside Kotomusubi shrine's cave. She wields the power to create and strengthen bonds.
The gods of heaven were afraid she might cause chaos in the world, so they sealed her.
It took our protagonist's heartfelt wish and a bit of magic to bring her back to this world.
Seeing the reincarnation of her past love in him, she immediately proclaimed herself as the protagonist's wife.

Hinowa
"I know I may not look it, but I'm a true, proud God!"
Exceedingly cute Komainu.
The incarnation of the Komainu enshrined at Kotomusubi Shrine.
A glorified errand boy for the gods, so his power isn't particularly exceptional, and despite his usual clumsiness he still claims to be a powerful God.
His original role is to watch over the sealed Goddess, but since the shrine's going through rough times, he took up a part-time job as a shrine maiden.
The supporting cast (Hinowa) isn't a heroine this time around.
Masato
Protagonist extraordinaire.
The chief priest of Kotomusubi shrine.
Unable to keep up with his sister's advances, he ends up asking for divine intervention, only to end up being courted by a Goddess instead!
Our protagonist is between a rock and a hard place. What will he do?
Story
After enduring countless years of ascetic training to inherit his parent's shrine, our protagonist is surrounded by a parade of cuties with a surprise!
Despairing over not being able to enjoy a "normal" love, he seeks the aid of his local enshrined deity. And as if the heavens themselves heard his plight, the Goddess manifests in front of him.
But fate would deem that the Goddess he unsealed was... a cross dressing Goddess!
"Come, let us be united in marriage!"
"I want a normal girl, thank you very much!"
The shrine will become the stage where the legend of cross dressing conception will be born!
Features
Narrative based visual novel game.

2-4 hours of playtime.
This Game may contain content not appropriate for all ages or may not be appropriate for viewing at work.
Buying this game on GOG.COM you will receive a censored version of the game.