Skeletal Avenger is a hack'n'slash roguelite with a massive perk arsenal and head-chucking special moves! Re-animate skeletons and use your fighting skills to avenge your own death!
Features
Build your playstyle each run with over 50 perks and trinkets!

Decapitate yourself to do special attacks: Your hat determines the effect

Fight in four biomes: Dungeons, Sewers, Dark Caverns and the Sorcerer's Castle

Over a dozen enemies with unique behaviors

Explore procedurally generated & hand made levels

Equip your skeleton with increasingly powerful gear

Buy upgrades increasing your might

Single player and 2-4 player local co-op

Endless amount of quests to complete in NG+ mode

Test your skills in the Arena Challenges

With over 50 perks and trinkets, you'll get to build a new playstyle with each run.

Chuck your skull and unleash devastating special attacks! Explore the dungeons to find loot and become an undead machine of revenge!

Fast-paced ultra-responsive hack'n'slash gameplay with unique movesets for each weapon!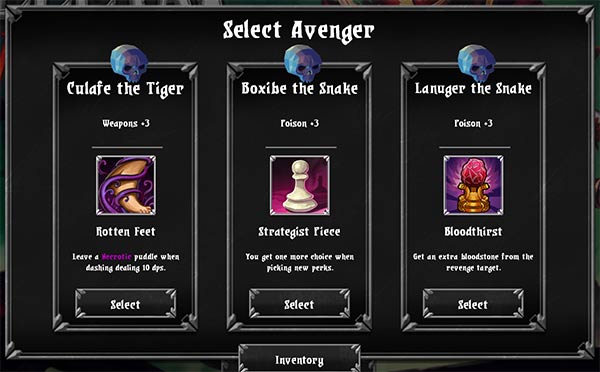 Choose a skeleton to be your tool of vengeance. Each skeleton has a unique set of skills and a perk to choose from. Steer your avenger through unique procedurally generated challenges with endless variety and finally avenge your own murder.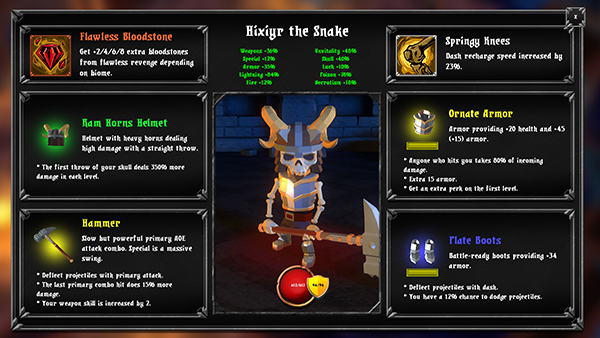 Ransack the homesteads of your adversaries to gain more powerful gear, coin and other loot to increase your power.

Baby Steps
Complete the tutorial.
common · 36.31%