The Rough Justice: '84 Supporter Pack contains:
the Original Soundtrack (OST) with 18 tracks
Art & Design book with over 200 pages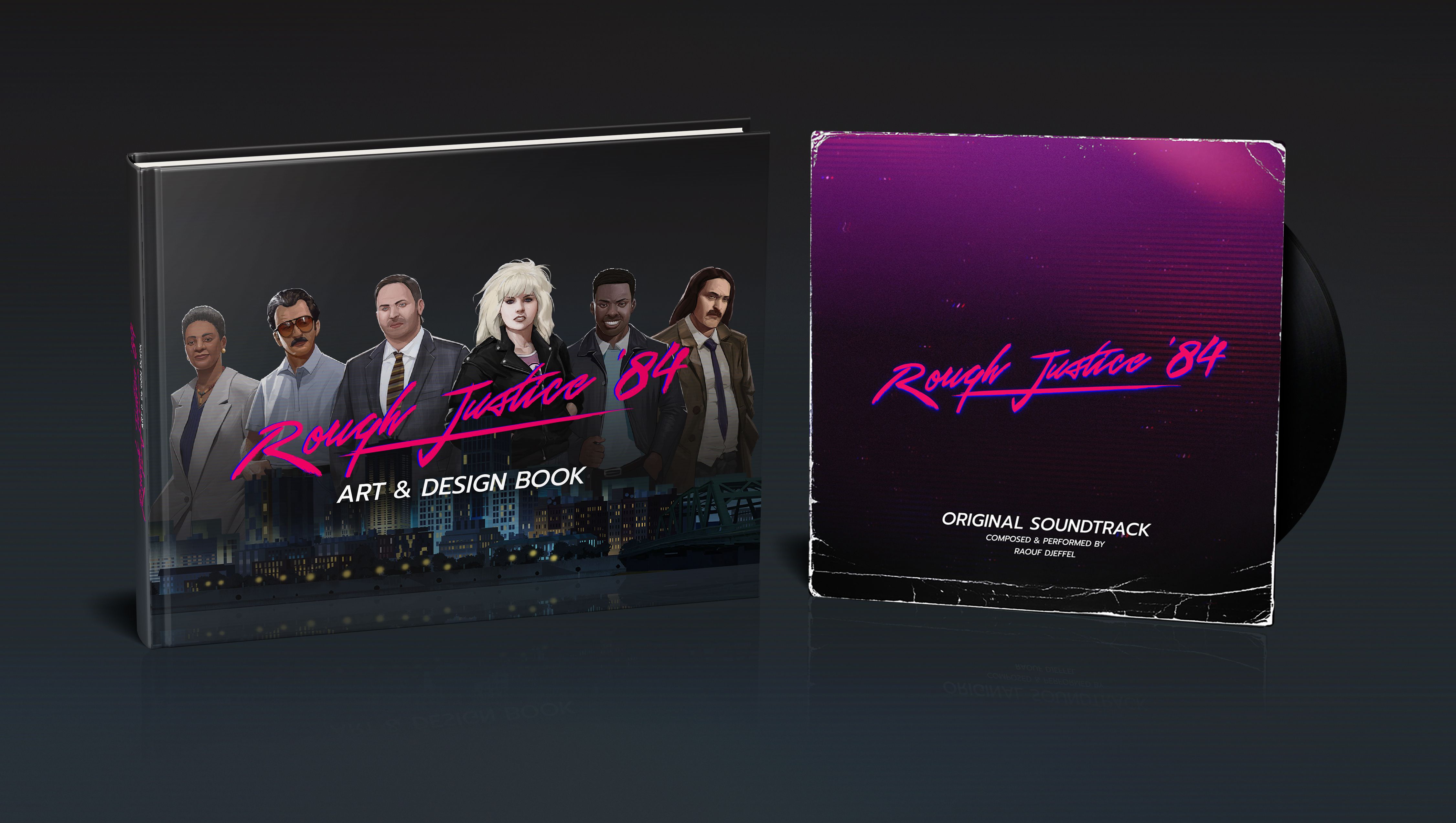 The Art & Design book
goes over the creation process of much of the artwork as well as the design process of Rough Justice: '84; from the initial concept sketches to the final in-game renderings, the book takes you behind the scenes of the game's development, exploring the techniques and processes used to bring the game to life.
The Rough Justice: '84 Original Soundtrack (OST)
contains 18 tracks with over 37 minutes of neon-noir retro-synth vibes composed and performed by Raouf Djeffel, whose work can be heard in trailers and promos for Star Wars Andor, Marvel's Midnight Suns, Call of Duty Warzone, Halo Infinite, The Handmaid's Tale, The Expanse, and many more.
Track list:
1. Main Theme
2. Detective Squander
3. Bread and Butter
4. Day Shift
5. Wake Up Call
6. We Own This City
7. Down and Out
8. Bleeding Hearts
9. Bountiful Hunters
10. Heartbeat City
11. P.I. Dreams
12. Agency De-jour
13. Do Me A Solid
14. Falscher Freund
15. But Wait, There's More
16. One More Question
17. Follow The Money
18. Neon Nuremberg
© 2023 Daedalic Entertainment GmbH and Gamma Minus UG (haftungsbeschränkt). All rights reserved. Daedalic and the Daedalic logo are trademarks of Daedalic Entertainment GmbH, Germany. The Gamma Minus, Rough Justice & Rough Justice: '84 logos are registered trademarks.
artbook
soundtrack (MP3)
soundtrack (FLAC)