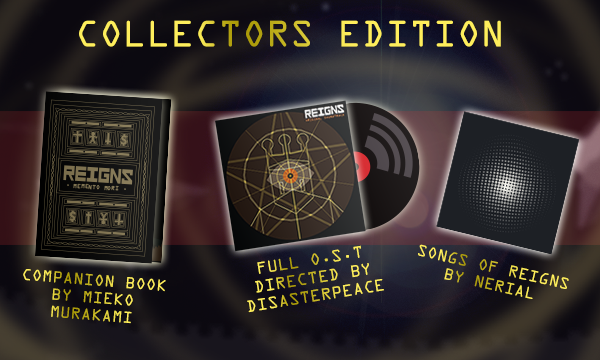 Companion Book
This Book of Mystery will not answer many questions but it will be a companion for your journey through the age of Kings. The Devil is waiting.
Interactive Soundtrack
Songs of Reigns is the semi-interactive soundtrack of the game Reigns. Put your headphones on and relax.
Reigns Soundtrack
The official soundtrack for Reigns with music by Mateo Lugo and Disasterpeace.
1. James the Crusader (A Aeolian) 05:07
2. Benevolent Deeds 01:18
3. Minstrel's Magnum Opus 00:35
4. William the Great (D Dorian) 03:47
5. Cunning Deeds 01:56
6. Minstrel's Martial Song 00:27
7. Holy Deeds 00:54
8. Harry the Young (E Phrygian) 05:12
9. Dark Deeds 01:32
10. Minstrel's Spirit Hymn 00:34
11. His Majesty's Fool 00:35
Copyright 2016 Nerial. All Rights Reserved.
soundtrack (MP3)
soundtrack (FLAC)
Companion Book