UNRATED DLC brings additional adult content to the game.

Akanemachi is a quiet, idyllic town where residents enjoy peaceful lives... That is, until an earthquake hits and eerie occurrences suddenly begin to plague the town. People start disappearing, crime increases dramatically, and all the townsfolk seem on edge. When her friend joins the list of missing persons, it's up to Aya, an ordinary resident of Akanemachi, to investigate the mysterious incidents, rid the town of a dangerous evil, and bring peace back to her town!

Explore Akanemachi to gather information and key items that will help you with your investigation!
By interacting with the townsfolk and roaming the town, you will gain new information and items that will allow you to unlock events and access new areas in the town, bringing you closer to unraveling the mysteries of Akanemachi.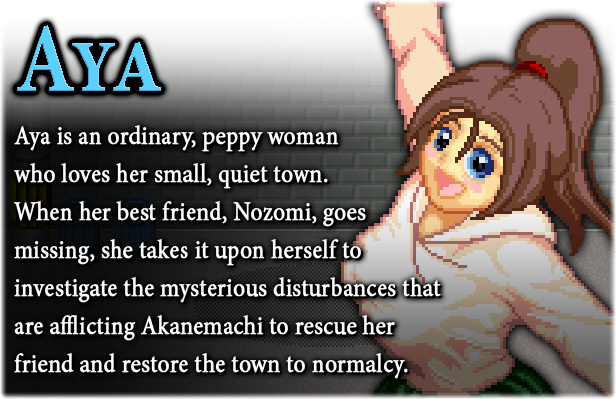 Charming Pixel Art
Enjoy the look of a classic pixel game as you explore the town.
Adventure Puzzle Game
Use the items and information you gather to devise plans to explore new areas and get yourself out of trouble.
This Game may contain content not appropriate for all ages or may not be appropriate for viewing at work.

© Kagura Games and Sprite Hills, All Rights Reserved.