The appearance of a lady knight reincarnated from another world turns a mundane everyday life upside down!
In this love-adventure game set in Akihabara, you can enjoy living together with a lady knight.
It's a little serious, a little sad, and a little sexy, but most of all, it's fun!
The "E-mote" engine that can move illustrations smoothly and three-dimensionally is used for standing pictures in the game.
The characters displayed on the screen move as if they were alive.
STORY
The main character's mundane daily life is turned upside down when a certain woman appears in his life.
One day, a magic circle suddenly appears in the main character's room, out of which materializes an injured woman holding a sword and clothed in knight's armor.
This woman's name is "Cattleya".
She claims to have been reincarnated from another world.
Until she finds a way to return to her own world, she will be an unexpected guest in the main character's home...
Will Cattleya be able to safely return to her own world? Or could her fate take another turn...
CHARACTER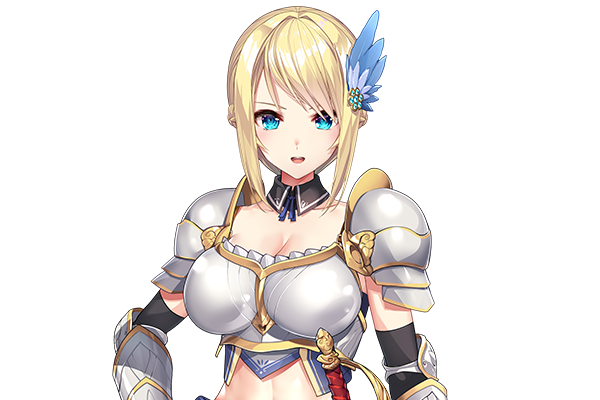 Cattleya
CV:Tsubakino Nao
Height: 161cm
Weight: 49kg
Bust, waist, hip: 88 (D cup)/59/85
Cattleya is an austere female knight from another world.
In her world, she is the commander of an order of knights.
One day, in the midst of battle against monsters, she suffers a serious injury, loses consciousness, and is then reincarnated in the main character's world.
Unable to figure out a way to return to her own world, Cattleya becomes dependent on the main character for food and shelter.
Unlike her harsh life as a knight, constantly on guard and in battle, Cattleya's new life is filled with peaceful days. She begins to worry if she should return to her destiny as a knight, or continue her new life here.
Cattleya actually loves cute things.
Her favorite phrase is: "Ugh, kill me!"
特徴
・Smooth character animation via the E-mote system
・Different routes and ED
・High quality event CG
・Story set in an actual Japanese town
STAFF
・Illustration: WaonInui
・Scenario: Linkedbrain Inc.(Ide Takuro, Kashima Natsuki, BAL-D)
・Producer/Planner: Yujiro Usuda
All characters involved in sexual content are over the age of 18.
This game may contain content not appropriate for all ages or may not be appropriate for viewing at work.