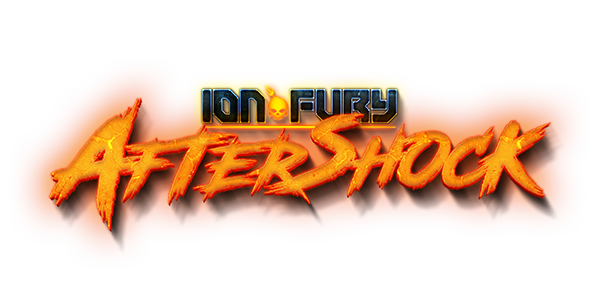 Ion Fury Continues: The Explosive Aftershock!
Just when you thought it was over, the battle rages on. Plunge back into the pixel-perfect world of
Ion Fury
: welcome to
Aftershock
, the electrifying continuation of the Fury odyssey. With Neo DC teetering on the brink of annihilation and a vengeful Dr. Heskel on the prowl, Shelly "Bombshell" Harrison's personal vendetta is about to boil over. Lace up your boots and once again become Neo DC's last hope against Dr. Heskel's nightmarish vision. The fate of the city rests in your hands.
Are you ready to face the Fury?
Gear Up for Round Two
Uncharted Territories, Higher Stakes: Ignite the Fury with a gripping new campaign. Traverse 15 freshly-designed levels teeming with lurking adversaries. 
Fresh Faces of Evil: Heskel's been busy. Meet his new lineup of augmented monstrosities itching for a fight. 
Packing More Heat: Enhance your firepower with new weapons and tools. 
Push Your Limits: Challenge your skills with the grueling new Angel of Death difficulty level.
Ride On: Find out what a rotorcycle is and engage in white-knuckle vehicular combat. 
Old, Yet New: Immerse yourself in Arrange mode for a fresh new take on all 28 levels from the original 2019 campaign, featuring new areas, new enemy encounters, and more. 
Packed With Content: Engage in a total of 43 additional levels of sheer mayhem. See Ion Fury through a whole new lens.
Save the City... Again
Interactive Environments: Utilize destructible elements to set deadly traps and turn the tide against swarms of enemies. 
New Puzzles to Decipher: Push your cognitive limits and crack intricate puzzles to unlock hidden paths and valuable resources. 
Dynamic Narrative: Witness the story unfold through rich dialogues, ambient storytelling, and unexpected character interactions. 
Soundtrack to Battle: Rock out to a powerful new score, fusing retro beats with modern intensity, underscoring every firefight and plot twist. 
Achieve the Impossible: Take on unique achievement challenges that will test even the most battle-hardened players. 
Modern Retro Fusion: A marriage of classic shooter elements with modern design sensibilities, delivering a nostalgic yet fresh experience.
Are You Up for the Challenge?
The city cries out for a hero, and it's calling your name. With greater evils, trickier levels, and an even more relentless Dr. Heskel, do you have what it takes to step up to the plate? Embrace the Fury.
Ion Fury: Aftershock
awaits.
© 2019-2021 Voidpoint, LLC and 3D Realms Entertainment ApS. Voidpoint, 3D Realms and related logos are registered trademarks of their respective owners in the U.S. and other countries. Bombshell and Ion Fury are registered trademarks of 3D Realms. The Bombshell Character design, the Bomb and related logos are registered trademarks of 3D Realms. All other trademarks or trade names are property of their respective owners. All rights reserved.