Ideology in Friction Deluxe Edition includes Ideology in Friction base game
and Ideology in Friction Append DLC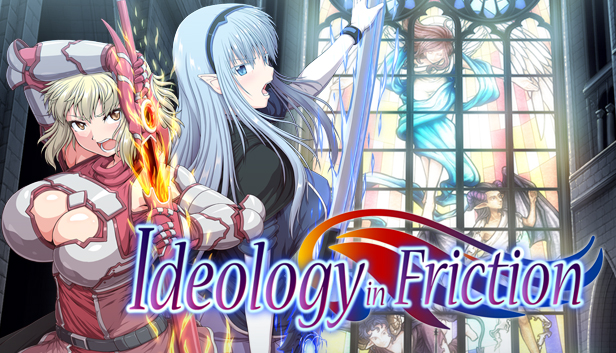 It was said that the natural enemy of all living things
would be destroyed by the emissaries of night, the dark elves.
"You finally found your way here, huh?"
mutters the blue-haired elf.
"I said that I'd bring you back, didn't I?"
replies the elf with golden hair, but as she does, the woman silently shakes her head.
"I'm glad that I got to see you one last time."
she speaks softly with a smile on her face while stroking the golden hair of the other elf.
The two elven knights have lived through harsh times. They were separated and reunited on multiple occasions, but have at last made their way here.
In this nameless church where no one has been, what are they thinking? What have they left behind?
"This was my only choice..."
Clacier, who became a knight to live.
"I have something that I need to accomplish no matter what. I'm here because it's necessary to reach that goal."
said Annette, who also became a knight for a very important goal.
The story begins several years prior before the two had yet become knights.
Features
A Variety of Villains and Enemies
Ideology in Friction Append
In a world where the future isn't certain, everyone wishes for their dreams to come true. Amidst the chaos, one woman stands fearlessly in a cruel world, entrusting her life to her sword as she continues her endless fight.
Her name is Sachiyo and she is the strongest of the Viktor Knights. The one who is known as the "samurai"...
Following up from the critically acclaimed Dark Fantasy RPG by Oneone1, this DLC features 81 New Event CGs, alterations to existing story events, and an entirely new chapter revolving around Sachiyo and Zepp during their first encounter!
Features
Alteration to the existing story

An Entirely New Chapter to experience!
This Game may contain content not appropriate for all ages or may not be appropriate for viewing at work.
Buying this game on GOG you will receive a censored version of the game. For more information about the game's content please visit the publisher's website: Kagura Games