---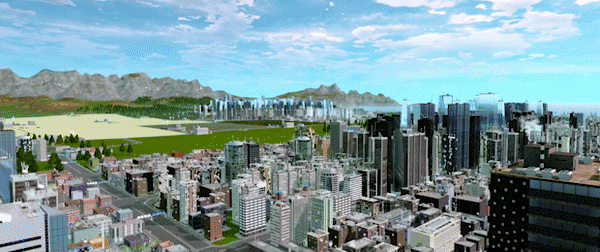 About the Team & Game
Obivously you as a player will compare
Highrise City
with other games. If you are comparing the game with other city builders, keep in mind that the focus of
Highrise City
are the production chains - the results of these will lead to an evergrowing city. The game is not a traditional city builder but has a strong influence of economy simulations. It was developed by a small team as a passion project during the last 8 years while 7 years the game was a one man project.
Let's grow a city!
Highrise City
offers a new spin on City Simulations & Tycoon games expanding the economy and ressource management aspect. Experience a modern take on the genre enriched with a complex resource based economy system.
Highrise City
combines two genres in new and interesting ways: City Builders and traditional Economy & Resource Management Simulations.
Highrise City
offers you challenging gameplay and gives you all the possibilites and tools you need to create a living and breathing city. Take care of your city and make it grow and flourish into a giant Metropolis!

Plan your Megacity
In
Highrise City
you do not only build a city, you also actively manage it by handling the economical supply for it. Organize and build supply chains in an efficient way and make sure your economy is well balanced to guarantee a steady growth. By doing so you will be able to create true megacities.

Features
Up to one million inhabitants per city

5 different population classes

More than 250 base buildings

50 different ressources

Up to 30.000 buildings per city

Up to 5.000 cars and vehicles per scene (and 20.000 per city simulated)

Up to 20.000 people per scene (and 1 million per city simulated)

196 sq km possible playground per map

Adjustable difficulty levels for beginners and advanced players

Improve the city with laws and technology researches

Ressource trading to blance your economy

No limit for number of buildings, cars or citizens

Enjoy your work
Once you managed to create a prosperous and growing city, time has come for fine tuning and further growth. But in the meantime you should also take a break and just enjoy what you have created. Watch the people filling the streets and minding their business. In
Highrise City
you can see thousands and thousands of people and cars in the same scene filling your city with life. Micro animations hidden everywhere will brighten up your day and create the feeling of a miniature world.
Mod support
You want to implement your own buildings? Your own skyscrapers? Change the whole balancing, include your own types of streets? That's what we are aiming for with
Highrise City
as well. The integrated building editor will allow you to easily develop and implement an individual look for your custom city. Chances are that the Editor however will be released a few weeks later than the game itself.