---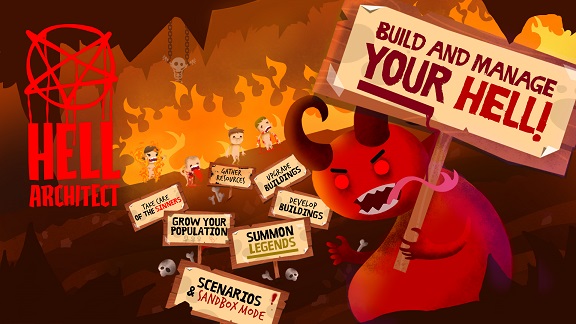 Hell Architect is a game about building and managing your own hell. You take on a role of a hell manager and are tasked with developing the underworld in a way that would make Lucifer himself fall off his chair.

Create a hell of your dreams - will it have the infamous 9 levels, or will you create your own chaos, the way you see fit?
You begin with some basic buildings, like power stations (yup, they need those in hell, too!) and canteens, work your way through shrines and toilets and finish off with some intricate torture contraptions.

You can treat the sinners sent to your humble abode to different, fun (or not) sources of suffering - be it by punishing them for disobedience or just doing it for fun. Your hell, your choices.
BUILD AND MANAGE YOUR HELL

GROW YOUR POPULATION

TAKE CARE OF THE SINNERS

SCENARIOS & SANDBOX MODE

DEVELOP BUILDINGS

SUMMON LEGENDARY CHARACTERS WITH UNIQUE ABILITIES

GATHER RESOURCES

UPGRADE BUILDINGS
Hell Architect is a title inspired by games such as
Dungeon Keeper, Oxygen Not Included
and
Prison Architect
but does everything in its own, hellish style.