Hex grid based soft-strategy puzzle game

Campaign mode with randomly generated maps puts your problem-solving skills to the test

Cozy and idyllic gameplay

8 different animals with unique abilities to expand your toolset for exploring

Points of Interest reward with additional animals and in some cases even with special ones

9 different tile types allow for beautifully crafted maps

Highly replayable
Growth
is a cozy, hex grid based soft-strategy game. Explore and populate a procedurally generated world by utilizing the unique abilities of animals. Growth blends the beauty of cozy exploration with challenging navigation around obstacles such as mountains and rivers to populate fertile soil, transforming barren landscapes into lush forests, meadows, and more. Experience an unforgettable mix of discovery and strategy. Start growing your own idyllic landscape!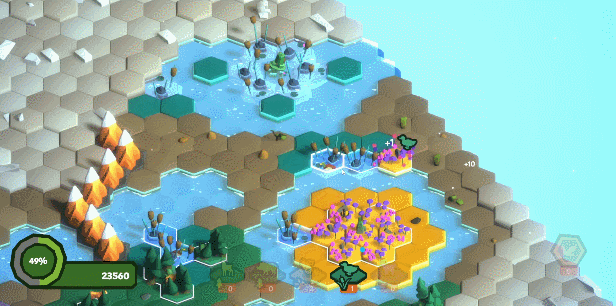 Explore and expand an ever-growing, procedurally generated map by cleverly connecting clusters of wildlife. Claim newfound clusters or points of interest to receive additional wildlife or in some cases special rewards. As you expand the landscape you will discover new types of animals, providing unique abilities to overcome obstacles. Whether you're looking for a quick break from work or a relaxed puzzle session, Growths' intuitive gameplay lets you explore a beautiful landscape, tile by tile.
(c) 2023 Assemble Entertainment GmbH. Developed by Voodoo Duck. Published by Assemble Entertainment GmbH. All rights reserved.

Oink! Oink!
Send your first Boar.
common · 38.46%

Deer Up!
Send your first deer.
common · 38.46%

Beeutiful!
Send your first Bee.
common · 37.61%

Relic Seeker
Claim your first Point of Interest.
common · 35.9%

Nature Calls
Complete the Tutorial.
common · 35.04%