Imagine a place where all that is lost and forgotten goes; old toys, letters, socks. The Forgotten Lands is a magical world inhabited by Forgotlings; living mislaid objects longing to be remembered.
Forgotton Anne is a seamless cinematic adventure with meaningful storytelling and light puzzle platforming. You are Anne, the enforcer who keeps order in the Forgotten Lands, as she sets out to squash a rebellion that might prevent her master, Bonku, and herself from returning to the human world...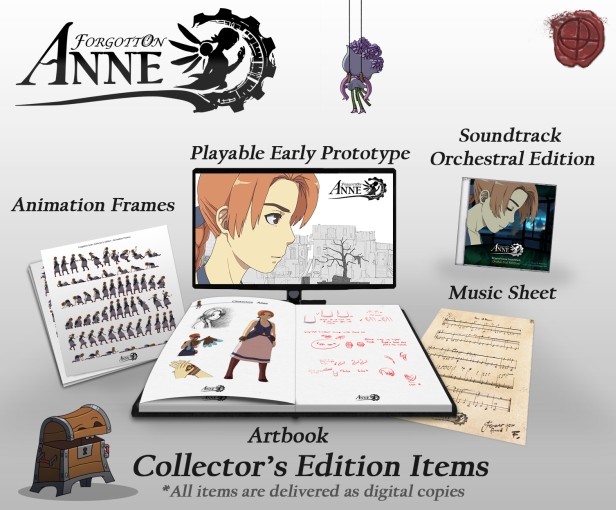 Collector's Upgrade Features:
-
Artbook: The Art of Forgotton Anne
Delve into the gorgeous art of Forgotton Anne. This digital artbook contains over 90 pages of art from the game and the development process including early sketches, storyboards, and much more.
-
Forgotton Anne Early Prototype
Run and jump your way through early iterations of locations in the game and discover the development process with developer notes scattered throughout.
-
Anne's Theme music sheet
Get your hands on a "forgotten scroll" containing the musical notation for an original beautiful piano arrangement of Anne's Theme.
-
Collection of Anne's gameplay Sprite Sheets
Study Anne's movements with this collection of Anne's ingame animation frames. Contains 10 sprite-sheets in high resolution.
-
Forgotton Anne Orchestral Soundtrack
Relive the memories of Forgotton Anne with this special soundtrack recorded with the Copenhagen Philharmonic Orchestra. Includes the theme song 'Forgotten Anne' by Randi Laubek.
1: Towergrounds - 3:36
2: Confrontation - 2:11
3: City Streets - 5:11
4: Train Ride - 5:01
5: Anne's House - 1:55
6: Spring Garden - 1:23
7: Another World - 1:58
8: The Return - 3:41
9: Bonku's Chamber - 2:25
10: Ether Bridge - 2:40
11: Last Outpost - 2:23
12: Caretaker - 2:54
13: The Choice - 2:45
14: Forgotten Anne - 2:50
- 40:56
Forgotton Anne © 2016 -2018 Forgotton Anne ApS. All rights reserved. Developed by ThroughLine Games ApS. Published by Square Enix Ltd. FORGOTTON ANNE and the THROUGHLINE GAMES logo are trademarks of Forgotton Anne ApS and ThroughLine Games ApS respectively. SQUARE ENIX, the SQUARE ENIX logo, SQUARE ENIX COLLECTIVE and the SQUARE ENIX COLLECTIVE logo are registered trademarks or trademarks of Square Enix Holdings Co. Ltd.