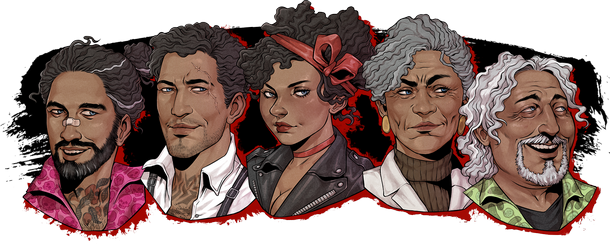 From what started as a tiendita on a street corner in northern San Rafaela, Raúl, or "Papá Plomo", and his wife Gloria built an empire dealing in blood, bullets, and, still, the occasional banderilla.
The "Lieutenants Pack - La Familia" DLC unlocks access to a set of 5 Lieutenants and their unique abilities that will aid you in your conquest.

Raúl Reyes
- "Papá Plomo" himself, an expert in the manufacture, sale, and use of all kinds of weaponry second, and a family man first.

Family Hammer
This lieutenant's Power is temporarily increased by 4 while he is fighting alongside his Family.

The Family Business
Make an agreement with this lieutenant for various benefits. (Only accessible if the cartel has all 5 members of the Reyes Family.)

Gloria Reyes
- A mother and a manager who will have your business producing, packaging, and delivering more goods for more profit.

The Family Shield
This lieutenant can interrupt an attack by Police, Federals and DEA if there are any other Reyes Family members in the battle.

Katy Reyes
- The youngest in the Reyes clan will increase the price of your weaponry at selling points, as well as emboldening her family members on the battlefield.

Heart of the Family
This lieutenant increases the power of all other Reyes Family members in combat.

Weapon dealer
Affects the selling price of weapons at the border where the lieutenant is located, increasing it by 5%

Scaredy Cat
This lieutenant might run away from the battlefield if their endurance falls too low. (Ability doesn't activate if Marco Reyes is in the same combat.)

Marco Reyes
- The eldest son and heir to the Reyes dynasty, Marco was born with a point to prove, and he fights like it.

Big Brother Instinct
Disables "Scaredy Cat" ability for Katy Reyes if they're in combat together.

Gaspar Reyes
- Gaspar is an expert in driving shipments to wherever they need to be, as well as driving his brother to his wits end... to the benefit of the family, of course.

Enfant Terrible
If Gaspar and Marco Reyes are in combat together, Marco can use "Suppressive Fire" without a cooldown.  
© 2022 Moon Moose
© 2022 tinyBuild