---
ADVENTURE SPARKED BY INVENTION!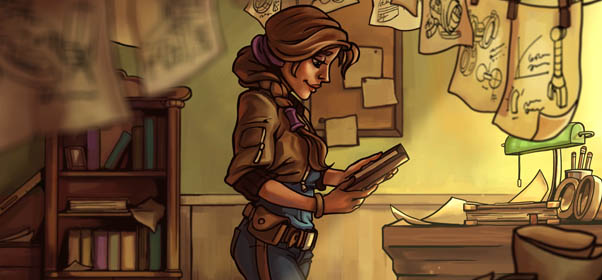 Brassheart is a Point & Click adventure game set in the alternative 1920s, inspired by the dieselpunk aesthetics and the classics of the genre.
In the world of Brassheart, you play as Pola Zagórska, a smart and chipper aeroplane pilot. She follows the clues that may provide a way to save her father kidnapped by his own invention, a rebellious supermachine, Valkiria. This powerful difference engine gathered loyal army and relentlessly pursues the goal of mechanizing and militarizing the whole world. It is governed by cold calculation, and all those who oppose it will be in danger. One of such people was Prof. Zagórski, the co-creator of the machine. Before the kidnapping, however, he managed to give his daughter a clue about defeating the Valkiria. The key to stopping the machine's domination may be a mysterious invention called 'Brassheart' that affects her will.
Pola has to set off on a journey and find parts of the mechanical heart scattered all over the world, for they are her only chance to stop the sinister machine, end the era of mechanical terror and save her father.
DISCOVER THE WORLD OF BRASSHEART
Embark on an exciting adventure around the world and visit places like a village in the Himalayas or palaces in Europe, filled with great industrial machines and opulent interiors. Admire many meticulously designed 2D locations and a unique graphic style inspired by dieselpunk and cartoons.
ENJOY THE DIESELPUNK SETTING
Welcome in the alternative reality of 1920s, the age of global turmoil and brilliant technologies born out of science and creativity. Get to know fantastic inventions of this peculiar world, such as sprawling networks of engines, antigravity generators or automatons, all created under the watchful eye of the immense computing power: Valkiria.
EXPERIENCE CAPTIVATING STORY
Follow Pola's steps in her quest against the immeasurable power of Valkiria. Put in such a plight and filled with doubt, her close relationships with friends and family will drive her to embark on a dangerous adventure around the world. With your support and help from her trusty companions: mechanic Manfred, artist Tamara and automaton Pascal, Pola will have to unearth her father's enigmatic inventions and outsmart the malevolent machine.
MEET THE COLORFUL CHARACTERS
On your way you will meet a lot of interesting figures: barons and countesses entangled in high-society intrigues, spies, criminals, adventurers and inventors. Get tangled up in crazy conundrums, permeated with humor and requiring extraordinary solutions.
SOLVE THE PUZZLES WITH PASCAL
You'll have a chance to utilize some crazy inventions in this twisted timeline: lasers, robots, airships, giant levitating statues and more! Fix mechanisms, solve puzzles and come up with creative solutions to head-scratching problems. Your companion on the journey, automaton Pascal is ready to offer you helpful hints at any time!
FEEL THE VIBE OF GENRE CLASSICS
Take a journey to the world of Brassheart and feel the vibe of genre classics through experiencing cartoonish, colorful art-style, coming up with the crazy MacGyver-esque solutions and finding yourself in extraordinary situations permeated with humor. At the same time enjoy puzzles grounded in commonsensical logic without pixel hunting along the way.
Hexy Studio © 2022 All right reserved