From the co-founder of Dontnod (Life is Strange) Hervé Bonin's new studio Nameless XIII. Face the dark corners of your humanity and find out what lurks in the shadows.
The non-linear story challenges players to make meaningful choices in complex moral dilemmas.
Feature List
Make meaningful choices in a non-linear narrative

Different paths to take with 34 different endings

Manage your party's resources as well as their physical and mental health

Get to know the group through their relationship dynamics

Travel and learn about this hostile world destroyed by a volcanic apocalypse

Harvest resources and craft supplies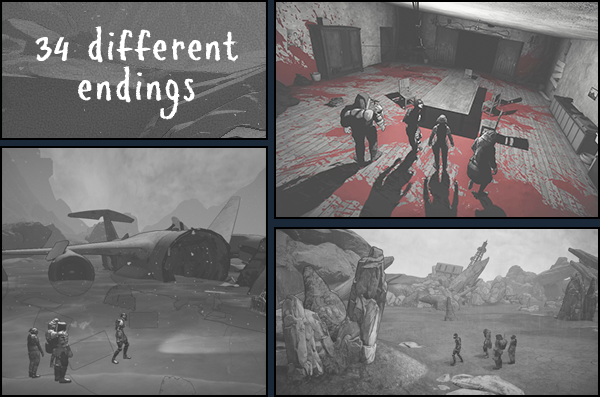 Discover a new path each playthrough (roughly 2 hours per successful run) with 34 possible endings.
Physical and mental party management:
Manage your food, equipment and medication and protect the group from madness and despair. Seek and harvest vital resources in the wild and keep your group alive.
Richly drawn characters:
Get to know the intimate dynamics, relationships and tensions between the brave captain of the group Petra, pragmatic fighter Sinh, the young optimistic scholar Kali and the cautious scout Nadir as you travel the end of the world.
A desolate future:
Set 200 years after the first geological disasters the earth is a post-apocalyptic wasteland. Survive the weather, the ash storm, the grey blizzard and the acid rain.

The Forced March
Force the Squad to take 200 paces without energy.
common · 49.81%

The Lovers
Unlock the "Optimists" characteristic.
common · 48.25%

The Crop
Gather 50 resources.
common · 32.68%

The Meal
Use 50 resources.
common · 32.68%

Temperance
Unlock the "Emissaries" characteristic.
common · 43.19%