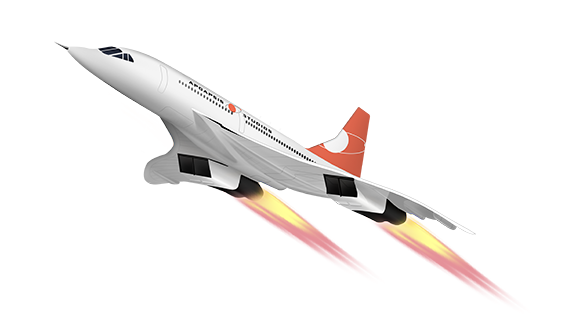 The Aérospatiale/BAC Concorde is a turbojet powered supersonic passenger airliner, developed during the 1960s and flown from 1969 until 2003. It's one of the most iconic aircraft ever developed due to its unique characteristics as a result of its supersonic capabilities, traveling at over twice the speed of sound (Mach 2.04, 1354 mph (or 2180 kph) at cruise altitude). Typically seating 92 to 128 passengers, the Concorde flew regular transatlantic flights between airports such as LHR (Heathrow Airport), JFK (John F. Kennedy International Airport), CDG (Charles de Gaulle Airport) and IAD (Dulles International Airport) as well as many other destinations.

The Tupolev Tu-144 is a Soviet supersonic passenger airliner and in fact the world's first such as its maiden voyage in 1968 occurred two months ahead of the Concorde. The Tu-144 conducted a total of 102 commercial flights (although only 55 carried passengers) between 1968 and 1999. At cruising altitude, the Tu-144 could reach speeds of 1400 mph (or 2200 kph) and was the first passenger airline to exceed Mach 2 in 1970.

The Concorde and Tu-144 is brought to life in Airport CEO complete with stunning, authentic and accurate graphics, high-quality audio recordings from the real-life original Concorde aircraft including jet engines and ambiance as well as glorious takeoff afterburners, animated canards and droop-snoots!
Downloading this free DLC will add the Concorde to the default airlines Olympus Organization and Zoom! and the Tu-144 to the default airlines Stripe Air and Crown Airlines, all part of the base game.

The Concorde and Tu-144 can, just like any other aircraft in Airport CEO, be modded with custom liveries using the official MDK.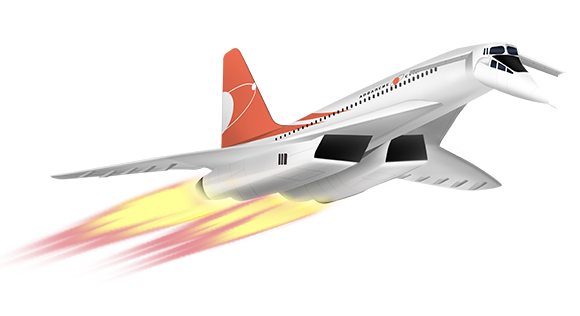 Copyright © 2022, Apoapsis Game Laboratories AB, All rights reserved.