Heutzutage scheint es, als kämen pro Jahr ein oder zwei bekannte AAA-Militärshooter raus. Aber damals in den frühen 2000ern sah das ganz anders aus – man konnte sich vor Militärshootern kaum retten.
Die Call of Duty-Reihe gab ihr Debüt, und 2005 konnten sich Spieler am teambasierten, taktischen Shooter
Brothers in Arms: Road to Hill 30
erfreuen. Um das Kultspiel gebührend zu feiern, wollen wir auf die Militärshooter der 2000er zurückblicken und dabei in den Fokus stellen, warum Brothers in Arms: Road to Hill 30 so aus der Menge hervorstach.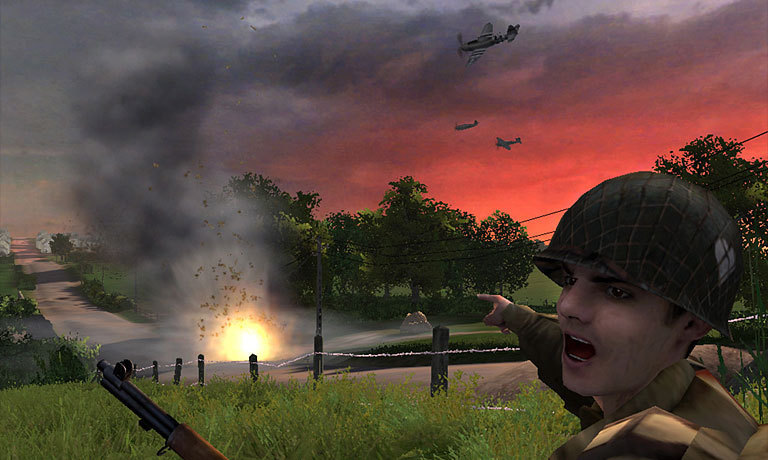 Zweiter-Weltkriegs-Spiele gab es in den 2000ern wie Sand am Meer
Die 2000er waren eine erfolgreiche Zeit für Egoshooter. Es gab Titel wie Halo oder Soldier of Fortune für Fans von Sci-Fi oder actiongeladenen, rasanten Shootern. Aber auch viele realistische Militärshooter standen zur Auswahl. Die beliebten Reihen Call of Duty und Battlefield versorgten Fans mit Stoff und Mitte der 2000er kamen noch viele weitere Zweiter-Weltkriegs-Shooter dazu. Neben Brothers in Arms waren das zum Beispiel Call of Duty 2, Day of Defeat,
Medal of Honor: Pacific Assault
, Medal of Honor: Airborne und Red Orchestra. All diese Titel wurden innerhalb von vier Jahren veröffentlicht.Trotz dieser gewaltigen Konkurrenz konnte Brothers in Arms: Road to Hill 30 aus der Masse hervorstechen.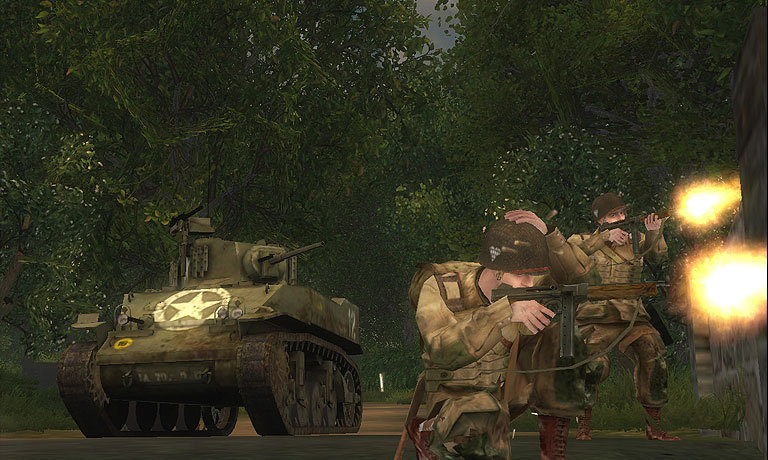 Brothers in Arms führte innovative Spielmechaniken ein, mit denen es sich von anderen Shootern der Zeit abgrenzte
Brothers in Arms aus dem Hause Gearbox Software, die auch für Borderlands verantwortlich zeichnen, führte realistische Militäreinheiten mit innovativen Teammechaniken ein, die das Spiel zu dem machten, was es ist. Die Entwickler gingen sogar so weit, einen pensionierten Colonel der US Army anzuheuern. John Atal unterstützte das Team bei Fragen zu taktischen Spielelementen. Antal lehrte die Entwickler nicht nur Theorie, sondern auch Praxis. Das angeeignete Wissen und Verständnis ist auch im Endprodukt sichtbar.Anders als bei vielen Militärshootern fühlen sich die Waffen bei Gearbox für die damalige Entwicklungszeit tatsächlich realistisch an. Die Waffen schossen nicht perfekt, sondern nutzten stattdessen Visiere aus der Weltkriegszeit. Ein realistischer Rückstoß beim Schießen machte die Nutzung der Waffe etwas anspruchsvoller. Das macht das Ganze etwas schwerer, aber auch lohnender und befriedigender, wenn man eine Mission erfolgreich abschließt.Zusätzlich baute Brothers in Arms auf eine einzigartige Team-Mechanik, durch die Missionen mehr Tiefe erhielten und auf verschiedenen Wegen erfüllt werden konnten. Da die Schusswaffen schwieriger handzuhaben waren, war es umso wichtiger, das Team, welches meist aus zwei vorausgewählten NPCs bestand, in Echtzeit richtig zu koordinieren. Es half dabei, Gegner zu flankieren und effizient aus dem Weg zu räumen. Noch heute sind die teambasierten Funktionen von Brothers in Arms im Vergleich zu anderen Militärspielen der 2000er unvergesslich.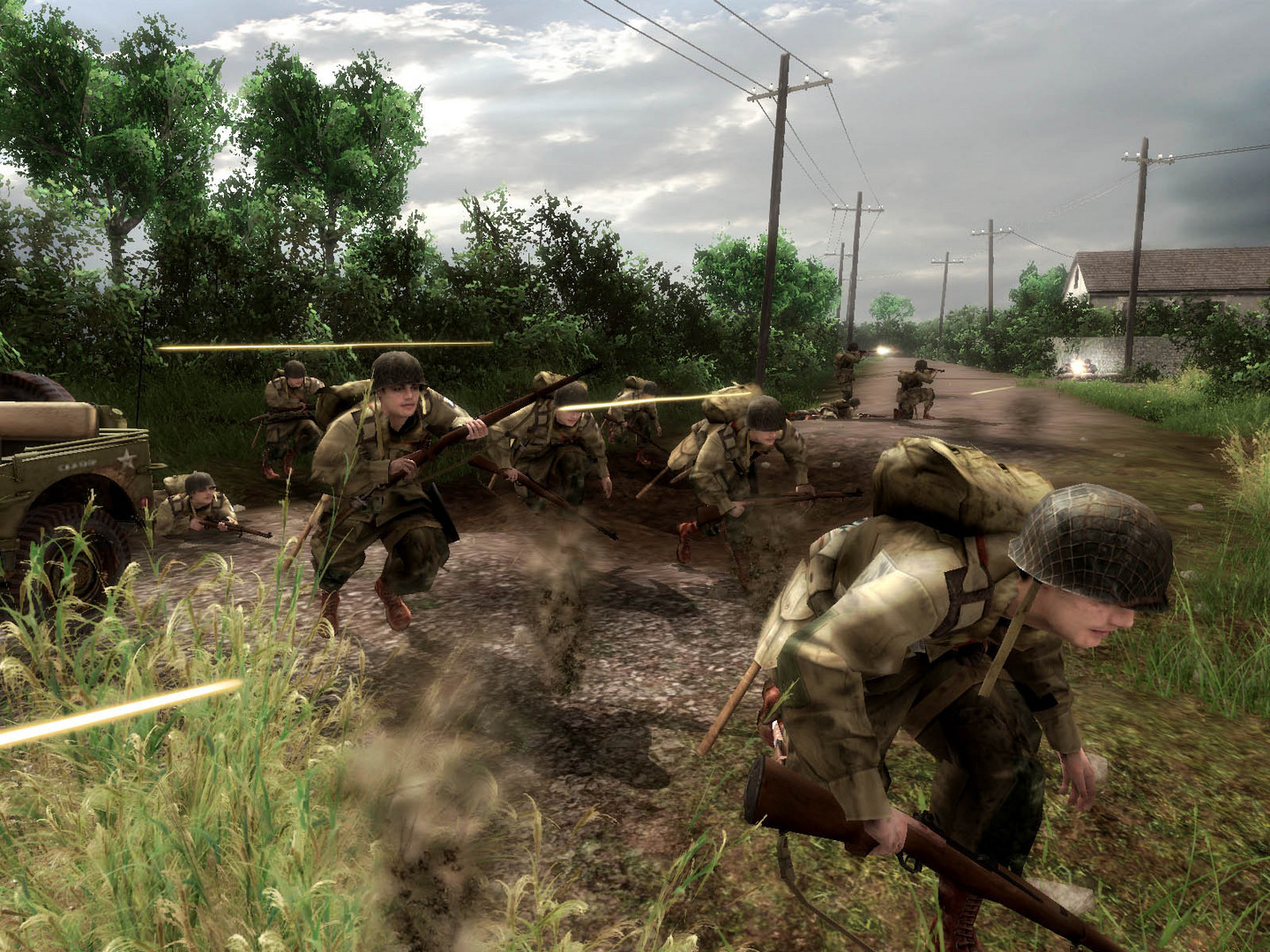 Auch die Handlung in Brothers in Arms fühlt sich realistischer an
Zusammen mit den Schieß- und Team-Mechaniken fühlte sich auch die Story in
Brothers in Arms: Road to Hill 30
realistischer an als in den meisten anderen Militärshootern der damaligen Zeit. Basierend auf einer wahren Begebenheit spielt man als Teil der bekannten 101. US-Luftlandedivision und landet am D-Day hinter feindlichen Linien. In der ersten Mission spielt man die Schlacht von Bloody Gulch bei Manoir de Donville nach, auch bekannt als Hill 30.Während des Spiels unterstützt man die Einheit in verschiedenen Schlachten und Scharmützeln, die wahren Ereignissen nachempfunden sind. Dieser Detailgrad hilft dem Spieler, in die Geschichte einzutauchen, und für manche sticht es genau deshalb aus der Fülle der Militärshooter heraus. Tatsächlich merkte ein Reviewer an, dass sich Brothers in Arms nicht wie die anderen damaligen Shooter wie ein klassischer Hollywood-Kriegsfilm anfühlte, sondern härter, realistischer und moderner. Es ähnelte mehr Filmen wie Der Soldat James Ryan oder der Serie Band of Brothers. Diese authentische und emotionale Darstellung des Kriegs machte Brothers in Arms: Road to Hill 30 zu einer einzigartigen Erfahrung.Das Spiel war ein voller Erfolg und ebnete somit den Weg für viele weitere Titel der
Reihe
. Neben Road to Hill 30 gibt es also noch einiges mehr zu entdecken! Wenn du auf der Suche nach einem Militärtrip in die Vergangenheit bist und teambasierte Taktik für dich ein interessanter Zusatz zur altbasierten Formel ist, solltest du dir das Spiel auf jeden Fall ansehen.
Was meinst du? Hast du schon mal Brothers in Arms: Road to Hill 30 gespielt? Oder hast du jetzt so richtig Lust drauf bekommen? Sag es uns in den Kommentaren oder schreib uns auf Social Media!