Certaines choses sont faites pour aller ensemble. Le beurre de cacahuète et la confiture, Tom et Jerry, les œufs et le bacon, les jeux vidéo et Donjons et Dragons. Bien que les jeux vidéo et Donjons et Dragons soient déjà excellents séparément, c'est encore mieux quand on mélange les deux.
La série des Baldur's Gate en est l'exemple.
Le premier
était un véritable chef-d'œuvre en son temps, et
Baldur's Gate II
a réussi à le surpasser. Avec les 20 ans du deuxième opus de la série et
Baldur's Gate 3
en accès anticipé dans quelques jours, nous nous sommes dit que le moment était idéal pour un petit retour sur ce grand classique.Nous allons donc revenir sur l'histoire, le gameplay et la création de ce jeu vidéo qui est toujours aussi bon aujourd'hui qu'il y a 20 ans.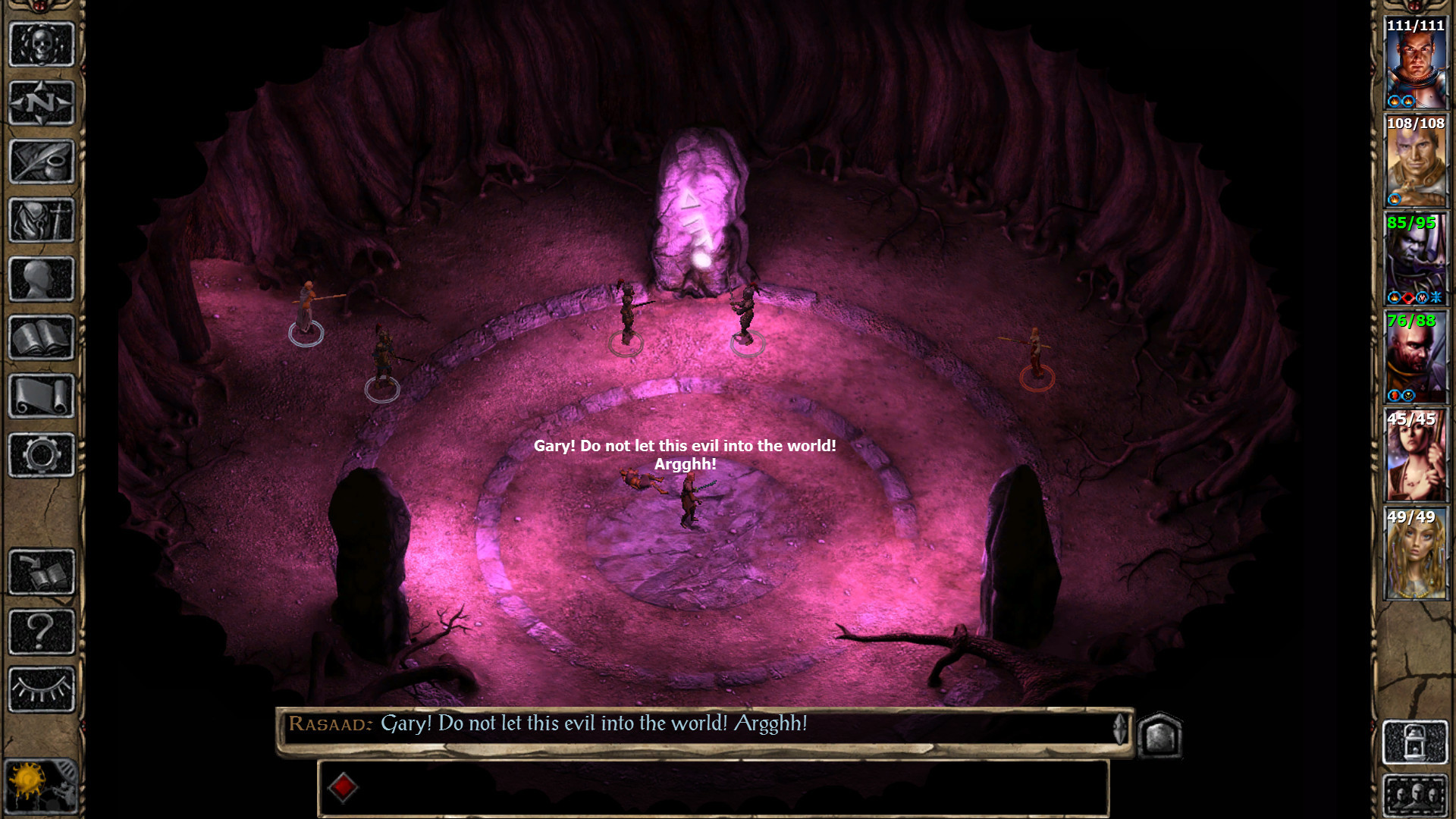 L'histoire de Baldur's Gate II
Si vous aimez les grandes aventures, alors ce jeu est pour vous. Se déroulant dans le monde médiéval des Royaumes Oubliés de Donjons et Dragons, Baldur's Gate II continue l'histoire du premier. Vous vous réveillez enfermé dans une cage avant de vous libérer avec l'aide de quelques nouveaux amis. Votre sauveur ainsi que votre geôlier sont alors tous deux arrêtés pour usage non autorisé de magie, et c'est là que le jeu commence vraiment. Vous devrez user de toute votre astuce pour atteindre l'île où ces deux personnages sont retenus, et de nombreuses options vous seront présentées pour y arriver.Ces choix ont des conséquences, et le résultat final changera en fonction de vos décisions. Choisirez-vous la confrontation de front, ou tenterez-vous de discuter pour éviter toute altercation ? Parfois, des discussions très calmes peuvent dégénérer très vite lorsqu'on choisit mal ses mots !Vous rencontrerez de nombreux personnages uniques au cours de votre aventure, et ne vous inquiétez pas, le jeu est loin d'être court. Si vous êtes du genre à explorer le monde et à vous intéresser aux quêtes secondaires, ce sont quelque 200 heures de jeu qui vous attendent.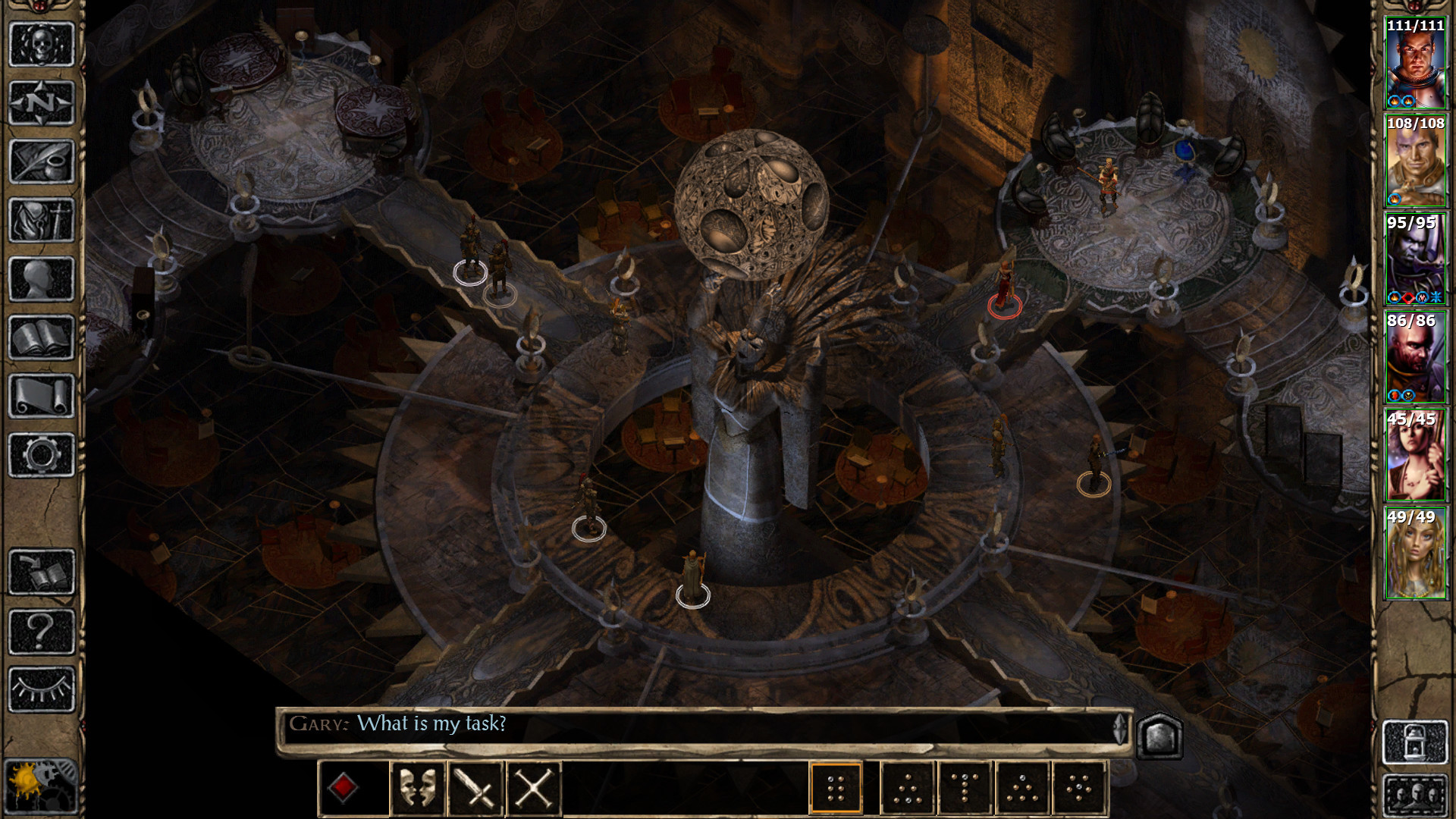 Le gameplay de Baldur's Gate II
Bien qu'une histoire solide donne clairement de l'intérêt à un jeu, un gameplay bien pensé peut la sublimer, et
Baldur's Gate II
n'est pas en reste à ce niveau.Quand vous n'êtes pas en train de converser avec des PNJ, vous commandez votre groupe de six aventuriers lors de combats épiques. Le jeu est en vue isométrique, alors vous avez toujours une bonne vision d'ensemble du combat, et c'est bien pratique.En effet, bien que le jeu soit en temps réel, vous pouvez le mettre en pause pour planifier tranquillement des attaques stratégiques. Pour chaque joueur dans votre groupe, vous pouvez assigner différentes actions et déplacements afin d'exécuter des manœuvres tactiques et dominer le champ de bataille.Comme le jeu se déroule dans le monde de D&D, vous disposez de nombreuses classes uniques à découvrir et maîtriser. Notamment, le guerrier, le ranger, le paladin, le voleur, le barde, le mage, le clerc, le druide, le barbare, le moine et le sorcier. Pour ma part, j'aime beaucoup le paladin, mais chaque joueur est unique, tout comme ces classes.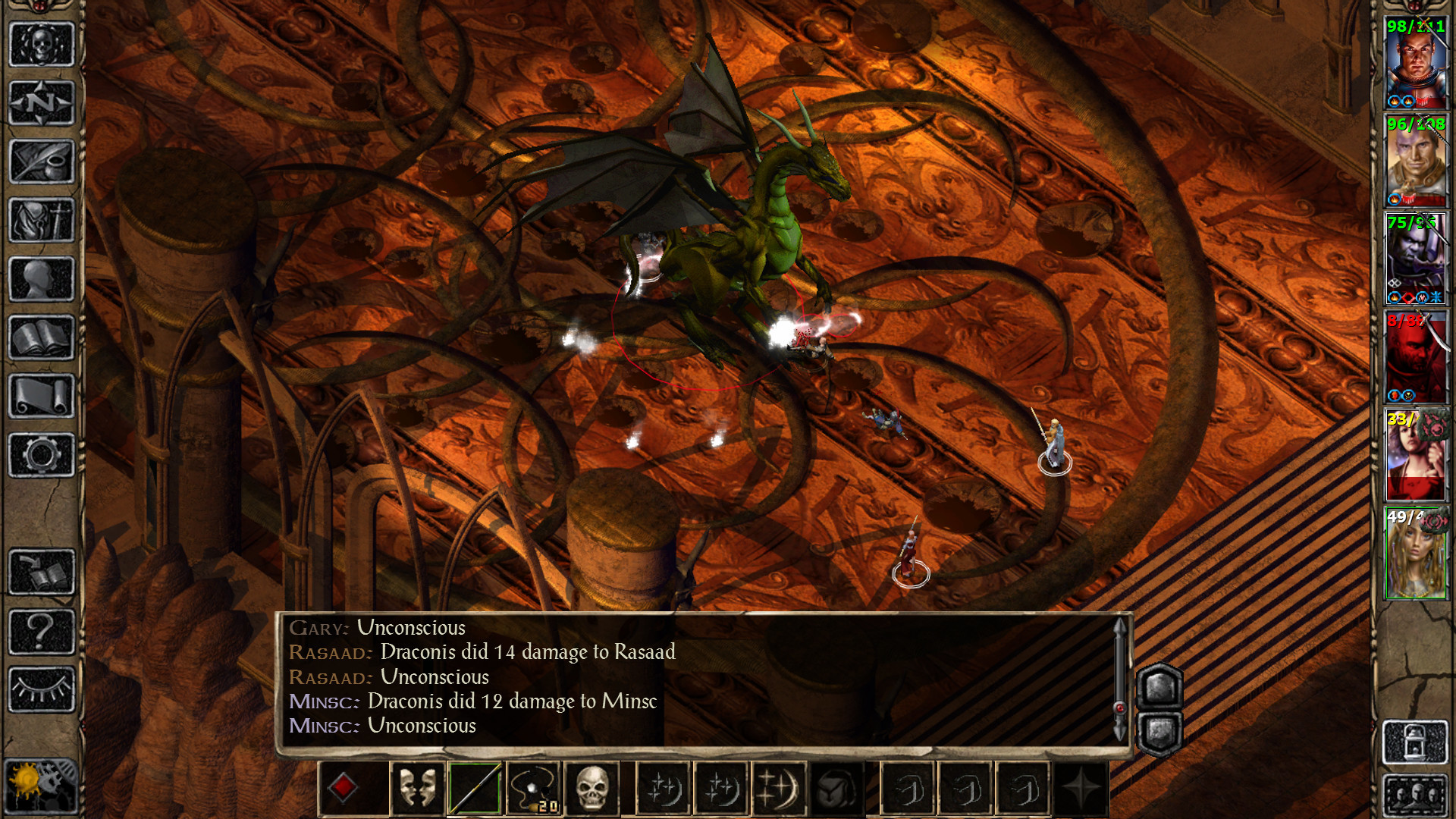 La création de Baldur's Gate II
Développé par Bioware et édité par Black Isle Studios, qui aurait cru que l'équipe du jeu ait commencé la production en janvier 1999 ? Cela signifie que ce jeu épique a été réalisé en un an et demi uniquement, puisqu'il est sorti le 21 septembre 2000 !Bien entendu, réutiliser le moteur du premier jeu a permis de gagner beaucoup de temps. Mais ce n'est pas pour autant que tout est resté identique. Le moteur a reçu de nombreuses améliorations dans cette suite du fameux RPG en vue isométrique.Un des objectifs de l'équipe était d'améliorer autant d'éléments de l'original que possible. Chaque département avait une liste d'améliorations et d'objectifs à atteindre, et la plupart ont pu être réalisés. Le résultat final a été un énorme succès, tant en termes de ventes que de récompenses. Il a reçu de nombreux "Jeu de l'année" dans la catégorie jeu de rôle, et plus récemment, de nombreux critiques l'ont classé dans la liste des meilleurs RPG de tous les temps.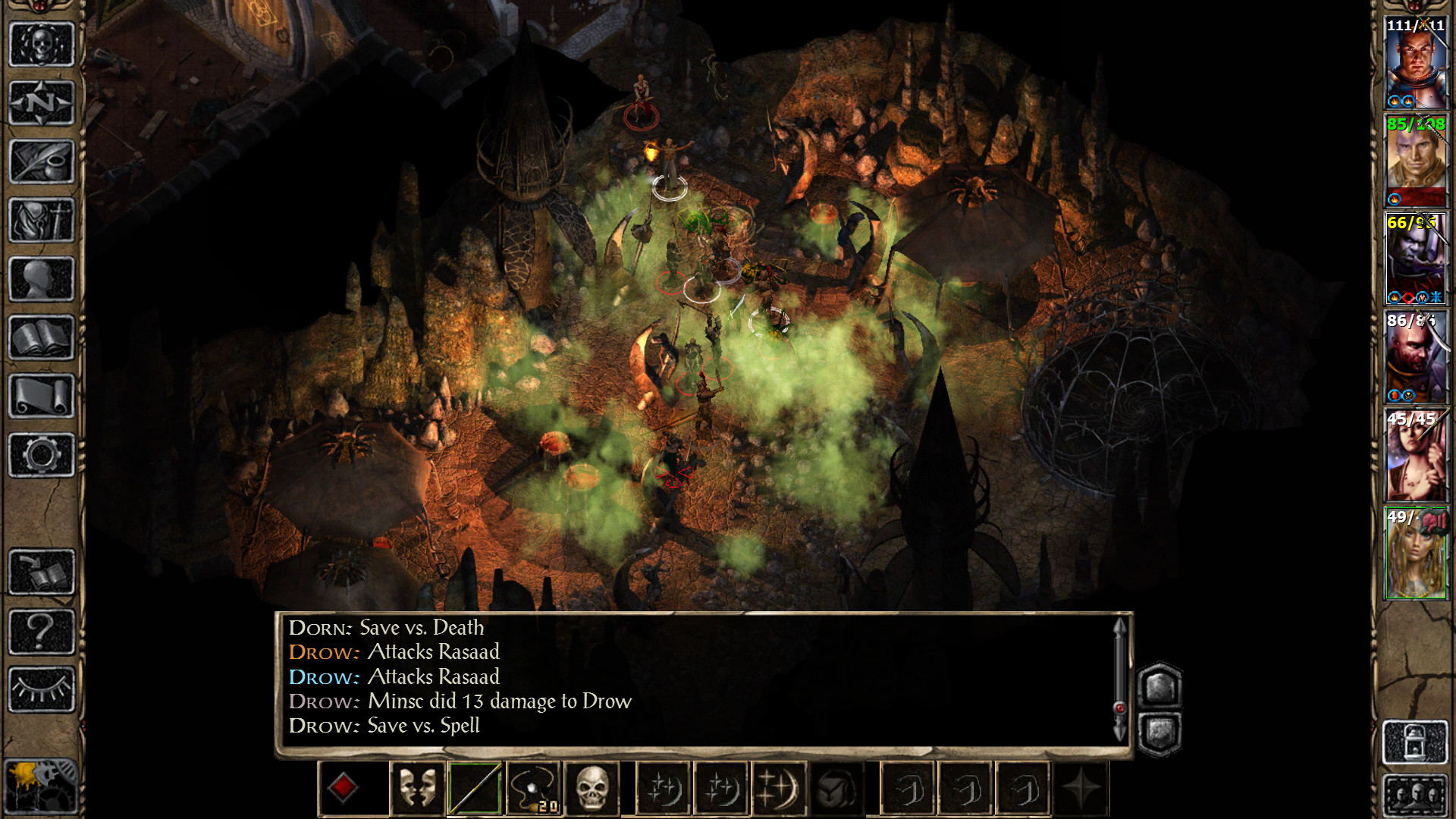 Enhanced Edition
Depuis la sortie initiale du jeu, Baldur's Gate II a reçu deux extensions de taille, Throne of Bhaal et The Black Pits 2: Gladiators of Thay, qui étendent encore davantage le monde de Baldur's Gate II. Et puis, nous ne pouvons pas oublier
Baldur's Gate II: Enhanced Edition
, qui contient ces deux extensions tout en ajoutant de nouveaux compagnons, des illustrations de zones et une interface améliorées, la compatibilité avec les écrans larges, et bien plus... Sur GOG.COM, elle inclut même la version originale du jeu en bonus.Voilà, c'est tout pour ce petit retour sur ce grand jeu de rôle. Nous espérons que vous nous rejoindrez pour fêter son 20e anniversaire !
Quels sont vos souvenirs préférés de Baldur's Gate II ? Pensez-vous le revisiter (ou le découvrir) pour l'occasion ? Dites-nous tout dans les commentaires !