Humor, wciągająca fabuła i pamiętne postacie – oto, czym wyróżnia się ta kultowa seria przygodowych gier, powstała dzięki Ronowi Gilbertowi wraz z LucasArts. Marka The Monkey Island obchodzi właśnie swoją 30. rocznicę, co daje nam doskonałą okazję do sięgnięcia ku jej korzeniom.
Pierwsze linie kodu
Rona Gilberta nie bez kozery uznać można za jednego z pionierów growego przemysłu. Od najmłodszych lat interesował się programowaniem, po raz pierwszy sprawdzając się w nim na należącym do rodziców domowym komputerze NorthStar. Mógł przesiadywać przed nim godzinami, analizując takie ponadczasowe klasyki jak Donkey Kong, Pac-Man, Asteroids czy Space Invaders, a to wszystko po to, by replikować je klatka po klatce na dostępnym mu siermiężnym sprzęcie.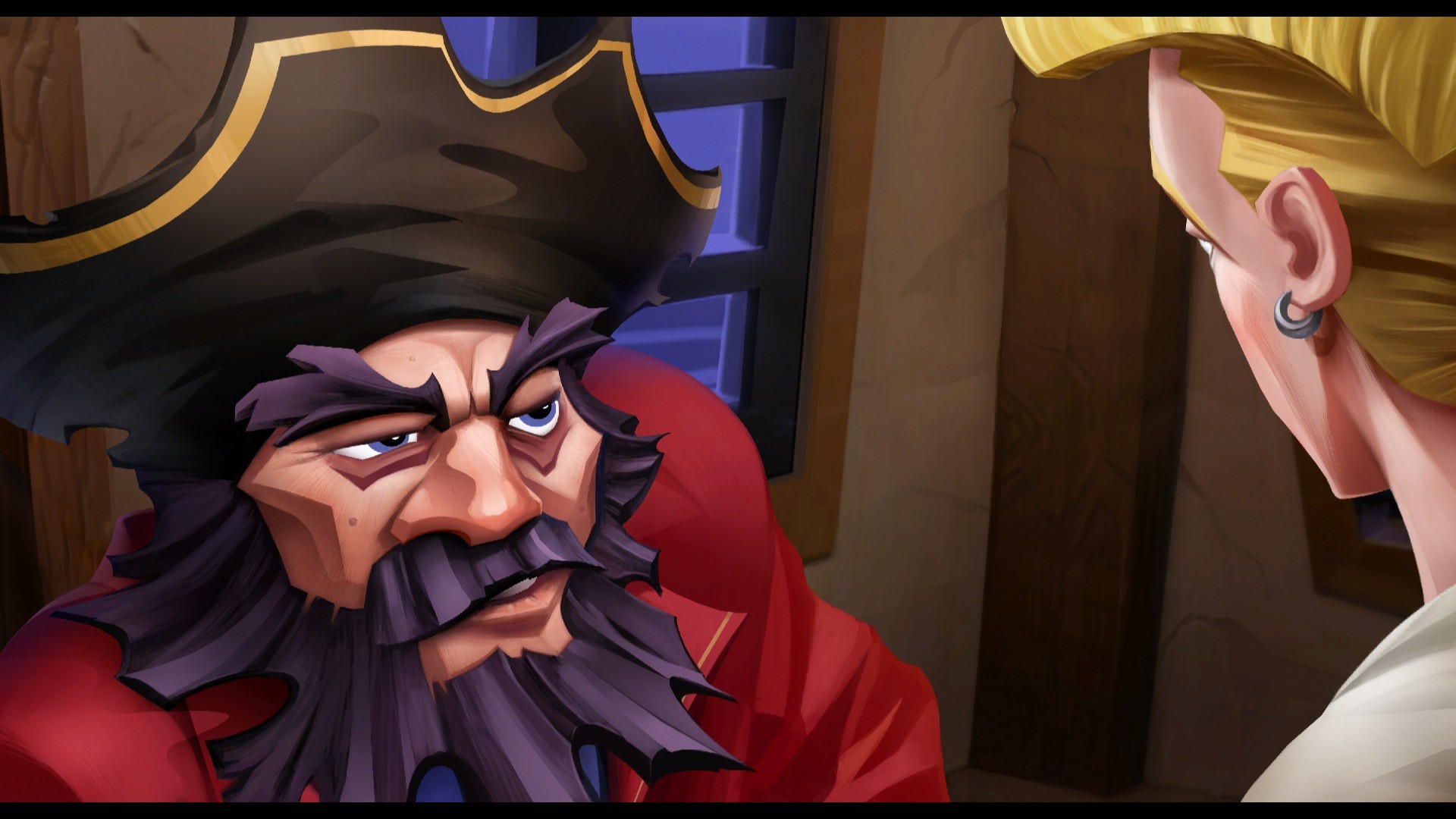 Zebrane doświadczenie okazało się bardzo przydatne na uczelni Oregon State College, gdzie wraz z Tomem McFarlanem stworzyli program Graphics BASIC. Twór ten utorował mu drogę ku biznesowi gier wideo, a konkretnie ku pracy w Lucasfilm Games (późniejszym LucasArts) od połowy lat 80. Gdy jego pierwsza gra, Maniac Mansion, odniosła sukces, postanowił stworzyć przygodówkę, jakiej świat nie widział. I tak zrodziła się gra
The Secret of Monkey Island
.
Na nieznanych wodach
The Secret of Monkey Island, wydana w 1990 r., czerpała garściami z dwóch głównych źródeł. Jednym z nich była baśniowa opowieść "Na nieznanych wodach" Tima Powersa. Drugą zaś parkowa atrakcja Piraci z Karaibów z Disneylandu, dokładnie ta, która zainspirowała słynną filmową serię, właśnie o tym tytule. W połączeniu z humorystyczną mieszanką spod piór scenarzystów – samego Gilberta, a poza nim Dave'a Grossmana i Tima Schafera – powstał przepis na kultową klasykę!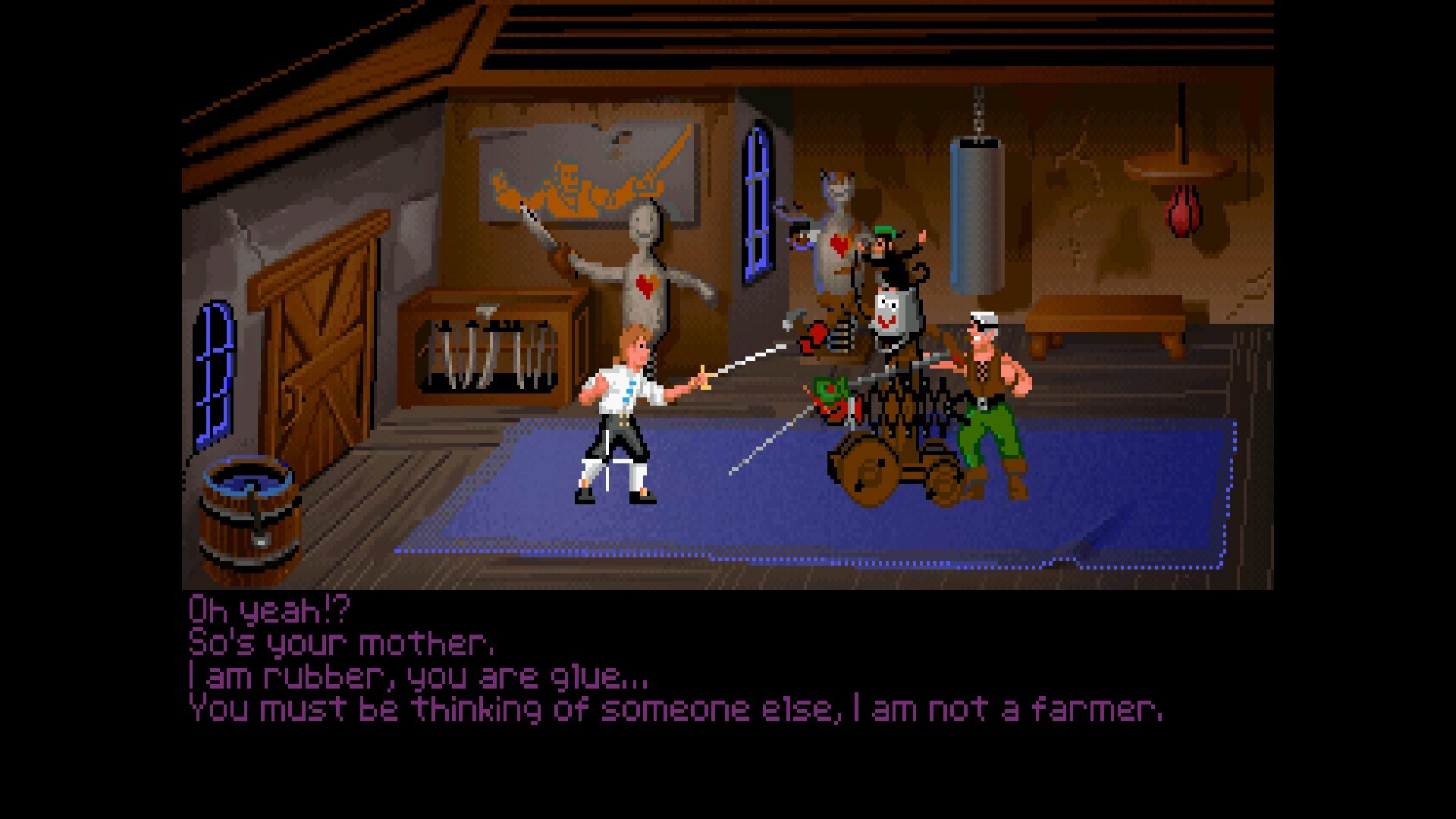 Dziejąca się w Złotej Epoce Piractwa (XVII i XVIII stulecie) The Secret of Monkey Island prowadzi nas przez dzieje Guybrusha Threepwooda, aspirującego do piractwa młodzieńca. Tkwiąc na zapuszczonej karaibskiej trójcy wysp, musi wypracować sobie reputację i zdobyć serce gubernatorki archipelagu, Elaine Marley. Aby temu sprostać, ma odszukać zakopany na mitycznej Małpiej Wyspie skarb i pokonać nieumarłego pirata LeChucka.The Secret of Monkey Island odniosła sukces zarówno wśród grających (sprzedano kilkaset tysięcy kopii) jak i krytyków. Zachwalano ją za przyjazny w użytkowaniu interfejs i stonowany w porównaniu do ówczesnych gier Sierry On-line poziom trudności. Zwłaszcza sprzedał się jeden z elementów gry, fechtunek na pyskówki, który powracał potem w kolejnych częściach serii. A patrząc z technicznego punktu widzenia, silnik SCUMM, stworzony przez Rona Gilberta, okazał się skutecznym narracyjnym narzędziem.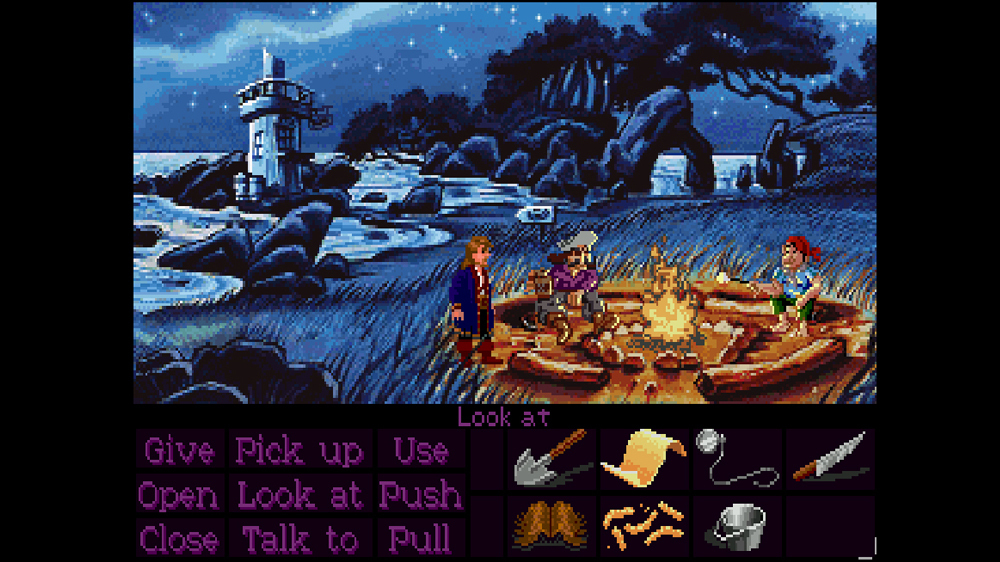 Guybrush rusza na głębsze przestwory
To, czy gra zrodzi kontynuację, było wyłącznie kwestią czasu.
Monkey Island 2: LeChuck's Revenge
została wydana w 1991 r., przynosząc dalsze przygody Guybrusha Threepwooda, tym razem poszukującego Wielkiego Halo (Big Whoop). Wiele osób uważa Monkey Island 2 za najzabawniejszą część serii... a przy okazji posiada ona jedno z najbardziej prowokacyjnych zakończeń w historii komputerowych gier. Rzecz jasna nie zamierzamy nic zdradzać... Przyjdzie wam osobiście sprawdzić, o co takiego chodzi! Potem graczom przyszło czekać prawie siedem lat na
The Curse of Monkey Island
z roku 1997. Był to ostatni z tytułów LucasArts, który wykorzystywał silnik SCUMM. Gra cieszyła się kolorowymi, ręcznie rysowanymi grafikami, aktorami głosowymi (z Dominikiem Armato w roli Guybrusha) i chwytliwą muzyką Michaela Landa. Choć przy produkcji zabrakło Rona Gilberta, dzieło pozostało wierne idei serii i doskonale uchwyciło humor i atmosferę poprzedniczek.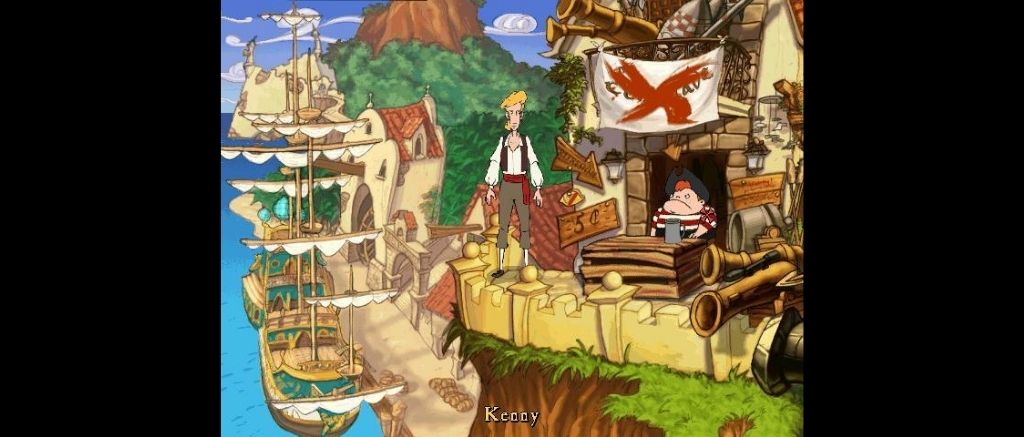 Czwarta gra,
Escape from Monkey Island
, przeszła w trzeci wymiar, wykorzystując ten sam silnik co inna niezapomniana córa LucasArts – Grim Fandango. Poza PC wydano ją też na PlayStation 2 od Sony, co wyraźnie widać po przyjaznym grze na padzie interfejsie. Jedną z najciekawszych nowych możliwości, które oferowała Escape from Monkey Island, była parodia Mortal Kombat, minigra o nazwie "Monkey Kombat".
Epilog od TellTale
Zły los chciał, że Escape from Monkey Island okazała się ostatnią przygodową grą stworzoną przez LucasArts. 9 lat później, w 2009 r., pojawiła się natomiast
Tales of Monkey Island
autorstwa TellTale. Gra nadal przedstawiała przygody Guybrusha Threepwooda, lecz tym razem ujęte w epizodycznej postaci, co jest standardem tworów TellTale Games. Na pokład powrócił Ron Gilbert, a ukazana nam historia opowiadała o mającej zniszczyć Karaiby apokalipsie zombi i voodoo. Po dziś dzień po Tales of Monkey Island nie pojawiły się dalsze części tej kultowej przygodowej serii.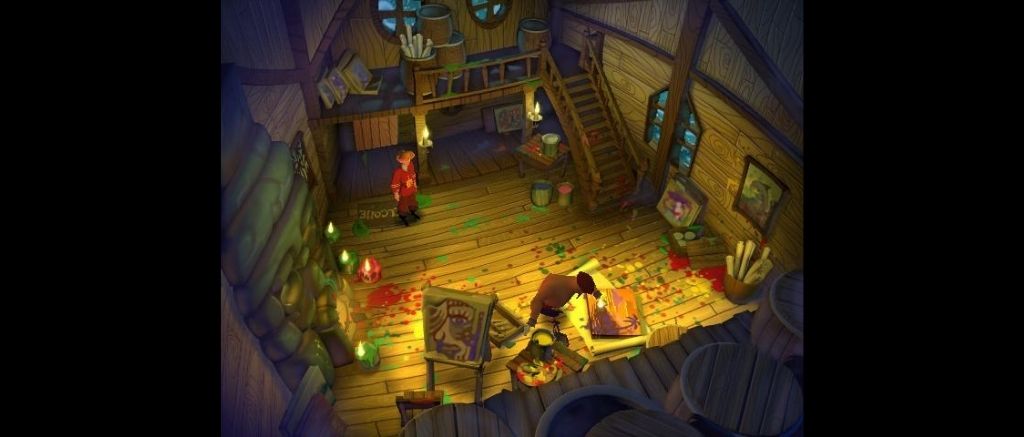 With the all-mighty
Pirates of the Caribbean franchise
ruling the seven seas, the future of Ron Gilbert's series remains uncertain. The creator's last big project was
Thimbleweed Park
, released in 2017. Plans for an animated
Monkey Island film
(supposedly directed by Steven Spielberg himself) were sadly scrapped, although the concept art created by Steve Purcell remains available online.W czasach, gdy siedmioma morzami rządzi niepodzielnie marka
Piratów z Karaibów
, przyszłość serii Rona Gilberta żegluje po niepewnych wodach. Ostatnim dużym projektem twórcy był
Thimbleweed Park
z 2017 r. Plany animowanego
filmu Monkey Island
(ponoć w reżyserii samego Stevena Spielberga) spotkał smętny śmietnikowy los, ale stworzone przez Steve'a Purcella grafiki koncepcyjne po dziś dzień są dostępne w sieci.Pomijając jednak to wszystko, Monkey Island wciąż, 30 lat po wydaniu pierwowzoru, pozostaje obowiązkową do rozegrania pozycją. Poczucie humoru w tej serii nic a nic się nie starzeje, a rozwiązywanie jej zagadek nadal sprawia tylko samo trudności i radochy co zawsze. Ogółem Monkey Island nie urąga tradycjom najlepszych przygodówek LucasArts pokroju
Full Throttle
,
The Dig
i
Grim Fandango
. Udowadnia, że spuścizna studia wykracza daleko poza ich najlepsze gry ze świata Star Wars.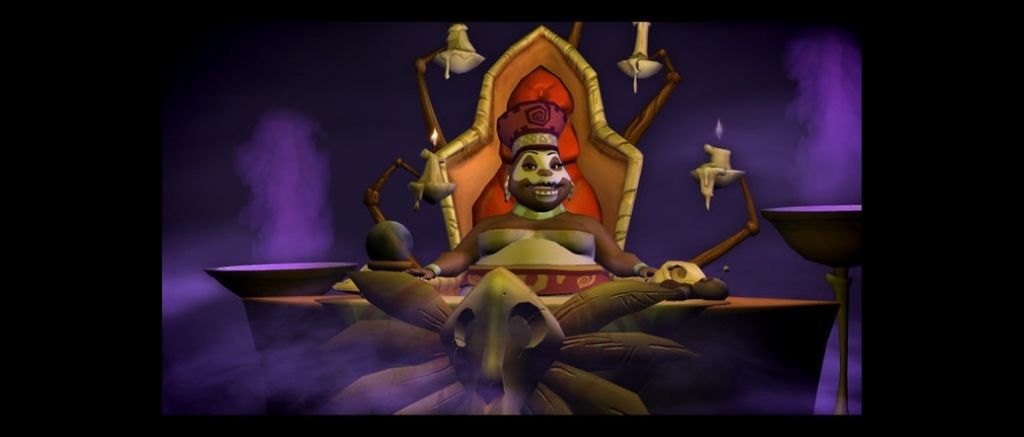 Zdarzyło się wam grać w serię The Monkey Island, czy może macie takie zamiary? Zapraszamy do komentowania i dzielenia się swoimi opiniami o tej sławnej marce!
Ciekawostka przyrodnicza: grając w gry z tej serii, warto wypatrywać założyciela LucasArts, samego George'a Lucasa. Legenda głosi, że można go znaleźć w kilku różnych częściach, ukrytego jako jedna z ich postaci. ;)