L'action-RPG primé de Guerrilla inspire les gamers de bien des façons. En ce qui concerne notre amie Ela, de la team QA Engineering, elle a décidé de créer un cosplay avec le personnage principal du jeu, la vaillante guerrière Aloy. Alors avant de jouer, allez voir les photos ci-dessous !
Une histoire proche de la perfection
Il suffit de jeter un simple coup d'œil aux critiques du jeu
Horizon Zero Dawn™ Complete Edition
qui est récemment sorti sur GOG.COM pour constater le fort engouement que ce jeu provoque. Le jeu du studio Guerrilla a même reçu les éloges pour son "histoire proche de la perfection" (d'après Giant Bomb), ses séquences d'action effrénée, son vaste monde ouvert à explorer, ainsi qu'une musique remarquable composée par Joris de Man.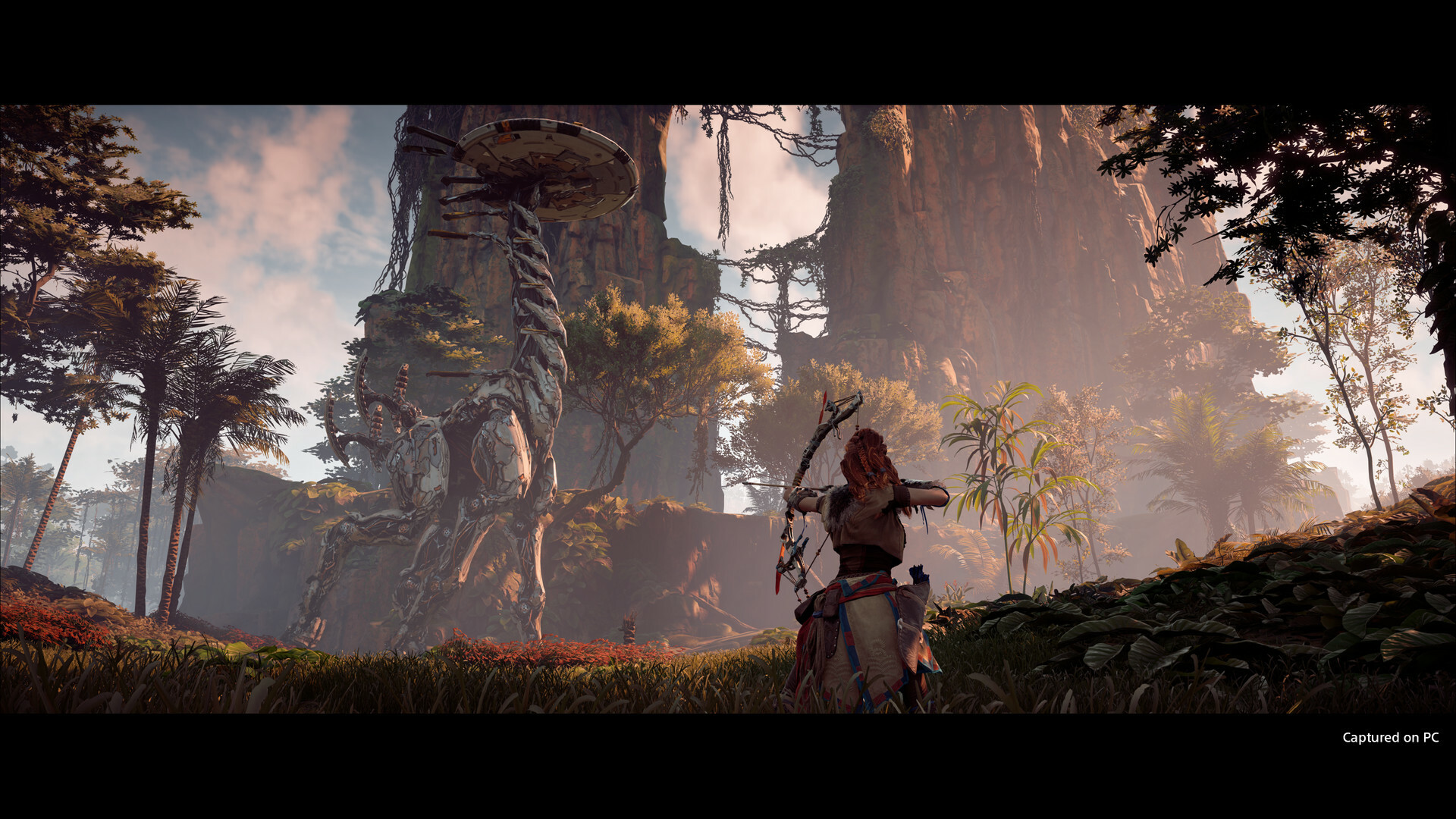 Mais les joueurs du monde entier ont surtout apprécié le protagoniste du jeu. Doublée en anglais par la grande actrice Ashley Burch (que nous connaissions déjà dans le rôle de Chloe dans
Life Is Strange
), l'intrépide chasseuse Aloy est vite devenue un personnage culte parmi les héroïnes des jeux vidéo. Son aventure dans un monde post-apocalyptique contrôlé par les machines est d'autant plus incontournable maintenant que vous pouvez jouer à Horizon Zero Dawn™ sur PC.
Cosplay d'Aloy
Vous vous souvenez certainement d'Ela (alias Live Long and Cosplay) depuis la dernière
séance cosplay de Blade Runner
. Apparemment, elle aime autant le genre action-RPG de Horizon Zero Dawn que les jeux classiques point and click. Voici ce qu'elle nous a dit :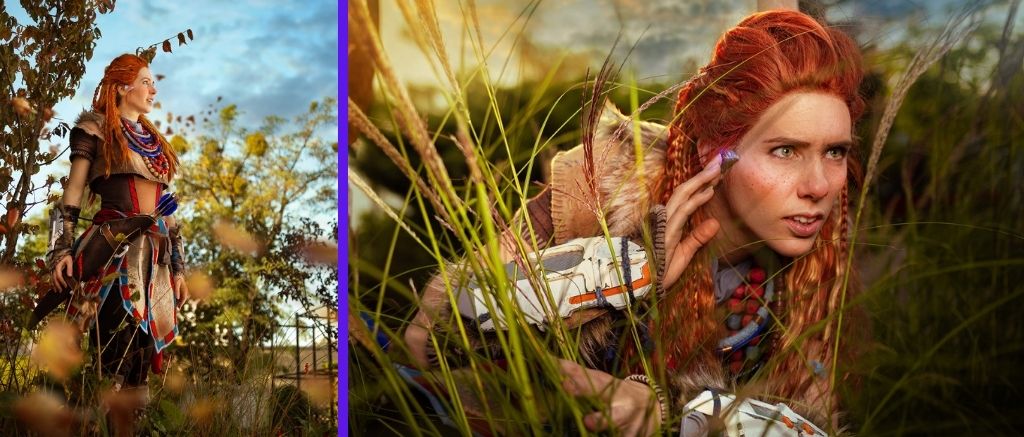 Aimant les RPG à la 3e personne, l'exploration de vastes mondes ouverts et les dinosaures mécaniques,
Horizon Zero Dawn™ Complete Edition
semblait être le jeu idéal pour moi. J'aime aussi beaucoup les jeux avec des personnages principaux féminins, donc forcément, je n'ai pas résisté à Aloy :). Et puis, le design et les couleurs des tenues qu'elle porte rendent ses acrobaties crédibles à l'écran. Quand Gabriela, elle aussi de chez GOG, m'a demandé de préparer un cosplay d'Aloy, j'ai automatiquement pensé aux matériaux qu'il me faudrait et comment les utiliser de manière optimale. À l'heure actuelle, je peux confirmer que c'est une tenue vraiment confortable et très agréable à porter !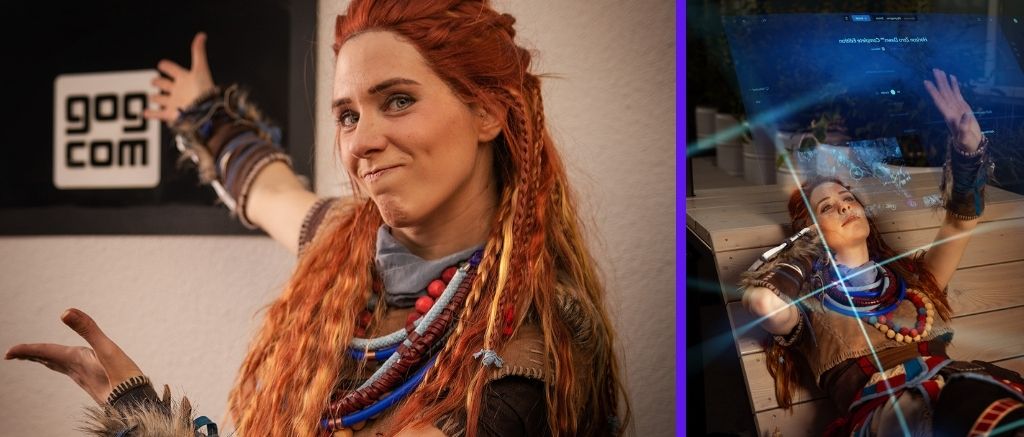 Même si cette fois Ela a dû voyager dans le temps plus loin encore que la ville de Los Angeles de 2019 de Blade Runner, les défis rencontrés en créant son nouveau costume ont été très différents. Étant elle-même une cosplay aguerrie (par exemple, elle a déjà créé un costume fantastique de Senua tiré de
l'un de ses jeux favoris
)), elle les a surmontés avec enthousiasme :À première vue, on pourrait croire que le costume d'Aloy n'a pas un design très compliqué, mais les apparences sont trompeuses. Chaque élément de sa tenue et de son équipement contenait des petits détails, comme de la broderie ou des ourlets, à faire à la main. La jupe d'Aloy est le parfait exemple : chaque pan contient trois types d'ornements brodés à la main ! Heureusement, ce genre de besogne peut se faire facilement, tout en regardant une série télé en arrière-plan :). Chaque petit détail, comme le collier de perles, a nécessité une bonne dose de créativité. J'ai dû, par exemple, travailler des perles en bois à la meule rien que pour leur donner une forme irrégulière.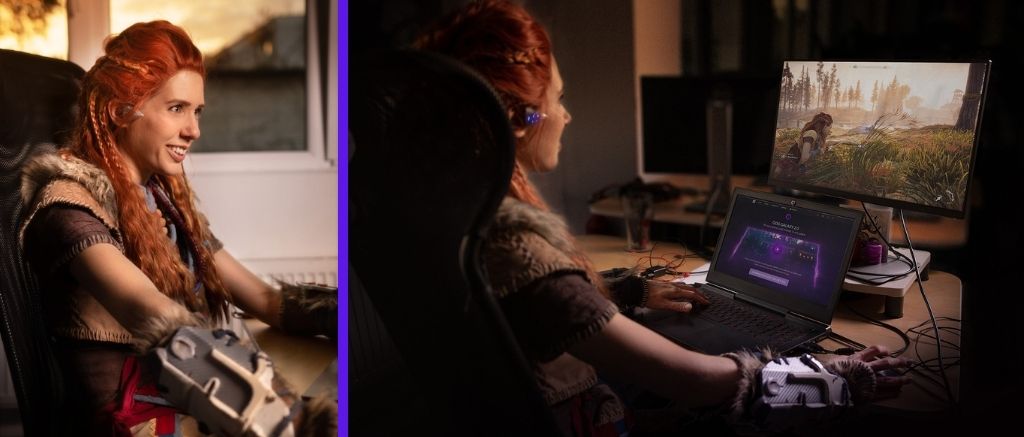 L'arc d'Aloy a représenté un autre défi. Je voulais qu'il ressemble exactement à l'arme du jeu, et je suis fière d'avoir réussi à le faire ! Les branches se plient vraiment en ajoutant la corde. L'arme d'Aloy est faite à partir de pièces de machines détruites, donc elle regorge de petits détails et d'éléments exotiques et j'ai dû faire preuve de patience en modelant la mousse EVA, sans compter le fait que l'arme est franchement massive (environ 1,3 mètre). Il m'a fallu plusieurs semaines pour la fabriquer. Les photos d'Ela n'ont pas un arrière-plan de terres réellement sauvages, ce qui peut surprendre. Quand nous avons demandé à Ela où le shooting photo cosplay a eu lieu, elle a répondu :Il y a des coins de nature près de notre bureau à Varsovie qui restent verts même en automne et nous avons réussi à trouver quelques endroits assez sympas. Mais ce qui compte le plus, c'est de bien cadrer la photo : en prenant la bonne pose, même un parking peut devenir un monde de jeu fabuleux.
Procurez-vous Horizon Zero Dawn™ dès maintenant sur GOG.COM
Après avoir vu les superbes photos d'Ela sous les traits d'Aloy, n'oubliez pas de jouer à l'action-RPG primé de Guerrilla qui repousse vraiment les limites de l'imagination. Et qui sait, peut-être que grâce à
Horizon Zero Dawn™ Complete Edition
, vous aurez des idées de génie en cours de route !